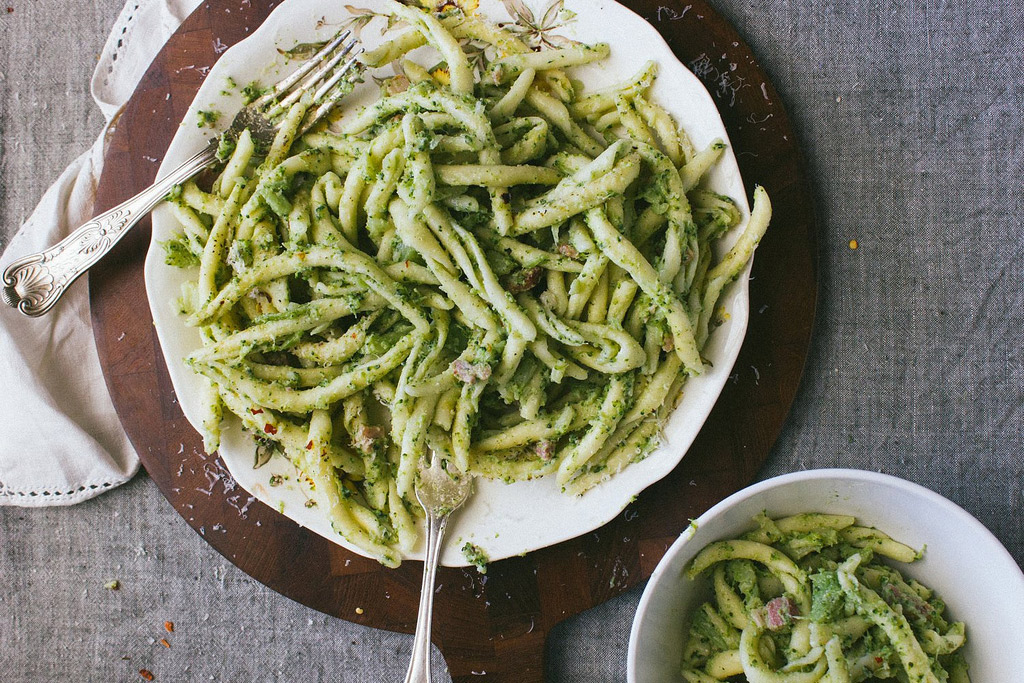 Dining for Dummies: Italian Edition
Ever wondered what osso buco really means?
I don't like tomato sauce. Now that I've gotten that off my chest, I feel much better. Yes, that means I don't like traditional, red sauce pizza, spaghetti with tomato sauce, or lasagna. You can imagine what a minefield dining at Italian restaurants is, then.  The menus are always terrifying. Even if you, like most normal people, like tomato sauce, Italian menus still can be daunting. Let's fix that.
Osso buco: An Italian dish made of veal shanks braised with olive oil, white wine, stock, onions, tomatoes, garlic, anchovies, carrots, celery and lemon peel. Traditionally, osso buco is garnished with an herb concoction of lemon zest, garlic, and parsley (also known as gremolata). More modern versions of the dish, however, forego the herbs and include tomatoes, carrots, celery and onions. In Italian, osso buco translates as "hole in the bone," referring to the marrow in the center of the veal shank bone. Looking to impress some friends for a dinner party? Osso buco might be the answer. The flavor of the dish only improves when it's made in advance.
Where to find it: Princi Italia (Veal Osso Buco saffron risotto Milanese); Mi Piaci (Osso Bucco alla Milanese)
Milanese: Milanese is Italian for "in the style of Milan." It refers to food (usually meat) dipped in beaten egg, then into a breadcrumb-Parmesan mixture, and fried in butter. Essentially, Italian-style fried food.
Where to find it: Nonna (Asparagus Milanese); Carbone's (Veal Milanese with Arugula Salad)
Kohlrabi: While technically more European than strictly Italian, this vegetable has been popping up on Italian menus. It is a member of the turnip family, often referred to as cabbage turnip. The kohlrabi bulb tastes like a mild, sweet turnip. Like the turnip, both its purple-tinged, white bulblike stem and its greens are edible. It's available from mid-spring to mid-fall and is traditionally grown in Europe. If you're looking to buy a kohlrabi, those under 3-inches in diameter are most tender, but you want one that is heavy for its size with firm, deeply colored green leaves. Avoid any with soft spots on the bulb or signs of yellowing on leaf tips. Kohlrabi can be stored tightly wrapped up to 4 days in the refrigerator. Serving suggestions? It is best steamed, but can also be added to soups and stews.
Where to find it: Nonna (Salad of Brussels sprouts, ceci beans, kohlrabi & spring onion with anchovy-lemon vinaigrette & croutons); Lucia (Salad of beef tongue with fermented kohlrabi, salsa verde and radish)
Carbonara: Carbonara sauce is my friend. It's not tomato-based. The Italian term is used to describe a pasta dish of spaghetti (or other noodles) with a sauce composed of cream, eggs, Parmesan cheese, and bits of bacon. The sauce is heated only until it begins to thicken, which usually takes about 2-3 minutes. Note of advice to novice chefs: It's important that the pasta be very hot so that the eggs will continue to briefly cook when the sauce is poured over it. Fresh green peas are sometimes added for flavor and color.
Where to find it: Zio Cecio (Carbonara Classica)
Casoncelli: Turns out, it's kind of like ravioli. Casoncelli are a sheet of fresh pasta dough folded over a filling—normally a filling of slightly sweet meat. They are often times served with melted butter flavored with pancetta and sage leaves. While traditionally stuffed with at least one single meat, the pasta can envelope a variety of other stuffings, such as a mixture of meat (ground beef, pork, veal, sausage, or salami) combined with other ingredients like cheese, spinach, raisins, amaretti cookies, pear, or garlic. Be warned: Casoncelli is a very rich dish but the flavor is unforgettable.  Don't think you've been short-changed if you don't get too many pieces. Six or seven pieces are adequate for a main course and two or three for an appetizer course.
Where to find it: Lucia (Rabbit casoncelli with hedgehog mushrooms)
Panna Cotta: Panna cotta is another term I see often, but am never quite sure of its true meaning, so I decided to check it out. Translated to Italian, panna cotta means "cooked cream." It is a light, silky eggless custard, which is often flavored with caramel. It's served cold, accompanied with fruit or chocolate sauce. Sounds kind of like Italy's version of flan.
Where to find it: Nonna Tata (Panna Cotta Con Fragole); Carbone's (Vanilla Panna Cotta with Mixed Berry Compote)
Bomboloni: The first bomboloni I had was not even at an Italian restaurant but back at that restaurant in Nashville where I first realized how little I knew. If you don't know what bomboloni are, you're in for a treat. Essentially, they are Italian doughnuts. Bombolone (pl. bomboloni) is a filled doughnut, typically eaten as a snack food and dessert. The pastry's name is related to bomba (bomb), and in some regions of Italy, a bombolone may be referred to as a bomba (pl. "bombe"). The reference should come as no surprise; it is a nod to the very high calorie density of this recipe (i.e., a "calorie bomb"). Sorry to disappoint, but did you really think an Italian doughnut would be low calorie?
Where to find it: Lucia (Candy cap bomboloni with walnuts and pears)