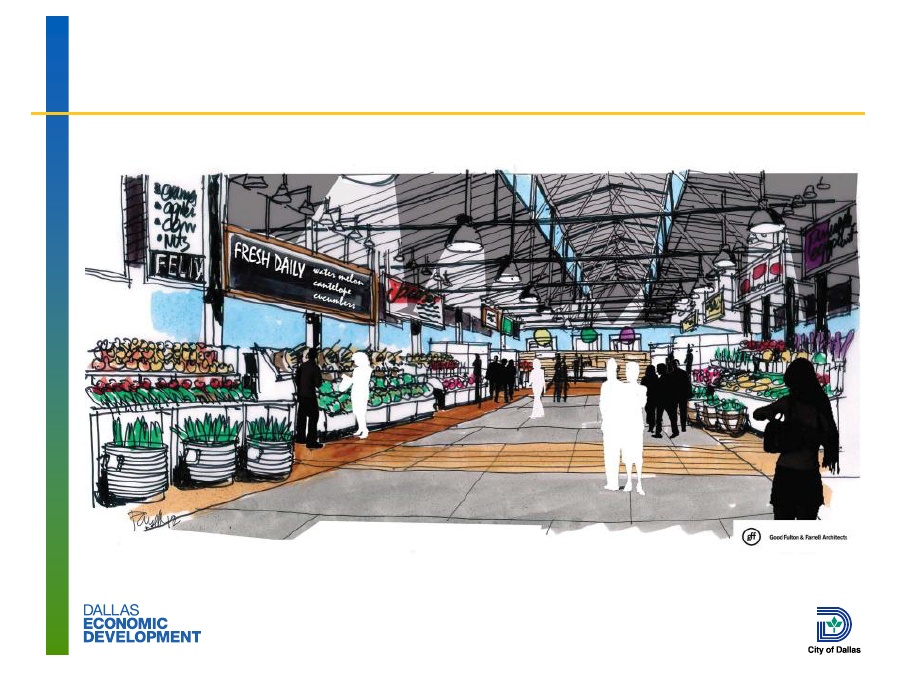 Dallas Farmers Market Holds Groundbreaking Ceremony Today
Changes are underway at downtown's food and shopping icon.
Changes are underway at the Dallas Farmers Market, which was sold last year to DF Market Holdings. Plans to expand the downtown icon and revive the area to a thriving food and shopping center is now happening. They're not just talking the talk. They're getting started.
This morning at 10 a.m., Mayor Mike Rawlings headlined the Dallas Farmers Market's groundbreaking ceremony for construction on Shed 1. The building, which is the area for farmers and vendors, is going to be pedestrian only from now on. (No more traffic and parking.) There will be 20,000 more square feet of space to make way for 70 stalls for farmers and vendors, and the Shed will reopen in June with new accommodations for farmers.
"New amenities for farmers will include heaters, fans, misters, sinks for washing produce, larger stalls to accommodate more storage and a refreshed look with new paint and concrete," says the press release.
All this comes at the pretty, pretty price tag of $989,884, although TIF (tax increment financing) for Shed 1 is $300,000. Shed 2 is going to cost a good $3 million, while Shed 3 and 4 will cost $38.66 million. (These were the prices presented to the Economic Development Committee on Dec 2, 2013.)
For more information on the Dallas Farmers Market's changes, here's the entire press release.
DALLAS, TEXAS – Mayor Mike Rawlings, together with founding families, farmers and owners of the new Dallas Farmers Market, will break ground to start construction on Shed 1 on Friday, March 28, at 10 a.m. The newly renovated Shed 1 will no longer have vehicular traffic or parking, which will increase safety and add space for up to 70 stalls and more than twice as many farmers and vendors.

Shed 1 will reopen in June for farmers primarily with some farmers' representatives and possibly other local merchants depending upon seasonal produce availability. New amenities for farmers will include heaters, fans, misters, sinks for washing produce, larger stalls to accommodate more storage and a refreshed look with new paint and concrete. A stage will be built at the East end of the shed for live music to entertain weekend shoppers.

"Downtown Dallas, Inc. has long held that the Dallas Farmers Market has the potential to become one of our greatest assets Downtown, so we are thrilled with this monumental step forward," said John Crawford, president and CEO of Dallas Downtown, Inc. (DDI). "The privatization and renovation of the market will revitalize the market itself, create complementary uses and infuse activity and vibrancy into the entire southeastern portion of Downtown. We have already seen improvements throughout the entire Farmers Market District since the announcement, and only expect the area to continue to grow into a wonderful neighborhood for locals and a one-of-a-kind destination for the region."

"The groundbreaking for the new Dallas Farmers Market is exciting for all of us who love the market and for our city as a whole," said Ruthie Rutchik Pack. "As a member of one of the market's founding families, it means so much to me to see the tradition carried on for our farmers and their wonderful fresh produce. This is a well-deserved revitalization in the warmly regarded history of the Dallas Farmers Market."

Temporarily, during the construction, farmers are selling in Shed 3. J.T. Lemley of Lemley Produce and Plants, who has been selling tomatoes, peaches and other vegetables at the market for 38 years, said, "I am so excited about the new design and amenities for farmers in the new market that I have I have expanded my operation to bring even more products than ever before. I'm selling my tomatoes and plants in Shed 3 through the summer and can't wait to move to the new Shed 1 when it opens. I love the Farmers Market and especially our customers. This is an exciting time for all of us."

Shed 2 will close for construction in June and will reopen in October. A locally owned, casual seating restaurant will anchor each corner and surrounding outdoor seating will be incorporated as well. Shed 2 will have a fresh, new makeover with a more open look and feature primarily local and Texas products. Some of the same merchants will be back and new artisanal vendors will be added such as local honey, olive oils and artisanal cheeses. Nationally acclaimed artist Dan Rizzie, who designed the new logo for the market, is working with architects Good, Fulton & Farrell to create the branding and design of Shed 2 and the overall look of the market. Jack Gosnell, UCR Urban is handling leasing for the project.

Brian Bergersen, managing partner of the ownership group, Dallas Farmers Market Holdings, said, "The groundbreaking signifies an exciting new beginning for the Farmers Market because it will once again become a festive gathering place for families and individuals in our community and for visitors to our city. Open seven days a week, it will be the place to shop the freshest produce, find unique local products, have choices of great places to eat, and especially to get to know the local farmers. Many new farmers are coming in and our tried and true farmers are excited about the new market."

Nationally award-winning restaurateur, Janet Cobb, also a member of the ownership group, said, "My grandparents were farmers and I grew up in Dallas with very fond memories of our family's shopping trips to the Dallas Farmers Market. My husband, Phil, and I carry on the tradition. I am humbled and excited to be a part of this opportunity to breathe new life into such a special part of our city. Our Texas farmers are absolutely the finest in the world."

Ultimate plans for the market include approximately 70,000 square feet of restaurant and retail space, 300 apartments, 750 free public parking spaces, a community garden, and many other amenities for the market property.