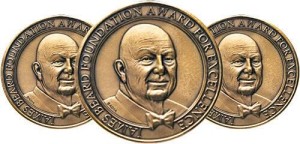 The James Beard Foundation hosted a press brunch at The Publican in Chicago. They announced the finalists for the 2014 James Beard Awards. I thought it was a good sign when the semi-finalists were announced in February and our great city was represented thusly:
Outstanding Wine Program:  Café on the Green at the Four Seasons Las Colinas

Outstanding Service:  Abacus, Rosewood Mansion on Turtle Creek

Best Chef Southwest:  Matt McCallister (FT 33), John Tesar (Spoon), David Uygur (Lucia)

Best New Restaurant: Casa Rubia, Dallas
The only names from Texas uttered for the "Best Chef Southwest"  were: Bryce Gilmore (Barley Swine in Austin), Hugo Ortega  (Hugo's), Chris Shepherd (Underbelly), and Justin Yu (Oxheart) from Houston. Congratulations to Tom and Lisa Perini. Perini Ranch Steakhouse in Buffalo Gap will be honored as an American Classic restaurant and Chef Tim Byres is a semi-finalist in the Cookbooks: General Cooking category for Smoke: New Firewood Cooking.
At this moment I am confined to my bed with a high temperature and a nasty bacterial infection. I have the urge to make an editorial statement about the James Beard Awards, but today I'm going to stay above the fray and swallow a few more Tesla pearls. However, I have one little nagging thought:  if a few more Dallas companies would like to sponsor some of the national awards, I think we might see some different results.
The James Beard Foundation Awards Ceremony and Gala Reception will take place at the David H. Koch Theater at Lincoln Center in New York City on Monday, May 5, 2014. The 2014 James Beard Foundation Awards are presented with support by the following partners: Premier Sponsors: All-Clad Metalcrafters, Lenox Tableware and Gifts; Supporting Sponsors: Acqua Panna® Natural Spring Water, Breville, The Coca-Cola Company, Delta Air Lines, Lavazza, S.Pellegrino® Sparkling Natural Mineral Water, Stella Artois®, Valrhona; Gala Reception Sponsors: Celebrity Cruises®, Ecolab, Food Network & Cooking Channel; Additional Support: Chefwear, VerTerra Dinnerware, Visit Orlando®.