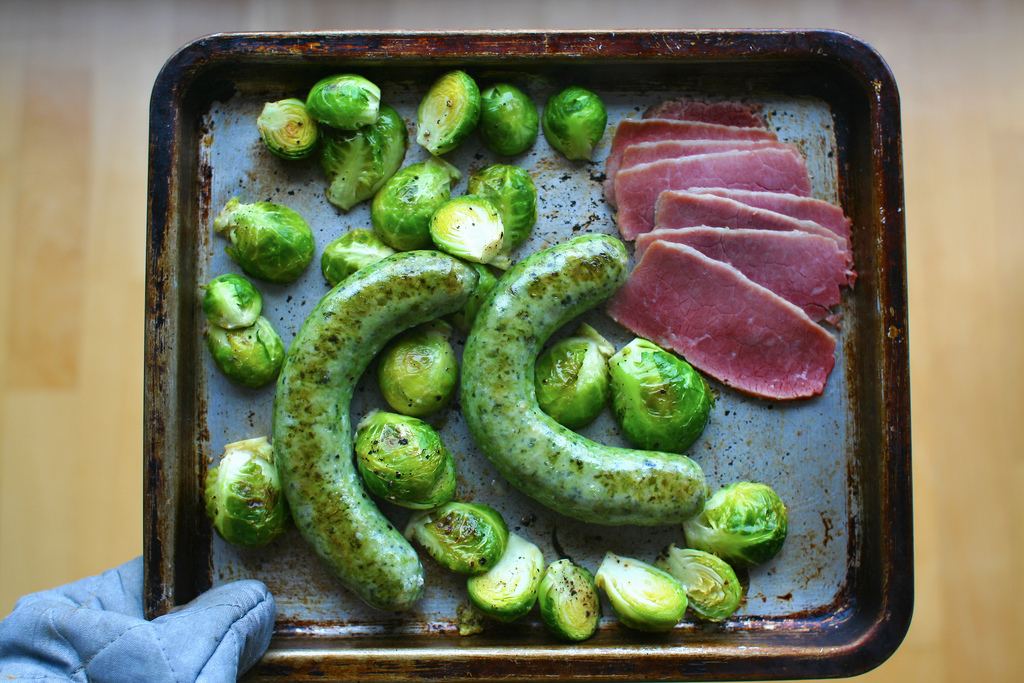 12 Ways to Celebrate St. Patrick's Day in Dallas
This is the day to bust out your green eggs and ham.
The luckiest day of the year is right around the corner, thanks to the Irish, of course. Bagpipers, red heads, beer, corned beef, and cabbage may be stereotypical of St. Patrick's Day, but never under-appreciated in Dallas. Check out these 12 beautiful ways to celebrate St. Patty's with some food and drink.
WEDNESDAY, MARCH 12
A four-course dinner paired with Tullamore D.E.W. Irish whiskey's newest liqueur, Ancho Reyes, is happening at Barter on March 12. Welcome cocktails will be served at 6:30 p.m. and the tasting will begin at 7 p.m. Reservations are required and can be made by calling (214) 969-6898. $55 per person
THURSDAY, MARCH 13
You can't celebrate St. Patrick's Day without red heads or red-headed cheese. 
Scardello
 will be hosting a red-headed cheese and beer pairing class on Thursday, March 13 at 7 p.m. Explore savory washed-rind cheeses with some delicious beer. Classes may be purchased online at scardellocheese.com. $35 per person
FRIDAY, MARCH 14
Brick House Tavern + Tap is celebrating St. Patrick's Day early this year. From March 14 through March 17, Brick House Tavern + Tap will be serving a traditional Irish meal of Jameson's Lamb Shank (braised in Jameson Irish Whiskey) and coffee served with cheddar mashed potatoes and bacon-roasted Brussels sprouts. A "Luck of the Irish" green cocktail made with Jameson, Triple Sec, and lemon juice, topped with ginger beer and mint will also be on the menu for $4.
Cook Hall is hosting a traditional five-course Irish dinner on Friday, March 14 at 7 p.m. Each course will be paired with an Irish beer. Feast upon Irish soda bread, stuffed cabbage rolls, slow-cooked salmon with glazed parsnip and horseradish, braised short rib, and a bittersweet chocolate tart with fresh mint ice cream for dessert. Reservations are required and can be made by calling 214-397-4111. $55 per person
SATURDAY, MARCH 15
The Dram and Candleroom are throwing a full-blown Parking Lot Party  with DJ Goody and DJ Marvel from noon until 6 p.m. Shuttles will take you from there to the Greenville Avenue Parade, and they're running between 8 a.m. and 5 p.m. Cost is $5 at 2918 North Henderson Avenue.
Boxwood Tap + Grill is having Irish Julep pitchers for $22 each, Irish Mules for $8, and Car Bombs for $8. Soak up the sun on the patio, and enjoy all the drink specials between 10 a.m. and 2 a.m.
MONDAY, MARCH 17
Olenjack's Grille is putting together a delicious three-course traditional Irish meal on Monday, March 17 at 7 p.m. Olenjack's will be serving Irish potato soup, house-made corned beef, and a choice of Guinness pretzel truffles or a Guinness milkshake for dessert. St. Patrick's Day wouldn't be complete at Olenjack's without $4 Guinness, Harps, and Smithwick's Irish Red specials. Reservations can be made by calling 817-226-2600. $20 per person
Flying Saucer Draught Emporium in Addison will be hosting its first-ever St. Patrick's Day block party on Monday, March 17 from 1 to 7 p.m., featuring an outdoor bar, food, and music by DJ Russ. The Irish booze will be flowing and special guest, Seamus O'Hara, founder and owner of O'Hara's Brewery based in Ireland, will be making an appearance.
Nothing says Irish more than a bagpiper, which is why Blackfriar Pub is bringing you nothing but that on March 17 from 2 p.m. to 2 a.m. Not only are they bringing a bagpiper to the pub, but live music by Petty Theft and traditional Irish corned beef, cabbage, and fish and chips will be served all day. There will be a $5 cover after 7 p.m.
NYLO Plano at Legacy is doing a happy hour from 3 to 7 p.m., live music from 6 to 9 p.m., and daily specials 'til close. Don't forget to wear green and get one of those $6 flatbreads.
ALL MONTH LONG
The Warwick Melrose Hotel is giving you a reason to drink not just for St. Patrick's Day, but for the full month of March. They will be serving Tipsy Leprechauns, Mint Chocolate Shamrocktinis, Shenanigans, and Sweet Lucks, which are all alcoholic beverages inspired by the luck of the Irish. Also, no need to scour Dallas to find a good Irish Reuben sandwich, because the Warwick Melrose Hotel will be making them exclusively during the month of March.
Hayley Votolato is a D Magazine intern, and aspiring food and travel editor. She will be graduating from Texas Christian University with a degree in Strategic Communication from the Schieffer College of Communication this May.