Avocado is a summer fruit, but when it's 20-something degrees outside (like it was this entire past week), all our bodies are longing for sunshine. And guacamole, obviously.
In Texas, if you say you don't like guacamole, people will look at you funny. People will think there's something wrong with you, 'cause chances are… there might be. Guacamole is a universally liked appetizer, and we know we're ordering it before we even sit down to eat. It's easy to make, easy to eat, and it's healthy. The best time to do this guacamole taste test would've been in the summer, but I couldn't wait until then. It's too far away.
Avocados are life-saving fruits, and they make the world a better place. That's why I had to do some sleuthing. I had to find out where the best guac in Dallas is made.

A. Rafa's fresh guacamole salad – Dallas, TX (Way back when, our editors said this was a great pick for guacamole in our "Ultimate Guide to Tex-Mex in Dallas.")
B. Mi Cocina's guacamole "Mexicano" – Dallas, TX
C. Wholly Guacamole – made in Saginaw, TX
D. El Fenix's guacamole – Dallas, TX
E. Central Market's guacamole – Dallas, TX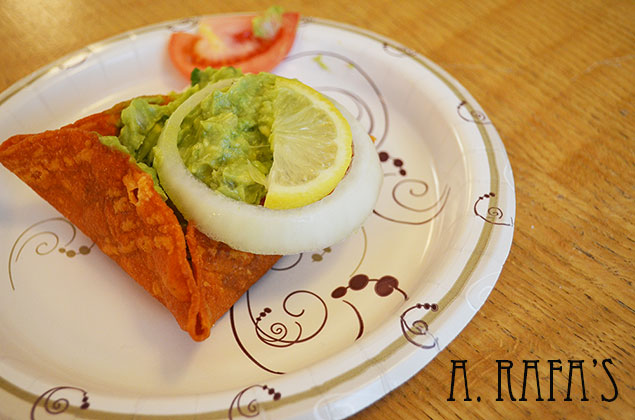 Ingredients: avocados, onions, tomatoes
"I feel like I could stop right here and be happy. The onions taste fresh. They really snap. Good flavor. Only complaint: texture suggests it was blended with an industrial mixer. I.e., it's too creamy for my taste."
"Needs salt; too whipped."
"Just tastes like mashed avocado. Bland."
"Onions were a bit overwhelming."
"Now you're talking more my texture. I like my guac like I like my ladies, a little lumpy. Actually, that's not true, but I couldn't think of something else that is good when it's lumpy. Anyway, good texture, but it needs more supporting ingredients (tomatoes, onions, cilantro, etc.). "
"Nice and chunky greatness. I think it's Mi Cocina."
"Tasted this twice and still got nothing. Wait. Was blocked by A & C. I liked it. But kind of basic."
"A lot of red onion flavor."
"My favorite. Chunks of avocado. Could use a little kick, though."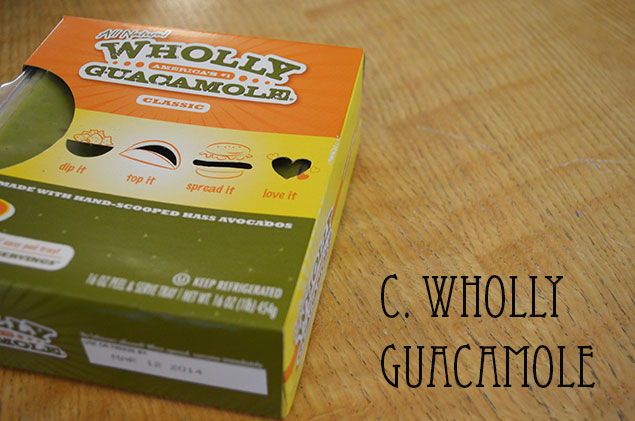 Ingredients: Hass avocado, jalapeno puree, dehydrated onion, salt, granulated garlic
"Slimy looking and tasting."
"What the hell is this? It's just garlic and avocado paste. I hate this."
"It looks like baby food."
"Strong flavor. Maybe too strong? Like fake strong."
"Salty."
"Hello, lime! Nice, lumpy texture, too. If you put this in front of me, I would eat it. In fact, I DID eat it"
"Good consistency."
"Super salty. No."
"Lots of lime."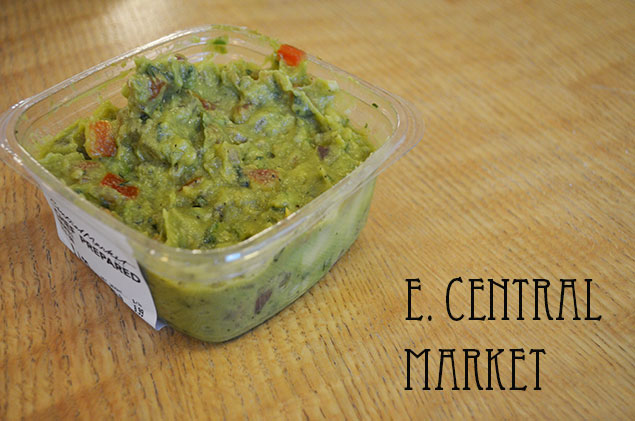 Ingredients: avocados, red onion, cilantro,
"There's an unidentified herbaceous thing going on here. It doesn't agree with me at all. "
"Yuck-a-doo. Sour, foul after taste."
"Unexpected kick, yeesh. Weird color."
"Looks like throw up, tastes like expired guacamole."
"Super freakin' plain. All I taste is tomatoes. But does have some cayenne pepper or something."

6 votes for (B) Mi Cocina
2 votes for (A) Rafa
2 votes for (D) El Fenix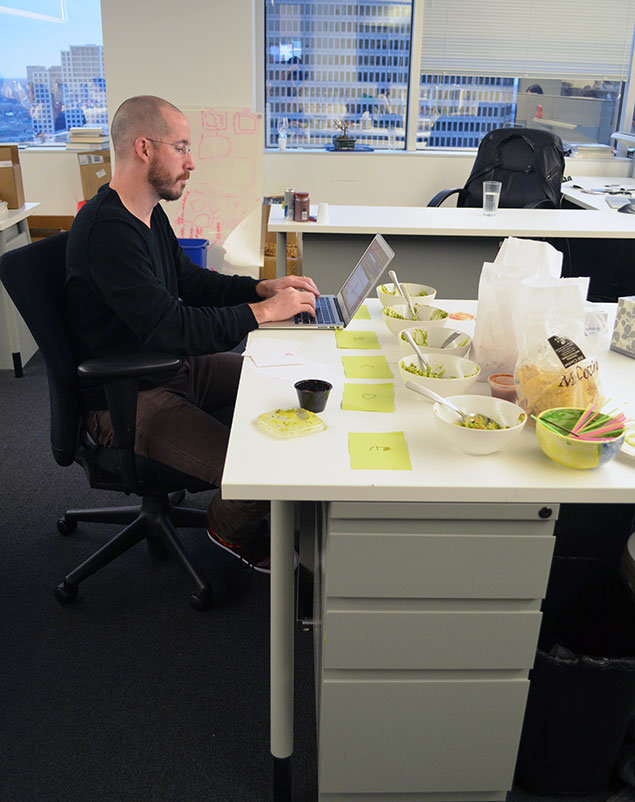 The winner: Mi Cocina One person knew right-off-the-bat that (B) was Mi Cocina's guacamole, and when I asked her why, she told me she's eaten it so many times. I think the big chunks gave it away. It was obviously fresh-made, given the color and texture. It had cilantro and onions in it. Overall, it had the best pepper-to-lemon-to-onion balance, which is quite hard to achieve in a simple guacamole recipe.
The losers: Wholly Guacamole and Central Market Central Market's always bringing its A-game, but not this time. Not for the guacamole. We ate from the guac carton the same day I bought it, but the label claims it was packed the previous day. Maybe CM should stop selling day-old guac? Just a thought. It was over cilantro-ed, and nothing about it tasted like it had been made from avocados. Nothing. Wholly Guacamole's pureed, consistent texture made it look way too factory-made, and everyone noticed it right-off-the-bat. This one was over garlick-y, but it's still a great dipping mechanism for parties. I've noticed it doesn't go brown for several hours. It's probably all that dehydrated stuff working its magic.
Most surprising part of the taste test: El Fenix's chips. Those chips come fresh out of the fryer, hot, crispy, and crackly. They're awesome. I wish I hadn't scarfed them all down so quickly.
Get the SideDish Newsletter
Dallas' hottest dining news, recipes, and reviews served up fresh to your inbox each week.