Last week, I ate lunch with a co-worker and spent most of the time imagining myself stealing her Whole Foods' Sonoma chicken salad. If I just maneuvered my hand there, pointed to a faraway object, and ran away… my plan could actually work.
All hopes were dashed when I realized she was spooning out her last few bites.
Life sucks, sometimes.
The good news: I do a taste test every week. And this means I can eat as much chicken freakin' salad as I want. For research, I used this list that you, readers, curated in 2012, when Nancy asked where to find the best chicken salad in Dallas. Y'all said Empire, Festive Kitchen, Zoes, Central Market, and Whole Foods. And there I went.

A. Empire Baking Co.'s chicken salad cup – Dallas, TX ($6.69)
B. Festive Kitchen's "fabulous chicken salad" – Dallas, TX
C. Zoes Kitchen's chicken salad to-go – Dallas, TX
D. Central Market's chicken salad – Dallas, TX
E. Whole Food's Sonoma chicken salad – Dallas, TX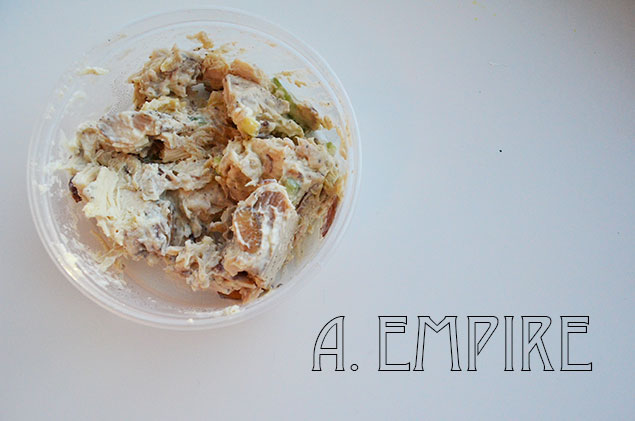 Ingredients: marinated chicken breast with toasted almonds and mayonnaise
"Good flavor. I really dig the texture of the sliced almonds and the celery. Good ratio of mayonnaise to other stuff. You can eat it with a spoon or make a sandwich with it. "
"Feels like I'm eating straight-up mayo with chunks."
"Not too creamy. Herby and fresh, like homemade. Nice chunks of meat and veg."
"Great chicken, no salad."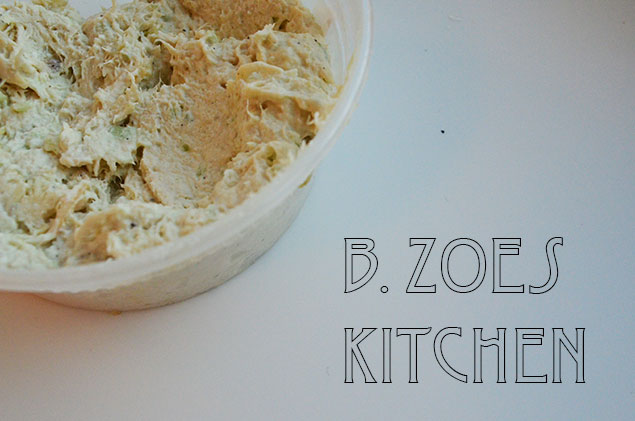 Ingredients: mayo, celery, chicken, salt, and pepper
"This is chicken-salad toothpaste. If I were in the woods for several weeks, I might brush my teeth with it if I didn't have gravel or something else to use. Otherwise, pass."
"Chicken salad for pre-schoolers."
"Gross mush. Barely distinguishable as chicken."
"Looks like something you'd find at a school cafeteria. Stringy."
"A little mushy but tasty. Perfect for sandwiches."


Ingredients: chicken breast, mayo (soybean oil, whole egg, water, distilled vinegar, contains less than 2% of high fructose corn syrup, salt, egg yolks, etc.), dried cranberries, almonds, onions, lemon juice, salt, pepper.
"Huge chunks of chicken make it feel less like chicken salad and more like chicken. With cranberries."
"Nice shredded chicken. Fruity."
"Over-powering grape flavor."
"Too fruity. This is for country club old ladies."
"I like that it's easy on the mayo."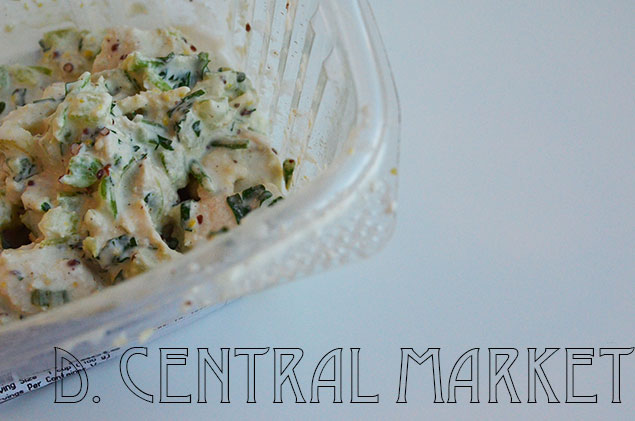 Ingredients: chicken, celery, mayo, mustard, sour cream, creole, lemon juice, parsley, kosher salt
"Looks so much better than it tastes. Too much green. Not enough not-green."
"Heavy herb and celery."
"Terrible. Doesn't even taste like chicken salad."
"Watery. Meat is herby and gross."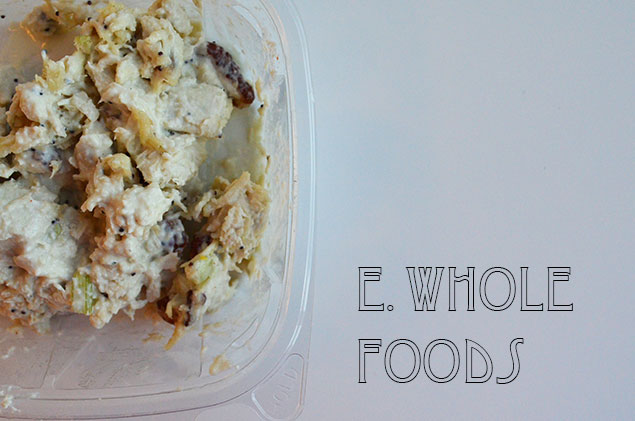 Ingredients: mayo, apple cider vinegar, honey, poppy seeds, chicken breasts, pecans, grapes, celery.
"I'm pretty sure this is Central Market. Am I right? It is Central Market, isn't it? The pecans give it away. But I think the chicken is a little dry."
"Nutty. Almost turkey flavor. Good, but a bit dry."
"I guess Central Market. Grapes."
"Perfect size of chunks, and not too much mayo."
"I like the addition of grapes in this."

5 votes for (A) Empire Baking Co.
2 votes for (E) Whole Foods
1 vote for (D) Central Market

Winner, winner, chicken dinner: Empire Baking Co. 
Let me point out the obvious: People like it when chicken salad tastes like chicken. Empire's huge, meaty chunks are a big draw. They taste like they're grilled and buttery. In contrast, Festive Kitchen's chicken salad had a tuna-fish consistency, way too much mayo, and could only be helped by making a sandwich out of it. Zoes Kitchen's chicken salad was like that, too. It was definitely on the drier side.
Central Market vs. Whole Foods:
WF's famous Sonoma chicken salad was mistaken for Central Market twice, oddly enough. CM's chicken salad is celery heavy and makes you feel like you're eating something healthy when you're not. WF is way more upfront about the mayo factor. The grapes and pecans, though, really put the Sonoma salad over the edge. Next time my co-worker brings it for lunch, I'm definitely stealing it.
Get the SideDish Newsletter
Dallas' hottest dining news, recipes, and reviews served up fresh to your inbox each week.