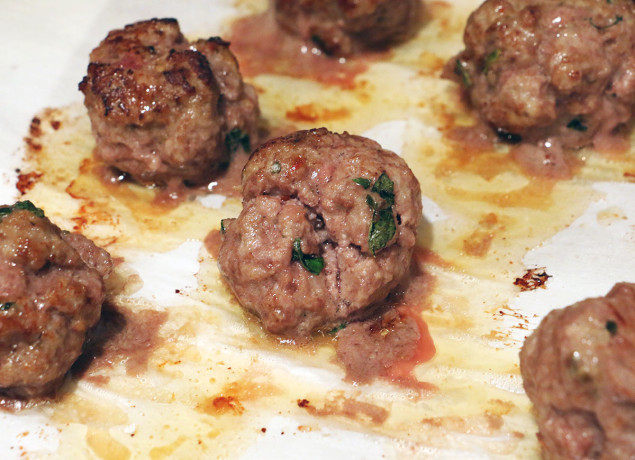 Before Kenny's Italian Kitchen existed, and after many long hours and a few too many glasses of wine later, chef/owner Kenny Bowers' "Midnight Meatball" recipe was born. In honor of National Meatball Day on Sunday, March 9, Bowers decided to reveal his prized possession recipe a few weeks ahead. Yesterday, he let me in on a few tricks to making meatballs:
A meatball should never be too mushy, and it shouldn't be too tough, either.
To bind the meatballs and form a perfect ball, the best type of bread to use is white bread. You don't need fancy Italian bread for this.
Grated Parmesan rather than shredded Parmesan mixes better in the meatball mixture. (My tip: Never buy cheese in the "green can." It's gross. Don't do it.)
Refrigerate the meatball mixture for a good hour before you form the mixture into the balls.
When cooking the meatballs, you can either brown them in the pan, then toss them in the sauce to finish cooking, or brown them in the pan and put them in the oven to finish cooking. Or you could just keep them in the oven for the entire time until they are finished.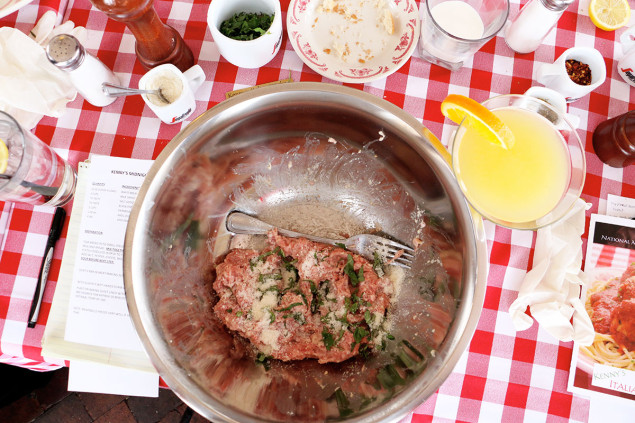 Kenny's Midnight Meatballs
Ingredients:
12 ounces of white bread
3 cups of whole milk
salt (to taste)
black pepper (to taste)
1 cup of Parmesan cheese
1 ounce of basil (fresh, chopped, no stem)
4 pounds of ground beef, pork, or sausage
Crushed red pepper (optional)
Preparation:
Tear the bread in to small pieces, approximately 1" in size. In a large bowl, combine the milk and bread. Mix together by hand, making sure the bread is completely dissolved in the milk to form a soupy paste-like consistency. Add salt, pepper, cheese, basil and mix. Refrigerate for at least 1 hour before the next step.
Gently mix in meat, making sure everything is evenly mixed.
With slightly wet hands form meatballs weighing 4-ounces.
Place on a baking sheet, lined with parchment paper. Bake at 400 degrees for approximately 20 minutes until medium brown and an internal temperature of 160 degrees.
If you just can't get enough of meatballs, Kenny's Italian Kitchen offers $1 quarter-pound meatballs every Sunday. Bon appétit!
Hayley Votolato is a D Magazine intern, and aspiring food and travel editor. She will be graduating from Texas Christian University with a degree in Strategic Communication from the Schieffer College of Communication this May.
Get the SideDish Newsletter
Dallas' hottest dining news, recipes, and reviews served up fresh to your inbox each week.