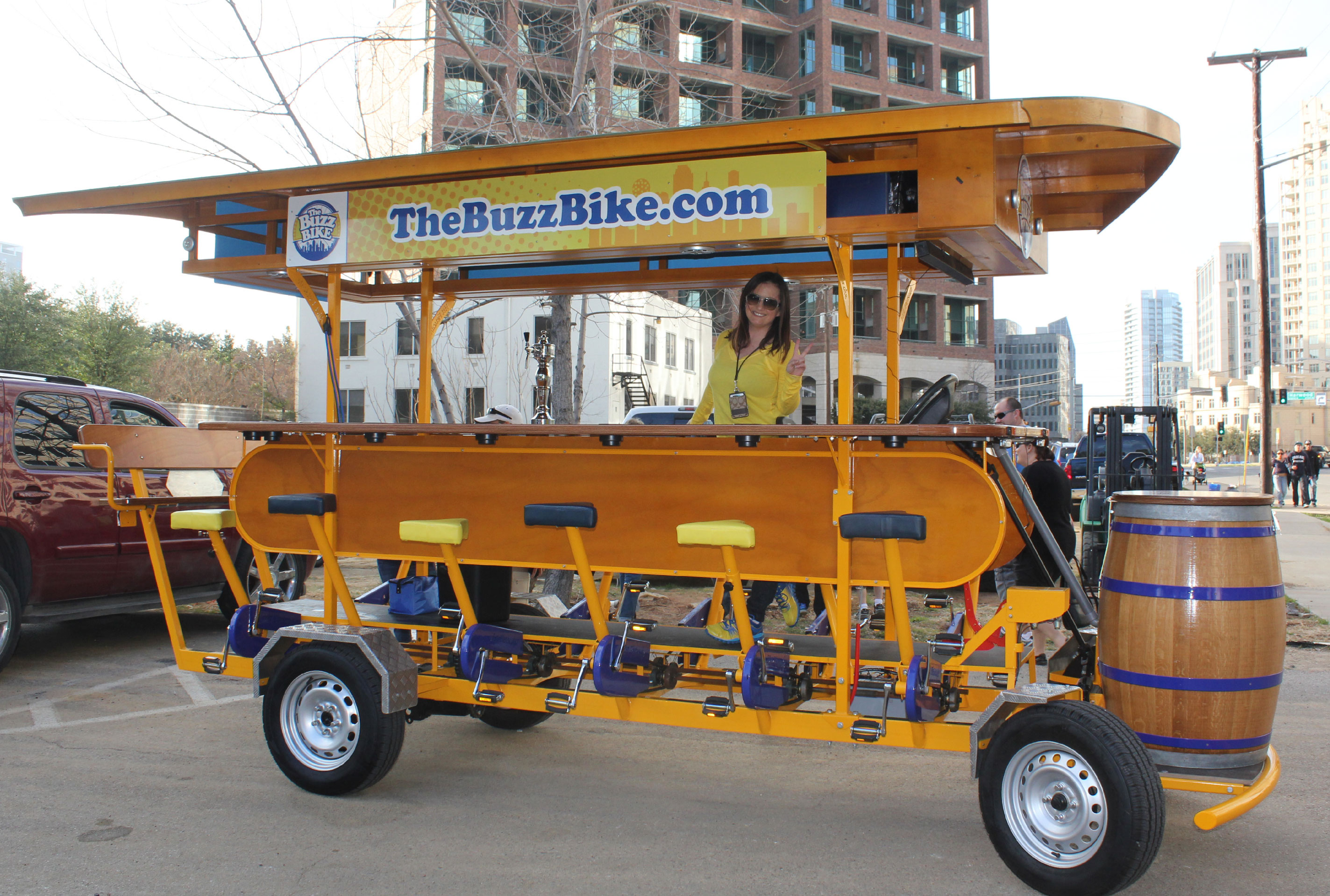 Feel the Burn (While Boozing) on the Buzz Bike
Take a ride on Dallas' first pedal pub.
Just like Houston, Austin, and Fort Worth, Dallas now has its very own bicycle pub. If you haven't seen the 16-person, pedal-powered vehicle—dubbed The Buzz Bike—roaming the streets of Dallas, you will soon.
D Magazine editor Cristina Daglas, who has taken a similar ride in Milwaukee, volunteered to be my partner in crime for the tour this past Sunday. During our two-hour ride, we biked four miles, took two stops for libations, and raced (and lost to) the Uptown trolley. I also burned 467 calories, according to my Fit Bit.
Full discretion: I am out of shape. Not horribly, but enough that I broke a sweat during the ride and was winded during our uphill climb. But I found the rewards of the Buzz Bike (a boozey popsicle at The Quarter Bar or a lemon drop shot at The Loon) a million times more motivating than spin class at Equinox.
How it works: There are two ways to grab a seat on the Buzz Bike: get together 10 to 16 of your closest, most athletic friends and charter the bike for a private event, or sign up for the Social Buzz, a two-hour tour of Uptown, where you bond with strangers while trying to propel that dang pedal pub up a hill.
The bike is BYO-beer, wine, or non-liquor beverage that's in a plastic container. You can carry it aboard in a cooler and refill at stops along the way. There's also a keg-tap, if that's more your style.
The atmosphere: There are four routes available: the Arts District, Downtown, Victory Plaza, and Uptown. We tried the Uptown route, which we highly recommend, because of the bar stops, Quarter Bar and The Loon.
Where to sit: Obviously, grab a seat on the bike. Not interested in pedaling? There are 10 spots for pedalers, and six spots (including a bench and bartender space) for those who just want to enjoy the ride. Also, for all you shorties out there: seats are adjustable.
What to wear: We know you like to look good, but remember you're about to pedal your way around Dallas. Cute exercise clothing or something you can easily move in is ideal.
The service: Founders Gloria and Maribel will be your tour guides. They steer, ring the bell, and wave at onlookers while you pedal on.
The Buzz Bike Do's:
Give high-fives to the trolley patrons as you cruise next to them. Just make sure you're holding on tightly to your seat first.
Smile for photos. People are excited to see the Buzz Bike. Get ready to wave and feel like a celebrity while on board. If you're taking the Uptown tour, tell your friends to grab a seat on the porch of a McKinney Avenue bar, so they can snap a pic as you cruise by.
Make a playlist to rock out to. The Buzz Bike is fully equipped with a stereo, and your ride will be more enjoyable with some pump-up jams. If you're on the ride with Cristina, she requests Rihanna.
The Buzz Bike Don'ts:
Don't pregame. There are no seat belts or helmets, and the ride gets bumpy at times. We wouldn't want you falling off into traffic mid-ride.
Drink too much during your ride. This should be self-explanatory, but let me repeat: we wouldn't want you falling off into traffic mid-ride.
Come if you aren't ready to have a good time. Sitting on your phone throughout the ride, or wearing the improper footwear, can be a downer for the whole crew.
The verdict: Will I take another booze cruise with the Buzz Bike? You bet. I would definitely recommend getting a group of your friends together for it. So who's with me?
In This Post