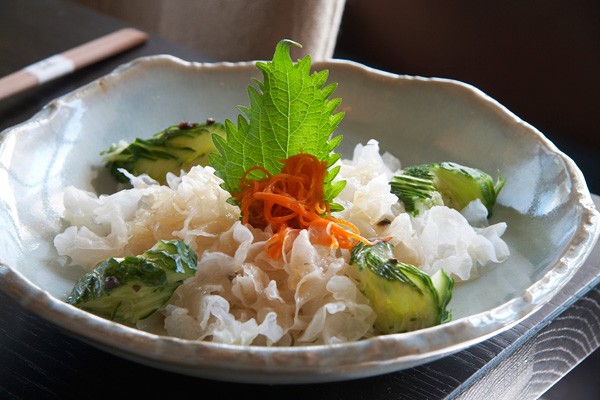 I've been on a Tei-An kick lately. As the weather keeps getting colder/crazier, it makes sense to pop in and drink a hot, steaming bowl of soup layered with handmade soba. Just thinking about it makes my stomach feel all warm and fuzzy. I can feel my sinuses clearing.
Tei-An's fine dining, Zen-of-an-atmosphere can give off a I'm-too-expensive-for-you attitude. Matt Shelley never walked into  Tei-An until three weeks ago, thinking it was out of his price range. He's been working in the Arts District for the last five years, too. After he discovered the $10 bowl of tonkotsu ramen, he's been hooked ever since. That man has had Tei-An three times already.
Teiichi "Teach" Sakurai's noodle heaven is amazingly affordable, contrary to popular belief. It's easy to go in, order a dish for less than $10, and leave wallet-happy. It's true. I've scrutizined the menu, backwards and forwards. Here are four dishes to prove it.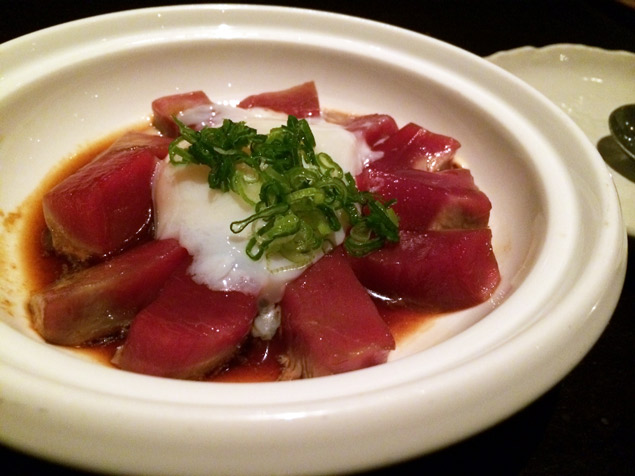 1. Zuke Tamago
Price: $9
This is listed under the appetizer section, but if you're looking for a light lunch meal, this could be it. Ten chunky pieces of soy-marinated tuna are lightly seared on the bottom, arranged in a flower-shape, and topped in the middle with a jiggly poached egg. You pop the egg with your spoon and watch the yolk form this milky, silky sauce around the soy and tuna. I could eat this every day.
2. White seaweed salad
Price: $9
Again, if you're looking for something light, the white seaweed salad is the bombshell. I don't know where you can find white seaweed in Dallas (I've been looking, believe me), so this feels like a dish you rarely come across. It's dressed with a tangy, vinegar-y sauce and sliced cucumbers. Chinese people say seaweed is one of the healthiest foods you can eat. According to culture, it's supposed to soak up all the oils in your stomach and clean up your insides. Who knows if this is true. At the very least, this salad is refreshing. You feel better eating it.
3. Tonkotsu ramen
Price: $9.95
A year ago, I would look around the dining room and notice I'd have the only tonkotsu ramen in the entire restaurant. Now, it's entirely the opposite. Almost every table is ordering this little blue bowl of goodness. Whole tables are filled with tonkotsu ramens, three or four at a time. It's an insane development. I've written about the ramen in this article, so there's no need for me to repeat myself. But, again, this is a cheap and filling option at Tei An.There's no doubt about that.
4. Tonkatsu-pork cutlet
Price: $9.75
If I hadn't scarfed this down so quickly, I would've remembered to snap a picture. This dish is great for all your picky friends who only eat chicken fingers. You can tell them the tonkotsu pork cutlet is basically like chicken nuggets and chicken fingers… except pork. And Japanese. This lightly breaded cutlet arrives on a metal stand, complete with a side salad topped with ginger dressing. Dip it inside a honey-mustard sauce or thick soy paste sauce with wasabi at the edge. If you ask for a bowl of rice, you'll get fill up quickly.
Get the SideDish Newsletter
Dallas' hottest dining news, recipes, and reviews served up fresh to your inbox each week.