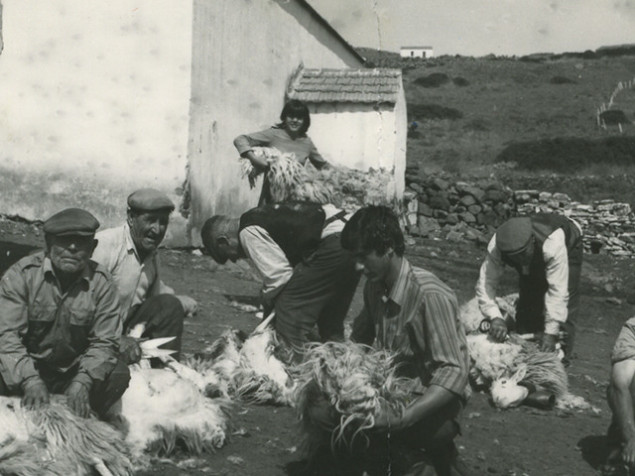 Chef Stefano Secchi—a Southern Methodist University and Culinary Institute of America, Hyde Park graduate, youngest chef ever invited to cook at The James Beard House, and current consulting chef for America Airlines—has talent that thrives beyond the kitchen.  Two plus years ago, he traveled to the Sardinia homeland of his father to make a movie inspired by stories told by his dad and uncle. He wanted to tell a story of their lives in Italy and the process of immigrating to America.
Stefano, the eldest son of Ferrari's Italian Villa owners Jane and Francesco Secchi, loves movies and decided to write a story for film. Shilo, An Italian Immigrant's Debt to America, follows a young boy leaving Italy, coming to America to seek the woman who left him behind, and finding a way to pay the debt of her family to the local mafioso. The very small budget film was funded through a successful Kickstarter campaign, and in the summer of 2011, Stefano and his production team traveled to Sardinia and New York to shoot. The past two years, the chef has been editing, taking the 85-minute story down to a compact, easy flowing 63 minutes. All the while, he's also been cooking at his family's restaurant.
Speaking to Stefano about the process, and the completion, generous Secchi thanked everyone who helped him first and foremost, like the team at Charlie Uniform Tango who played a big part in the final editing, and those who helped him with funding, ensuring that the Kickstarter campaign was a success, like the partners of Lascaux Films. He noted that he was "happy we're finished, 2+ years…these things take much time to put together and finish, especially on a small budget, but we are all pleased."
When I asked him if he wanted to do another? In his charming, realistic way, he said that "we had such a great time making this first one, but it's very time consuming and much harder than I imagined…I'm a cook, and have cooked all my life.  There are a couple of ideas in the works, but nothing is definitive…guess we'll see how this goes."
A good son, he also noted that the process "was just such an amazing time exploring more about Francesco's upbringing and Sardinia in general" staying in the region where his father was raised for 6 weeks during the shoot.
Next Thursday night The Landmark Magnolia theater will host a private friends and family screening of Shilo, An Italian Immigrant's Debt to America. After that we will see. Stefano has entered the film in several festivals around the state and country, and is waiting to hear about acceptance.
In the mean time though, you can still taste his incredible Italian cuisine…like his stellar homemade pastas at Ferrari's Italian Villa in Grapevine, or March 18 at Boxwood T&G Chef Stefano and his brother, craft brewer Gavin Secchi, are doing a pop-up, craft beer dinner featuring some of the the European style beers Gavin is making paired with Stefan's rustic Italian fare. $55 a person/214.220.2901 for reservations.