If your New Year's resolution includes finding ways to save a few dollars in 2014, but you don't want to give up sipping a delicious glass or two of wine, we are here to help!  Happily, that great glass doesn't have to cost you a fortune. Here are a few tasty options to try that won't break the bank.  A few selections were sent for editorial consideration.
Every day should be a day for bubbly, though many reserve the bubbles for a special occasion, but with quality sparklers produced around the world in the traditional method of Champagne, with the second fermentation occurring in the bottle, and at very affordable prices, you can enjoy a tall flute of sparkling wine any day. Napa Valley's Chandon produces classic traditional method sparklers using estate grown, sustainably farmed fruit. Their blush colored Brut Rose is filled with fresh grapefruit, watermelon and strawberry notes with a touch of spice and a creamy, lingering finish.  Around $15-$20 at wine stores throughout Dallas including Spec's and Goody-Goody. ($14.99 at Goody-Goody)
Inama Soave Classico from the Veneto region of Italy is a perfect marriage of bright acidity, balanced citrus and honeysuckle filled creaminess, creating a white wine that is almost a blend of Chardonnay and Sauvignon Blanc, only this one made with the refined and delicious Garganega grape.  Fresh, fruity and easy to drink, a great wine for sipping any day, and easy to do so with the approachable price of around $13-$17 a bottle (about $13 at Total Wine and More.)
Educated Guess Napa Valley Chardonnay blends fruit from Oak Knoll and Carneros, two ideal areas of the valley for growing Chardonnay with cool coastal breezes, warm days and cool nights, creating juicy ripe fruit with nicely balanced acidity.  Educated Guess also uses both barrel and stainless steel fermentation creating creamy, toasted spice notes with layers of lemon, honey and tropical fruit.  Around $14 at Total Wine and More.

I seem to find myself about once a week getting take out from Mat Hai Ba, the immensely popular (and shockingly inexpensive,) Vietnamese spot in Lakewood owned by Colleen O'Hare and Jeana Johnson.  My favorite –  the delicate, decadent, sizzling cake with shrimp, piled high with fresh herbs and wrapped in lettuce leaves, and doused with a layer of Nam Jim and their housemade Thai chili sauce for a spicy, heat filled kick of flavor. If eating in I often go for the floral and fresh Marsanne/Roussanne blend from Domaine de Couron, one of their many smart selections from France. But, with take out I often search my wine fridge for the perfect bottle to sip to calm this heat, and the other night I may have found the perfect match, Apothic White, a fresh, fruit filled blend of Chardonnay, Pinot Grigio and Riesling with low alcohol (about 12%), a touch of residual sugar and filled with juicy stone fruit and citrus, ripe pear and melon, and a touch of white flowers for a fresh, fragrant wine that cools the spice in any heat filled dish.  $10 at Spec's.
Gabbiano Solatio Syrah, Cabernet Sauvignon blend with a touch of Sangiovese from the cool coastal portion of Tuscany delivers on both affordability and an approachable, easy food pairing style.  Slightly smokey and spicy with ripe red strawberry, raspberry and leather notes.  Juicy and fresh, pairing easily with anything cooked on the grill. About $12 a bottle, widely available in wine and grocery stores throughout Dallas.
If a more traditional Sangiovese fits your palate Gabbiano Chianti Classico Riserva DOCG, Aged 16 months in partially new French oak, then another 4 months in bottle before release the wine is soft, balanced and rich while maintaining fresh red fruit and wild herb notes, making it great with herb roasted wild game and hearty grilled beef.  About $22, also widely available throughout Dallas.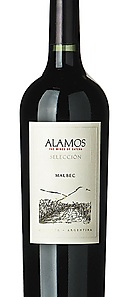 Alamos Malbec is a consistent, varietally correct, rustic Malbec with a great price point.  The wines of South America, those from Chile and Argentina, have made a name for themselves for being both affordable and having good quality.  Alamos Malbec from grapes grown in the foothills of the Andes, blended with a touch of Syrah and Bonarda, is filled with distinct blackberry and cherry, fresh herbal notes, leather, smoke and a touch of vanilla, and for the tasty price of  around $8 a bottle, available at Total Wine and More.  The Alamos Malbec Seleccion is slightly more well rounded, 100% Malbec, is filled with fresh floral violet notes, black cherry, blackberry, spice and licorice notes.  About $18, available locally at Spec's.
Though Argentina is best known for their delicious Malbec, they also grow many different varieties, like luscious Cabernet Sauvignon, Cabernt Franc, Chardonnay, Sauvignon Blanc and the other signature grape of the country, Torrontes.  Las Perdices creates a floral and layered Torrontes from grapes grown in both Luján de Cuyo and high elevations of Salta.  I love a Torrontes, especially with spicy dishes, as the aromas of the wine are filled with white flowers, jasmine and rose, but the palate opens to big citrus and green apple notes, with bright acidity.  Fresh and light, and priced around $12-$13 a bottle at Spec's stores.

Another great wine for grilling is from Smith & Hook with their 2011 Cabernet Sauvignon from Central Coast, California, a region known for incredible wine and affordable prices. Red licorice, black cherry and a touch of spice make this wine a delicious compliment to anything from pork belly to roast beef.  Normally around $25 a bottle, Goody-Goody stores throughout Dallas sell the wine for around $18 a bottle.
Austin Hope creates balanced, elegant and robust wines at his Paso Robles winery, many of which are quite affordable. His Liberty School selections, Troublemaker and Candor Merlot and Zin each retail for right around $20 a bottle, some a bit less, all delivering on incredible flavor and spot on varietal style.  His Candor Merlot Lot 5, bottled without a vintage date as Hope has found that blending various vintages in each release creates better wines for his varietal  flavor profile.  The Lot 5 is a blend of both the 2011 and 2012 vintages, with the younger vintage adding freshness and juicy fresh fruit notes and the older giving concentration and depth to the luscious wine.  $17.49 at Goody-Goody stores.
Austin and winemaker JC Diefenderfer also make incredible, inexpensive Liberty School wines.  Their Liberty School Cuvee blends 85% Syrah with a touch of Cabernet Sauvignon, Petit Sirah, Grenache and Viognier for a Rhone style red that is spicy, fresh and beautifully balanced with hints of smoke, chocolate, ripe red fruit with a long finish, all for about $12.50 available locally at Spec's.
Get the SideDish Newsletter
Dallas' hottest dining news, recipes, and reviews served up fresh to your inbox each week.