Given the state of our nation's Huy Fong Sriracha situation, and the fact that #srirachaapocalypse is a real hashtag, I thought we'd do a taste test to answer the following two, burning questions on my mind:
1. Is Huy Fong Food's Sriracha really the king of Srirachas?
2. If Huy Fong's Sriracha runs out, thanks to the halting of shipments last month, what is the best substitute in this dire case?
Sriracha, according to the Food Lover's Companion, is a "hot sauce named after the seaside town of Si Racha, which is located along the Gulf of Thailand… The bright red sauce, a mixture of sun-ripened chiles, garlic sugar, salt and vinegar, has the consistency of American ketchup." In other words, Sriracha is a type of hot sauce, and there are many different kinds of them.
This week, I gathered five different Srirachas from near and far. I bought the Shark brand off Amazon for $15, because I'd read that it was Andy Ricker's top Sriracha sauce. (But that's before I saw it at H Mart for $2.99. Go there. It has plenty of Huy Fong Food's Srirachas bottles left, too.) I then gave people the option of eating the Sriracha straight-up or using crackers as a vessel. They chose their separate paths, dug in, and went for it. Mouths blazing, tongues fired-up—these brave testers sweated out their glands and turned beet red for the sake of this post. Kudos to all of 'em. They deserve a pat on the back.


A. Shark brand's Sriracha chili sauce – product of Thailand [from Amazon, but you can find it in H Mart, too]
B. Lee Kum Kee's Sriracha chili sauce – product of USA / Addison, IL [from H Mart in Carrollton]

C. Trader Joe's Sriracha sauce –  product of USA [from Trader Joe's]

D. Huy Fong Foods, Inc.'s Sriracha hot chili sauce – product of USA [from H Mart in Carrollton]

E. FOCO's Sriracha chilli sauce, extra hot- product of Thailand [from H Mart in Carrollton]
Ingredients: Chilli, water, sugar, garlic, salt and vinegar.
"Super watery, sour tasting."
"Runny, peppery, mild, less complex"
"Tastes like salad dressing."
"Sweet and tangy, not enough spice."
Ingredients: Red chili, sugar, salt, garlic, fish extract (anchovy), acetic acid, ascorbic acid.
"Thick. Baby got back. And firy. If that's indeed how one spells "firy." Fury?"
"Zingy, almost citrusy/pineapple."
"Really hot, chunky, and flavorful."
"Fruity, almost peachy taste. Good heat."
"Spicy and bitter."
Ingredients: Ground red chili peppers, water, sugar, ground garlic, salt, contains 2% or less of: garlic powder, cultured dextrose (for freshness), vegetable extract (potato), natural flavor, vinegar, citric acid, xanthan gum.
"Tomatoey. Not enough heat. Or, as I call it, fyre."
"Perfect. It's the right amount of sweet and salty."
"Not as flavorful as the others."
"Tastes like store brand pasta sauce."
"Garlic-y, milder, runny."
Ingredients: Chili, sugar, salt, garlic, distilled vinegar, potassium sorbate, contains sodium bisulfite as preservatives, and Xanthan gum.
"NOW you're talking spicy! Fie-yur. I likey."
"Thick kick, but rounded with sweet."
"Much pastier in texture, good peppery taste. Fresh-tasting."
"Perfect. Good texture. Right amount of flavor."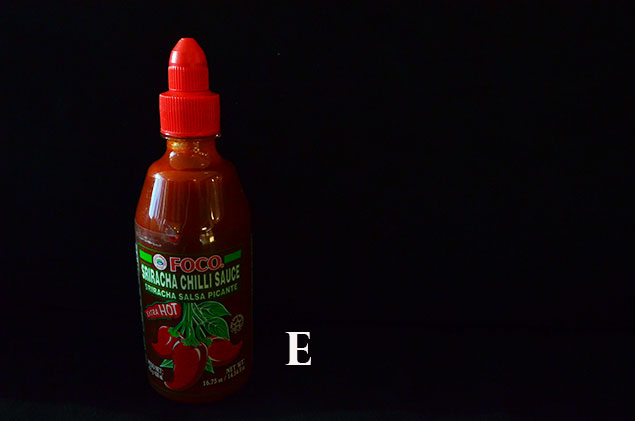 Ingredients: Chili, garlic, sugar, distilled vinegar, salt, potassium sorbate, AS preservative, Xanthan gum
"I can't taste anything now. My palate is shot."
"Most vinegary."
"I can really taste the garlic in this one."
"Tastes like ketchup."
"Hot comes late, pepper-forward, thin."

7 votes for (D) Huy Fong
1 vote for (C) Trader Joe's
1 vote for (E) Foco
Winning substitute brands [second favorites]: 3 votes for (B) Lee Kum Kee and 3 votes for (E) FOCO

The Good: People picked the Huy Fong brand as their favorite. (Duh.) It's the most commonly used brand, and everyone's used to its heat (moderate to strong, depending on your 'buds). When I asked for second favorites, that's when it got interesting. Three people favored the Lee Kum Kee brand (somewhat fruity, sweet, and chunky), two preferred Trader Joe's, and three others loved the Foco brand (super spicy—it hits you after a good few seconds, thick, and paste-y). But the Foco brand is confusing. It says it's a product of Thailand, but the bottle is all in Spanish. Someone please tell me why this is happening. Also, it had some brown gunk near the top of the bottle, so let's hope no one gets food poisoned…
The Okay: Only one person picked Trader Joe's Sriracha as their favorite one. Nobody even picked it as a second favorite. I suspect this is because it's a little fish sauce-y tasting. It's kind of watery, has a brilliant red color, and barely spicy. It's not bad, but it's not amazing, either. If you don't like spicy, this is your brand.
The Ugly: It turns out that the Sriracha sauce everybody has been touting—Shark—is the worst. It's no bueno. Randy, our web developer, says it tastes like rubber. I checked the bottle a few times just to make sure it wasn't an expired product. (It isn't.) For some reason, it's the most watery one, lightest in color, and also has a foul sourness that can't be easily forgotten. I suggest you use this Sriracha brand if you have mean guests coming over. Just douse their fried rice in this thing and you're good to go. Revenge is yours.