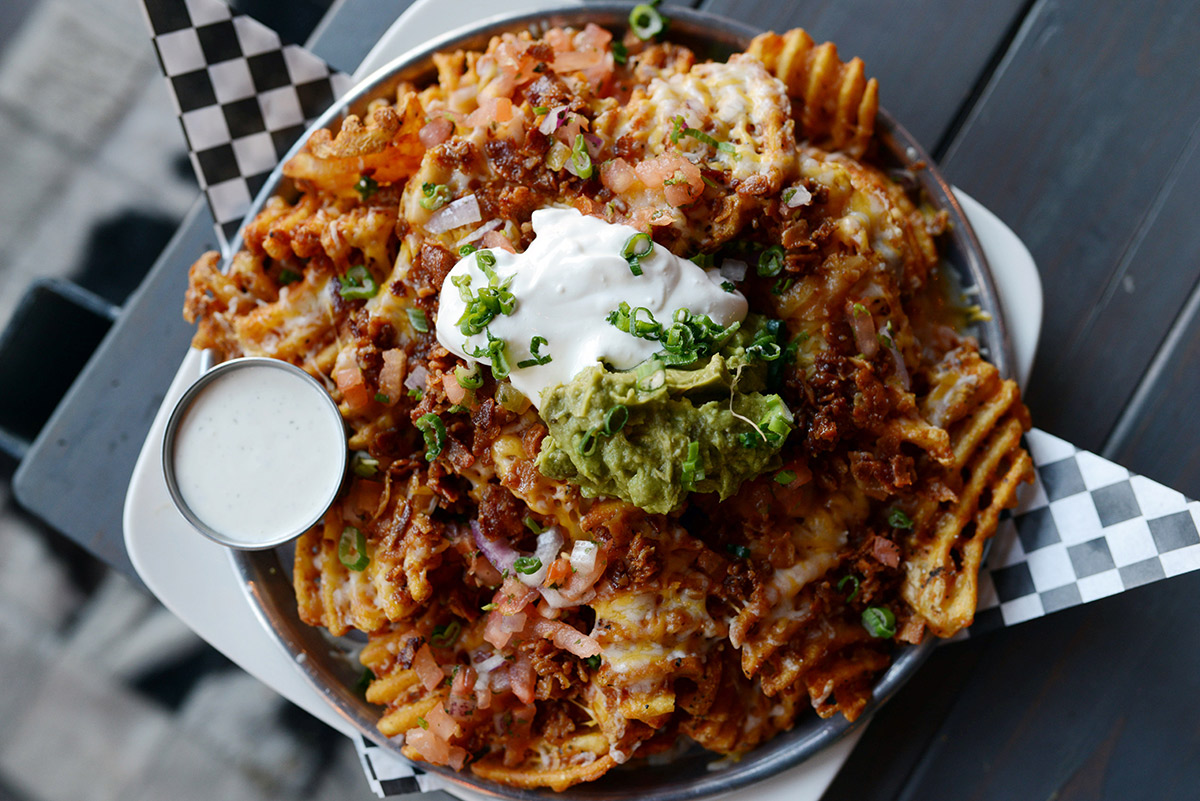 Into Shelley's Belly: Work Bar & Grill in Deep Ellum
At this seriously cool space, you'll find plenty of good eats and drinks.
As much as it may confuse you, I suggest you go to Work Bar & Grill at 2618 Elm Street after you finish work today. As insufficiently humorous as that opener may be, it's all I have today after the meat mountain I climbed and fell from last night. My ankles are swollen, my thighs are bursting through my spanks, and I don't know which Power Ranger I want to be anymore. The existential angst is killing me. Work opened in Deep Ellum last May, so I have to ask… Why didn't anyone tell me about this place sooner? The space is a rustic, industrial warehouse with lots of room to get weird. The working-class, brick appeal exudes a gritty, sports-bar-cool with plenty of seating and flat screens. There are a few arcade games, a stretch-limo-length bar to cozy up to, and a jukebox that hates me. I only say that because when left to its own decisions, that mother-lover played a horrendous line-up of junk-pop and honky-tonk filth. A few decent tracks were peppered in, but it's best to take over and control it if you can. Off the box we go.
The Drinks
The menu sits inside a folder, pinned clumsily like your TPS reports, but it holds a much friendlier outcome. "The Liquid Assets" is a list of eight seasonal cocktails, ranging from tequila-infused drinks all the way over to horchata. They have a short beer list and a shorter wine list. This is not the place for catching rare bottles or stretching your artisan beer muscles. It's an approachable, unassuming bar with an open-door policy when it comes to drinks. The menu is functional and friendly, just like your mom. I am not sure if that's actually insulting or not.
The Food
Co-owner Doug Pickering is the pit master on the premises and the visionary behind the establishment. His career was initially in finance, but after his hobby of smoking meats turned into a catering business, he decided it was inevitable that he go full-steam ahead. He still runs catering under the name DWP, but he is the main meat-maker here at Work. The office-inspired menu has a lot to offer without being crowded, and everything fits on two pages. To start off, they have something called the Jaychos. These hefty nachos are made with waffle fries, a three-cheese blend, scallions, and tomatoes with a topping of guacamole and sour cream. This is a dish you should share. Just look at it. Not everything comes with meat, so the vegetarians can bite their way through it as well. The Deep Ellum burger is made with smoked bacon, cheddar, house-made BBQ sauce, and it's topped with fried onion strings. It's a behemoth of a burger that will require some work to get into your mouth. It's worth the effort. The main reason people were coming in, though, was the smoked meat. Doug is meticulous about his brisket and it shows. The meat is tender and juicy, with a crispy layer wrapping it all together. He seems to have his calculations down, and I am sure he'll be pitting his meat against the other big names around town before too long.
This somewhat-cursory-peek into Deep Ellum's Work has been brought to you by Meat Lovers of American Manliness. All rights reserved and held high above your head so that you won't see us coming. Get meaty and stay warm.
In This Post