The Blind Butcher quietly opened in early January. The owners are the same dudes behind one of Dallas' favorite watering holes, Goodfriend Beer Garden and Burger House. This neatly oiled man-den has a finely trimmed beard, a hand-stitched leather, gazelle-skin chic attitude, and lots of black. An exposed brick wall gives a rustic embrace to the clean darkness of the bar, tables, and pretty much everything else donned in darkness. With all the masculine, refined sleekness, the stylish skills of the owners is hard to miss. If Eustace Conway became a bar, this would be it.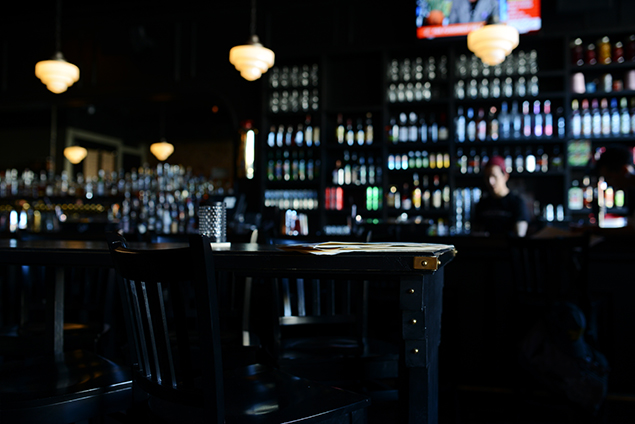 The Crowd
You'll see late twenty, early thirty-something intellectual grunge-types with a penchant for facial hair, carved wood, and imperial, barrel-aged limited releases. They're mellow, casually dressed and generationally ambiguous. Most of them are probably discussing the movie Her and considering their relationships with technology, while also wondering if the meat is grass-fed. I heard f-words, a-words, and even some laughter. It was early, though, and frigid outside. Rush hour was pacing Greenville Avenue at an anxious speed, and those who found respite within The Blind Butcher at this hour were here for quiet, hip luxury. The inside space is small, so it reserves the ability to grant privacy and intimacy. If you can't get in, there are plenty more options just a hatchet's throw away. The surly interior style caters to the man-types, but much like Goodfriend, the vibe has room for the ladies.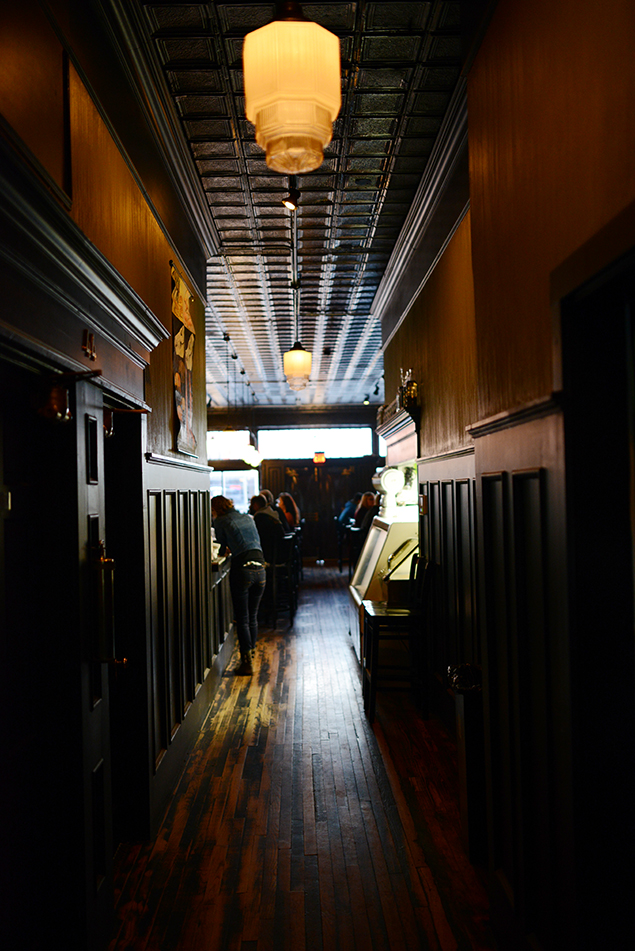 The Drinks
The two-page beer menu offers drafts, bottles, bombers, and my favorite, "Horseshit Beers." I won't bore you with that line-up, and you can probably use your intellectual judgment on that one. (I admire the Blind Butcher's honesty.) It's mostly American beers, which fits with the restaurant's desire to benefit local vendors, but it has plenty of choices from France, Belgium, Italy, Germany, and other awesome places that make beer. You get it. It's an impressive list with 20 standard drafts, three nitro drafts, and two beers from Franconia that are brewed specifically for the Blind Butcher. Not only are the Franconia offerings delicious, but that's just effin' cool. You could base a month of visits just on finding your way across this magnificent list of craft brews. I am challenging you now. There are also some choice cocktails, plenty of spirits, and wine. All are welcome to imbibe.
The Food
Heads up: The full menu doesn't drop until February 6, but they're cooking up some tasty meat dishes in the meantime to get you worked up for that full release.  The pig ears are braised for 10 hours with a wonderful accent of citrus. With the orange fennel aioli to dip in, the tender ears become light and salty. The 6 animal terrine consists of beef, buffalo, goat, chicken, pork, and duck atop an earthy bed of white beans. Obscure cuts keep the palate guessing, and everything is prepared in refined manner. Except for the pretzel bread. It was somewhat plain. But thanks to the $4 price tag and the house-made mustard, it ended up being a good snack to go with the beers. But the hands-down favorite had to be the pastrami egg roll. The pastrami is cured in-house and tucked inside a crispy egg roll with onions and spices. It's a sultry dish. I'll have to return for the bacon brat. Seeing it sitting in the butcher's display, I gave myself several bamboo spankings for not ordering it. For shame.
The Blind Butcher's [email protected]$$ patio will open in time for spring, and it's a woody masterpiece. There's a full bar, mucho bench seating and tables, and lots of room for kicking butt. I've heard they may offer leather craft and woodworking classes back there, but I'm actually just making that up. Regardless, the patio space is well-lit and accommodating. Whether you're looking for a dark space to hide from the world and drown your woes, or a patio to showcase your latest party trick, The Blind Butcher is hot for teacher. Wait, I mean the teacher definitely has the hots for The Blind Butcher. Giddyup.
Get the SideDish Newsletter
Dallas' hottest dining news, recipes, and reviews served up fresh to your inbox each week.