When the oil is hot at Pier 247 Seafood Grill & Bar, you want to be around.
The secret to this old gas station building at Davis and Madison—which opens for its first dinner  tonight—is Pier 247's two chefs, John Fleming and Ty Frazier, and a deep fryer. They love Cajun food, and they love to feed people. Fleming is recently from Wolgang Puck Catering; Frazier's from Pappadeaux's.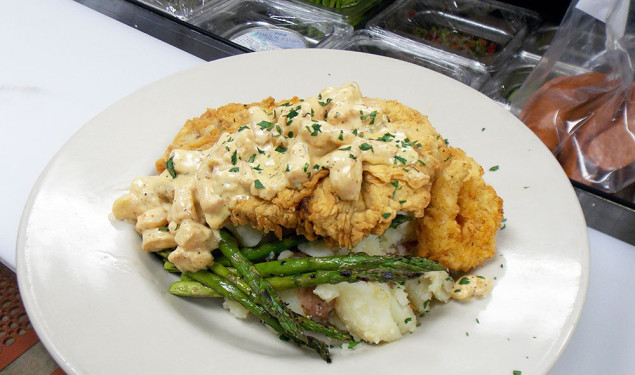 For the last half-year, owner Cecilia Lopez (who also owns 303 Bar and Grill across the street), has been transforming the Bishop Arts structure into a full-fledged seafood restaurant.
The restaurant's signature dish, the 247 Surf and Turf, is a chicken fried steak smothered with creamy Creole shrimp and served with a side of fried shrimp, grilled asparagus, and smashed potatoes. The fried oysters, another dish, pop juicily in your mouth. But the other fried temptations on the menu (fish tacos, crab cakes, catfish, and a curious fried oyster BLT) will have to wait for another day. Lighter fare, such as a pan-seared red snapper and grilled-salmon salads and entrees, make New Year's resolutions easier to keep. Top that off with a bowl of andouille sausage and chicken jambalaya when it's cold outside, and you could almost call that a perfect meal.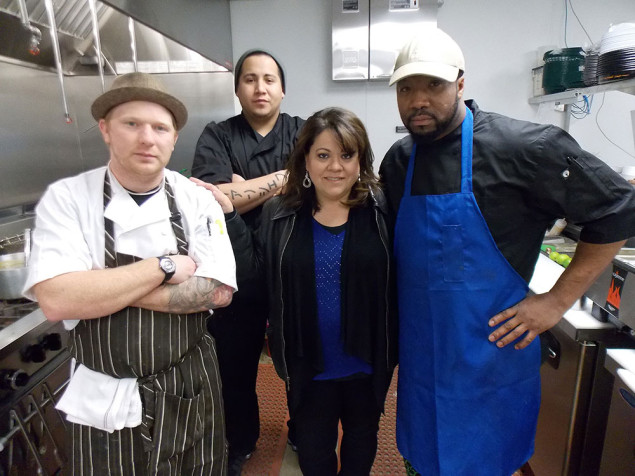 Though "Louisiana" and "New Orleans" came up a few times during the restaurant preview last night, there's none of the Mardi Gras kitsch that you'd expect from such inspiration. No Bourbon Street signage. No tacky beads. But, as manager Ashley Washington points out, the two signature frozen drinks will be a hurricane and an 1800-and-Coke cocktail. The kitchen will host a crawfish boil whenever it's in season. And while the flavor might say French Quarter, the décor says Santa Monica. The dining room features open ceilings, blonde wood, and huge windows facing foot traffic on Davis Street. There's a bike rack and lots of outdoor seating. I imagine that in spring—once the young families and dog walkers come out in hordes—one could easily pretend there's a beach just a few blocks beyond Bishop Avenue, even though we all know better.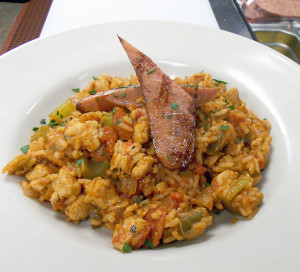 There's also a architectural gem hidden in the design. Lopez says the original part of the building is a 1940's-era tire shop that—in just a matter of weeks—will be transformed into a private dining space called the Zodiac Room.
Lopez said owning two adjacent buildings inside the Bishop Arts District is a coincidence, but not the fact that she retrofitted two original structures to preserve the neighborhood's aesthetic, which she accomplished with consultant Elias Rodriguez.
"When you're dealing with  history and landmarks, you have to be considerate of them," she said. "We want to blend in with the neighborhood."
Get the SideDish Newsletter
Dallas' hottest dining news, recipes, and reviews served up fresh to your inbox each week.