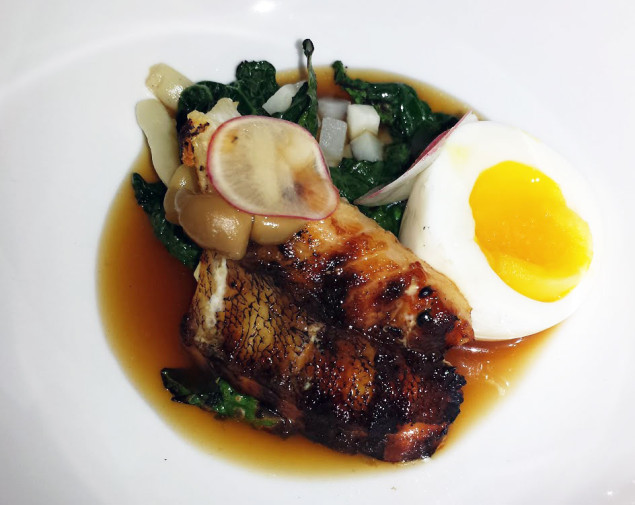 Lionfish, an exotic native of the Pacific Rim boasting bright scales and long protruding spines, became a popular trophy pet during the 1980's in the aquariums of the Western affluent. Sadly, to the horror of their new owners, it became readily apparent that lionfish are inhospitable neighbors with voracious appetites. After ravishing any and all cohabitants, many were re-introduced to a "natural habitat" (read: Atlantic Ocean or Gulf of Mexico).  This quick fix did not come without consequences as the absence of their natural predators in the South Pacific led to unchecked growth, which currently threatens the existence of many native Atlantic species. Solution? Eat them. Fortunately, the present concern happens to be a very, very tasty one.
Last night I sat down to one of the most anticipated—and most enjoyable—dining experiences I have had in some time. Driftwood and TJ's Seafood Market joined forces for the first lionfish-centric prix fixe meal in Dallas. After the guests of honor arrived a few days late due to temporary incarceration in customs, chef Omar Flores, supported by sous chef Justin Holt, created and executed a very unique four-course meal, using one (recently released) mild and flaky primary ingredient.
Chef Flores started by presenting a small plate of raw, cold smoked lionfish with Ají amarillo peppers, crispy capers, pine nuts, pickled mustard, and Pedro Ximénez vinegar.  The raw lionfish had a subtle sweetness with a proportionate amount of heat stemming from the peppers, rounded out by the unique crispness of the vinegar.  While easy to overlook, I found the use of pickled mustard to be extremely inventive, providing a tart burst of unexpected flavor in select bites.
We moved on to poached lionfish in a Vino Verde broth with melted leeks, butter basted clams, potato confit, Spicer's carrots, and caviar.  Without sacrificing flavor profile, the fish took on a more rigid and flaky characteristic. The leeks provided anearthy depth to the broth, while the butter-basted clams, potato confit, and carrots supplied layers of flavor that the fish and broth could not have established on their own. The eye-appealing caviar was also acted as a natural salt.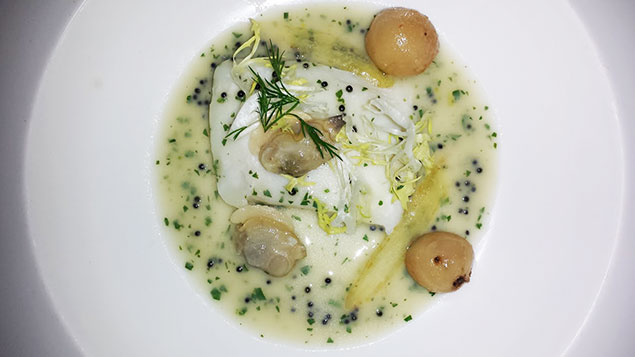 Chef Flores then plated salt-baked lionfish in Arbequiña olive oil, paired with soft herbs, and crushed grapefruit. The baking technique provided a unique result that was light and airy, with a crisp, delicate skin. Stemming from Andalusia, the oil was highly aromatic, leaning towards fruity and floral. This trait characterized the dish in a very pleasant manner, particularly when combined with the tartness of the Ruby Red.
Sous chef Justin Holt's Asian techniques were displayed brilliantly in our final dish.  It was arguably the most picturesque plate of the evening. The lionfish was delicately grilled, with Toscano kale, radishes, Hoj Shimenji mushrooms, and a farm egg. Holt poured a flavorful charred fish bone dash over his grilled lionfish and its mushroom-radish-and-egg-yolk accompaniments.
Dessert—consisting of a parsnip-vanilla bean ice cream with ginger cake, white miso butterscotch, salted hazelnuts and burnt pear—rounded off the night beautifully.
Driftwood and TJ's expertly exhibited their capacity to provide superior and innovative gourmet seafood cuisine.  Chefs Flores and Holt continue to amaze by way of their artistry, which any recent patron of Driftwood can attest to.  For those that prefer to experiment at home, TJ's owner, Jon Alexis, stands ready to act as purveyor.  With the lionfish invasion of the southern Atlantic and Gulf materially impacting the native ecosystem, it's time for us to perform our civic duty—grab a fork and get to work!
Get the SideDish Newsletter
Dallas' hottest dining news, recipes, and reviews served up fresh to your inbox each week.