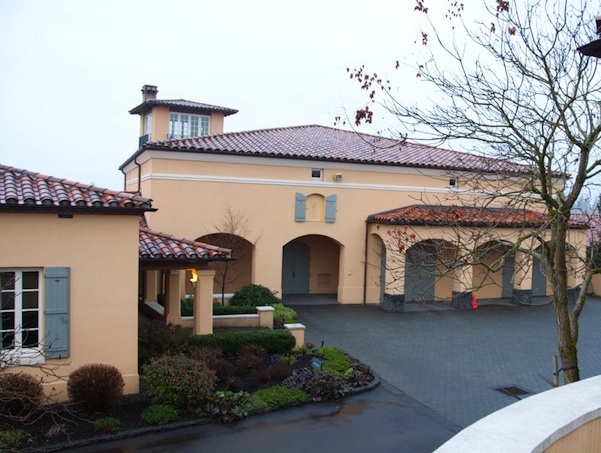 I recently made an unexpected trip to Portland, OR, and while there, took the opportunity to visit one of my favorite places just outside the city, Willamette Valley. Just in time for holiday planning I visited a few favorites and a new find, each making wine ideal for your Christmas dinner, especially if holiday ham, pork tenderloin, roast turkey or a "Feast of Seven Fishes" are on your menu. The wineries provided complimentary trade tastings.
Domaine Serene has been having a very happy holiday season, receiving both a 95 point rating for their 2010 Evenstad Reserve ($65) from Wine Spectator, and also being named the number 3 wine in the world in the Spectator's Top 100 list. Under winemaker Erik Kramer (formerly Assistant Winemaker with Adelsheim) the Evenstad Reserve remains a classic example of refined, lush and approachable Oregon Pinot Noir. But that's not all Domaine Serene is known for, their Chardonnay is equally as special, displaying lively acidity and balanced fruit characteristics in each one they make from the crisp, citrus and mineral filled Etoile to the rich and creamy Cote Sud.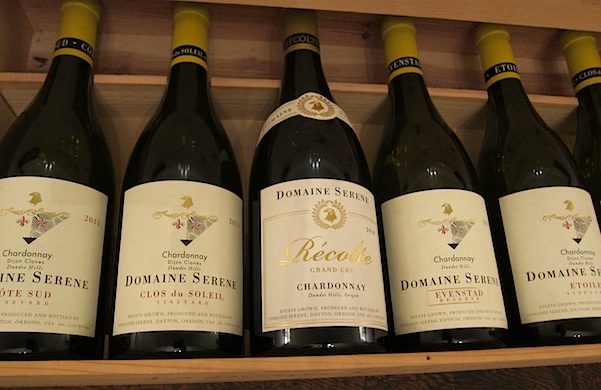 Chardonnay isn't the variety Willamette Valley is most known for, even though the regions characteristics are so similar to Burgundy. Domaine Serene is proving that great Chardonnay can be produced from their earthy, mineral rich, volcanic soils. I had a chance to try a ten year old vintage of the unoaked Etoile, not the norm for Chardonnay to be held for ten years, especially from and area not known for their Chardonnay. This one was still fresh and bright with hints of creamy marshmallow and ripe pear, and still great acidity. Gorgeous. Domaine Serene also recently began production on a high-end, sister white wine to their elegant, small production Monogram Pinot Noir. Récolte Chardonnay, from the French word for "harvest," is a small production, hand harvests, barrel fermented white wine from the best Chardonnay fruit on the Domaine Serene estate. Fresh yet well rounded, lively yet refined, delicate yet vivacious, filled with golden apple, stone fruit, marzipan, toasted vanilla, and lemon custard with texture, weight and a smooth, lingering finish. $125 available via their website directly upon release, additional details to purchase on their website. Their Evenstad Reserve, as well as various other Domaine Serene selections, available locally at Pogo's and Total Wine and More.
Winderlea is also fast becoming known for their stunning Pinot Noir, but just as delicious is their luscious, balanced Chardonnay. The former financial executives with the dream to make great Burgundian wine are proving they have the skills to succeed with these wines from the top of Dundee Hills. Like a classic Chablis, their Willamette Valley Chardonnay offers balanced acidity, wet stone and mineral characteristics mingling with lemon curd, apple and stone fruit.  The 2011 Chardonnay, $38, is currently sold out on their website, but the 2012 will be available shortly.  You can join their mailing list for updates.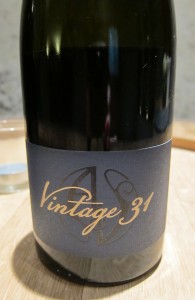 Adelsheim Vineyards, led by its founder David Adelsheim along with winemaker Dave Paige, continues to produce some of the most luscious, refined and elegant Pinot Noir wines in Willamette from their Chehalem, Yamhill-Carlton and Eola-Amity sub-AVAs estate fruit and that sourced from various growers throughout the Valley. I had a chance to spend time with both David and Dave on this trip, barrel tasting some of their 2013 fruit that had just finished fermentation and the 2012 that will be bottled in the spring. I spoke with the duo about barrel selection and how a selected barrel impacts the resulting wine in a bottle. Over the past 40+ years Adelsheim has had time to perfect their barrel selections, but just as grapes change each year based on climate and weather conditions, barrels can too, making it a constant priority to continue to test and retest to ensure the final result will be just as you want it to. Adjusting the toast you request of the cooper (barrel maker), or the location where the trees your barrels are grown, or the amount of new verses 2nd or 3rd year old oak, will transform the profile of your wine, so though many modern day winemakers believe the wine is made in the vineyard, it often is still influenced by what happens in the winery. Adelsheim continues to prove their skill and knowledge with the process by creating stunning wines.
Best known for both their Willamette Valley Pinot Noir ($30,) filled with fruit forward layers of ripe red and black berries with a touch of sweet baking spice, and their robust, concentrated Elizabeth's Reserve Pinot Noir ($55) with blackberry, black cherry and earth. We had a chance to try their 2008 Vintage 31 ($180), featuring the best fruit from the wineries 31st harvest in Willamette, aged in four small French barrels (33% new, remaining 2nd and 3rd year) for 11 months. Only released in the the best vintages, the wine is filled with rustic spice, toasted toffee and hazelnuts, and robust black fruit. Refined, elegant and special, with only 112 cases made, this is a gorgeous wine to gift for the holidays or enjoy yourself. All wines are available on their website, various stores, including Pogo's and Spec's locally carry the Willamette Valley series wines, Pogo's carries the Elizabeth's Reserve as well.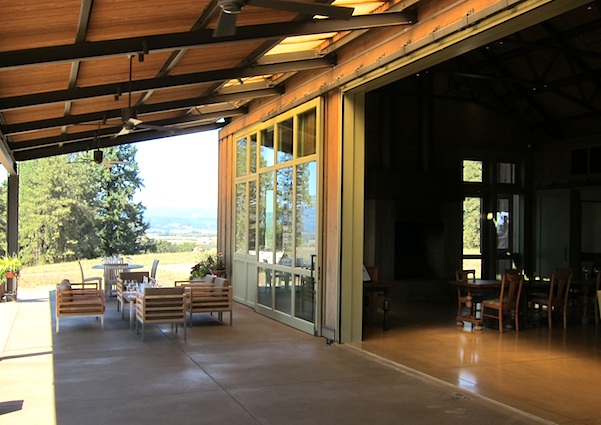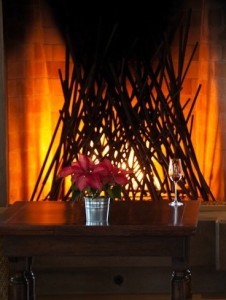 One of my favorite places to visit in Willamette is Soter Vineyards. Whether in the summer, with verasion changing green grapes to red and their expansive garden bursting with fresh strawberries, zucchini, squash, peppers and 6 foot tall sun-flowers, or the middle of winter when their cozy fireplace invites guests to come in, taste and enjoy, a visit to Soter is always a warm and welcoming experience. Their winery tasting room is actually the big family room of owner/winemaker Tony Soter and his wife Michelle, both Portland natives, who built their home's family room for tasting and entertaining, with bedroom cottages scattered throughout the rest of the Yamhill-Carlton property.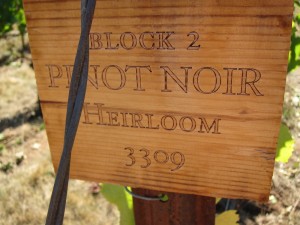 Besides being a beautiful place to visit, they also make killer wine from many of the same heirloom clones Tony became known for at his former winery in Napa, Etude, through some of the most refined techniques in the valley. Most recently he began testing a new mechanical picking device used at harvest that gently moves fruit from end to end of a cluster picking only the grapes that are ready to be picked that day, automatically helping sort the grapes when they are picked as well. Though hand picking has always been preferable for quality, small production grapes, this technique takes a lot of the guess work out of picking and sorting, resulting in beautiful, black pearl-like grapes coming out of the vineyard ready to start fermentation.
Soter North Valley Pinot Noir is made from a range of clones grown throughout Eola-Amity Hills, the Dundee Hills and Yamhill-Carlton, all sustainably grown with an effort to keep their natural environment as clean as possible. The result, all that you would hope for in rich, interesting and distinctly Oregon Pinot Noir, with strawberry, raspberry and black cherry with a touch of musty earthiness and spice. A great bottle for only $30 via their website; $28.99 locally at Pogo's. Pogo's also has a select few bottles of Soter Brut Rose sparkling wine, made in very small quantities using the traditional method of Champagne. I love this wild berry, spice and toasted crème brulee filled bubbly, and it is often very hard to get your hands on, $69.99.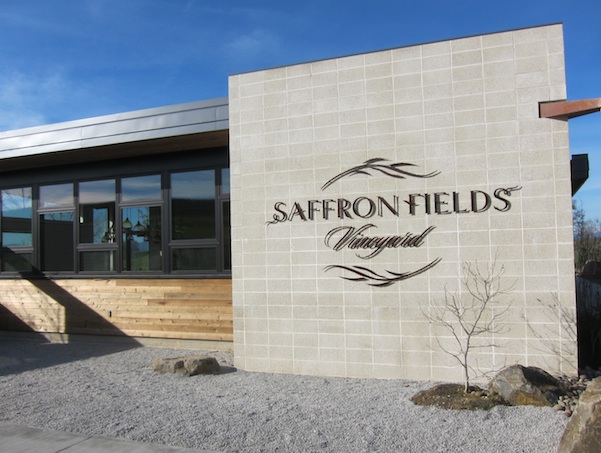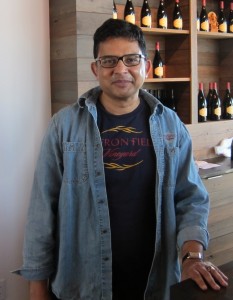 Saffron Fields Vineyards was purchased and created ten years ago by Houston based chemical engineers Dr. Angela Summers and Sanjeev Lahoti, originally with the goal to simply grow fruit. The couple had a distant dream at the time to find a vineyard to retire to, though not sure when full retirement would come. After looking throughout California they traveled north, never having been to Willamette, and started the search. Happily they arrived on a brisk but very clear and sunshine filled day, odd for Oregon at that time in the fall, visiting a 90 acre, unplanted property in the Yamhill-Carlton sub-AVA. Within 3 months they had closed on the land and shortly began the process of clearing it to prepare it for vines, finally planting the first acres in 2007. Today 22 acres are under vine, predominantly to Pinot Noir, with the majority of their fruit sold off to producers in the region, mainly Tony Rynders who left Domaine Serene a few years ago to start his own Tendril project. Tony also started helping Summers and Lahoti with a small production of wine under their own Saffron Fields label.
Though still based in Houston with their engineering work, Summers and Lahoti just completed their brand new, art filled tasting room, celebrating their grand opening the day I was there, welcoming both visitors from out of town as well as many of their neighbors in the valley. The tasting room pours not only their wine, but also the wines from the producers that purchase their fruit like Chris Berg with Roots, Jay McDonald with his small production, yet very special EI-EI-O wines, and of course Tony's Tendril wine. Though each wine is produced from grapes grown on the same site each is very different with the lively, delicious EI-EI-O Pinot Noir filled with bright acidity, cranberry and cherry notes and a touch of spice, the Roots overflowing with the typical red fruit aromas and earthy flavors of Oregon Pommard clone Pinot Noir, and the Saffron Fields Pinot Noir displaying a delicate elegance, freshness and subtlety not often found in fruit that is still relatively young. The wines are available via the Saffron Fields website retailing from $48-$55 a bottle.
Get the SideDish Newsletter
Dallas' hottest dining news, recipes, and reviews served up fresh to your inbox each week.