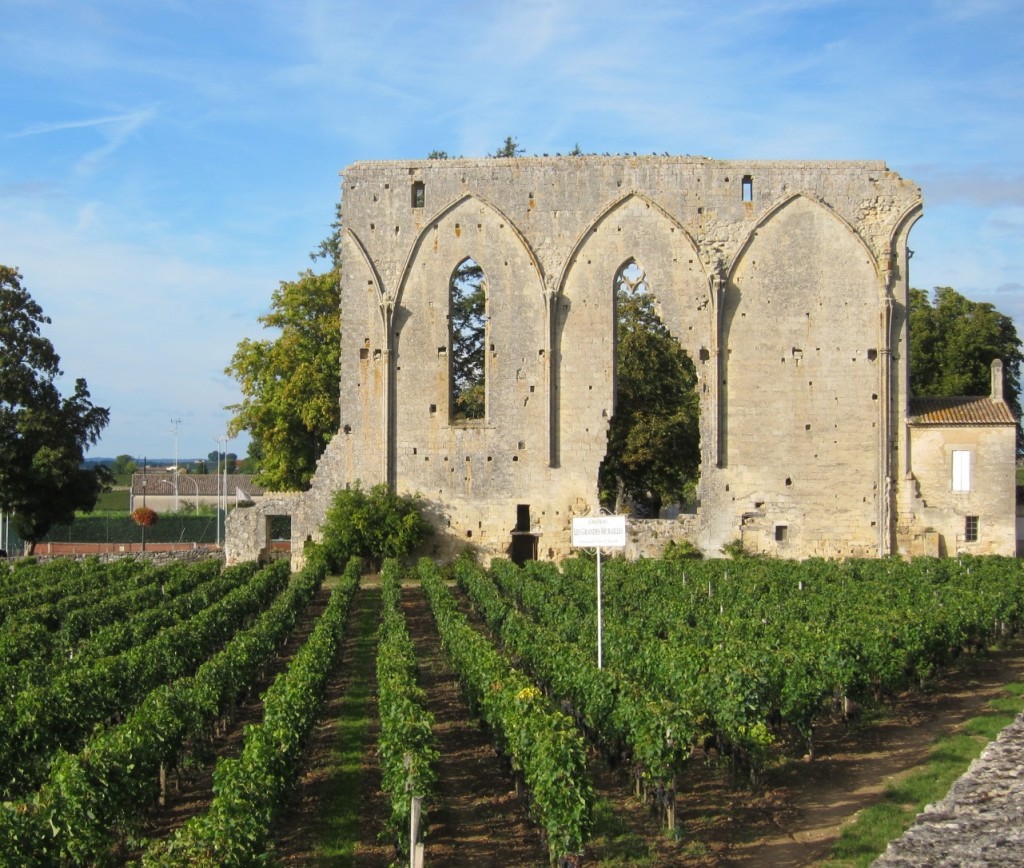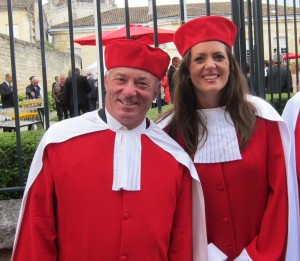 Recently I had the opportunity to travel to Bordeaux, France recently a guest of the wine societies of St. Emilion, Fronac and Pomerol celebrating the beginning of harvest and attend the induction of the Jurade de Saint Emilion, a historic society originally created in 1199 by King John of England (son of Eleanor of Aquitaine) to govern the region, and at the time, send all its gorgeous wines back to England.  Today, with over 3000 members world wide, the Jurade acts more as ambassadors for the region, celebrating the wines of St. Emilion, Pomerol and Fronsac throughout the world. For a history lover and wine lover, experiencing their festivities, while walking through the cobbled streets of St. Emilion, filled with thousands of visitors lining the path here to celebrate the harvest, was an incredible experience, and one that can be had by anyone making the journey to the region at this time of year.
While there I was able to taste many of their Right Bank wines.  The Right Bank style, like many Old World/European wines, represents the earth with the mineral rich gravel, limestone and clay soils and the ever changing weather conditions.  Planted predominantly to Merlot and Cabernet Franc, as they both are known to ripen early, ideal for the region that historically gets way too much rain throughout the year, and has a hard time staying warm enough through the summer to ripen the main Left Bank variety, Cabernet Sauvignon.  Very little white varieties are planted on the Right Bank, again because the white grapes for the region of Bordeaux are Sauvignon Blanc and Semillion, both which need a longer ripening season filled with sunshine, which typically isn't the regions strong suit.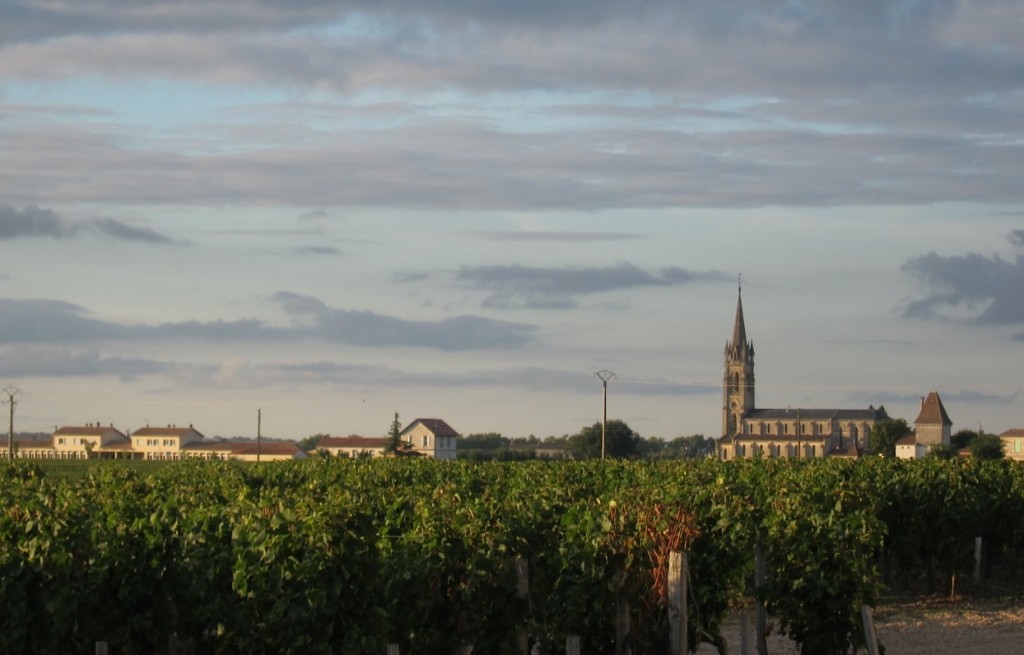 With signs of global warming becoming apparent in Right Bank vineyards, however, more Cabernet Sauvignon is being planted in the region today.  The typical profile of Right Bank wine is filled with layers of crushed stone, dried cherry and prune, hints of floral lilac, violets and a touch of fresh herbs, with big, robust tannin balanced with acidity, making Merlot based wines that will age for many, many years, developing subtle, decadent gamey, smoke and spice qualities as they get older.  We tasted several wines throughout the trip that were 20, 30 and 40 years old that though they didn't have the fresh fruit characteristics that many New World palates gravitate towards, they were still filled with subtle dried fruit, wild mushroom and spice notes with smooth tannin and a light touch of acidity, keeping a freshness to the wines. 
One of my favorite evenings was sitting in the home of François Mitjavile, winemaker and owner of Chateau Tertre-Roteboeuf Saint Emilion Grand Cru, sitting around the dinner table with he and his wife, Miloute, together now for over 50 years, breaking bread, sipping wine and hearing the story of how they started one of the most respected wineries in Bordeaux.  In the beginning of their relationship Francois had a job working for his family's business away from Bordeaux, then courting the lovely Miloute and traveling to see her on weekends.  The charming, intensely passionate and rather eccentric Francios had the goal to prove himself worthy of Miloute, who had inherited her father's vineyard La Tertre when he passed, he moved to Bordeaux, did a two year apprenticeship at the prestigious Chateau Figeac.  In 1977 the couple, by then married, moved back to the vineyard and created Chateau Tertre-Roteboeuf.  Over the next 10 years they worked together to differentiate themselves, growing robust Merlot and Cabernet Franc in their small 14 acre estate and in the mid 1980's the wines rose in popularity to now be one held in the highest regards with cult-like status in St. Emilion.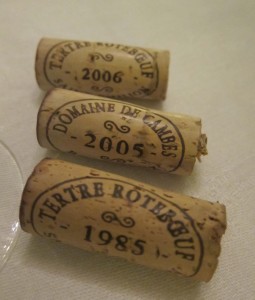 Today the vines average in age around 40 years.  Francios prides himself on having the wine made in the vineyard, not the winery, letting the grapes hang so long that they achieve the highest level of ripeness just before going the other way.  Fermented, as many wines in France are, in large concrete vats and then blended and barrel aged for upwards of 24 months in new French oak.  Blending prior to aging is not the common practice for many wines as most winemakers want to see how each individual variety does on their own through aging prior to creating their blend, however practice, know how or simply determination has proved to Francios that the ideal wine for their estate can be made through his method, where the wines are also allowed a high level of contact with oxygen during aging…again, a practice not often seen during production. He has to know what he is doing as the wine tells the story of the land perfectly.  We had a chance to barrel taste the 2012 aging wine, still fresh and juicy capturing some of the elements of oak and spice but not fully developed yet, then we tasted his 2006, 2005 and 1985 – the first two were still slightly young and needed a little more time in the bottle to soften the tannins and round out the flavors though both displayed aromas of black cherry, fresh mint, dense earth, milk chocolate and subtle spice.  The 1985 filled with glass with intense aromas of stewed fruit, baking spice, hot pepper, deep espresso and musty earth with very soft, lush tannins, perfect for pairing with roasted lamb or game dishes.  Pogo's currently has two vintages available at their Lover's Lane store – 1999 and 2000, there is a significant difference in price for the two (the 1999 around $150 with a 91 point rating from Parker/ later around $350 with a 98 point rating from Parker.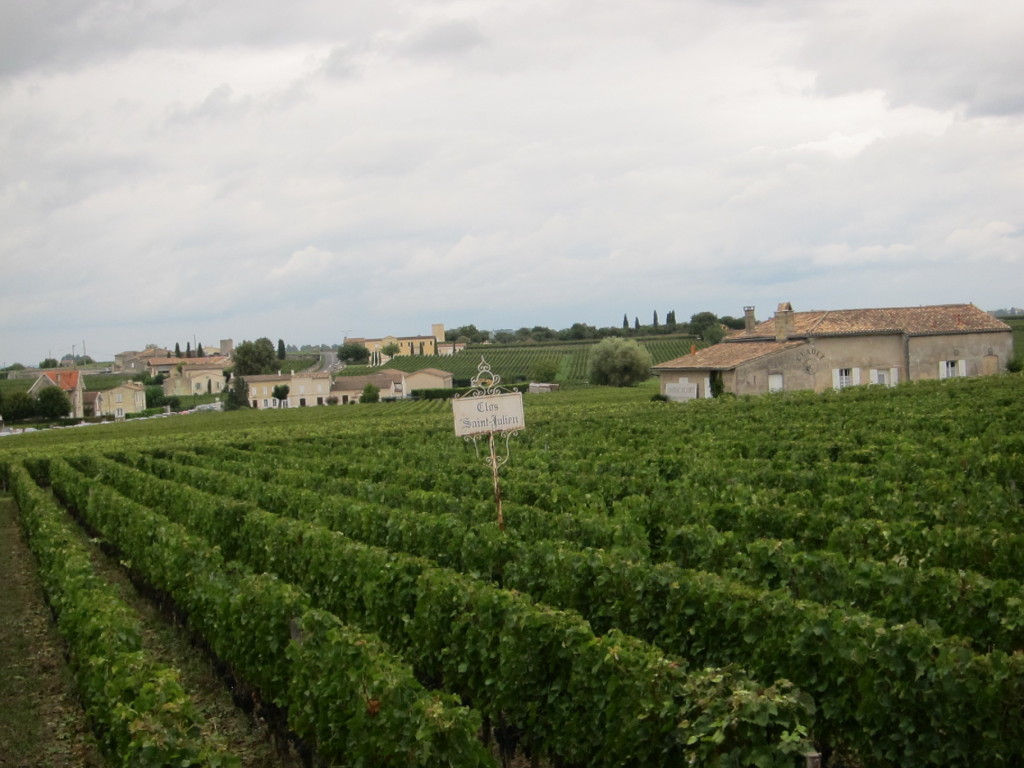 Visiting the state of the art winery, La Fleur de Boüard, the Lalande de Pomerol property of Hubert de Boüard de Laforest, showed that even in this land of highly governed and regulated wine laws maintaining the traditional, classic style of the wines, there are still modern techniques and technology taking hold that have elevated these great wines even beyond their historic superiority. With a completely gravity flow winery, suspending their cone-like fermentation vats in the between the floor and ceiling of the winery they can easily keep the grapes in a constant natural motion during fermentation and afterwards aging for lees stirring. The result, refined yet delicate wines with expression and character. The 2009, an exceptional vintage for the winery, is a blend of 85% Merlot, 12% Cabernet Franc, 3% Cabernet Sauvignon, aged 20 months in oak, creating a lush, fresh and approachable wine filled with black cherry, wild raspberry and blackberry and a touch of baking spice and chocolate.
In addition to La Fluer, Boüard de Laforest also co-owns the lavish and highly respected Angelus 1er Grand Cru Classé of Saint Emilion, that also has made a name for themselves by celebrating the traditional while embracing modern techniques, all with the goal to create perfection.
Chateau de Bellevue, in Lussac-St. Emilion is another that embraces their Old World style. Though the origins of Bellevue is unknown, there are remnants of a Gallo-Roman villa called Lucciacus a few hundred meters from the Chateau. The estate Chateau dates back to at least the French Revolution, with 49 acres of vines creating wines in a decidedly Old World style through completely organic farming. Rustic, intense, earthy and mineral driven enhancing layers of black fruit. Château de Bellevue 2010, though still young, embodies the beauty of this region with its structure, character and weight, a wine that has the ability to age for at least another decade.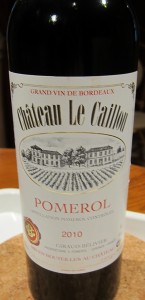 Pomerol is known for creating some of the most prestigious wines in the world from their gravel filled soils, including Petrus and Le Pin.  Chateau Le Caillou is a small estate (about 17 acres) sitting at the top of the Pomerol plateau  known for their exceptional blend grown in gravel and clay filled soils with vines averaging about 30 years old.  Treated with the gentlest of care, the hand harvested, hand sorted grapes go through 3-4 weeks of masceration prior to fermentation in the traditional concrete tanks and is then aged about a year in small oak barrels.  Rich, robust and earthy, yet still balanced and refined.  With neighboring Chateau fetching a healthy price of their wines, Caillou presents both great quality and value in their wines, averaging in price around $50 a bottle. The wine is available here.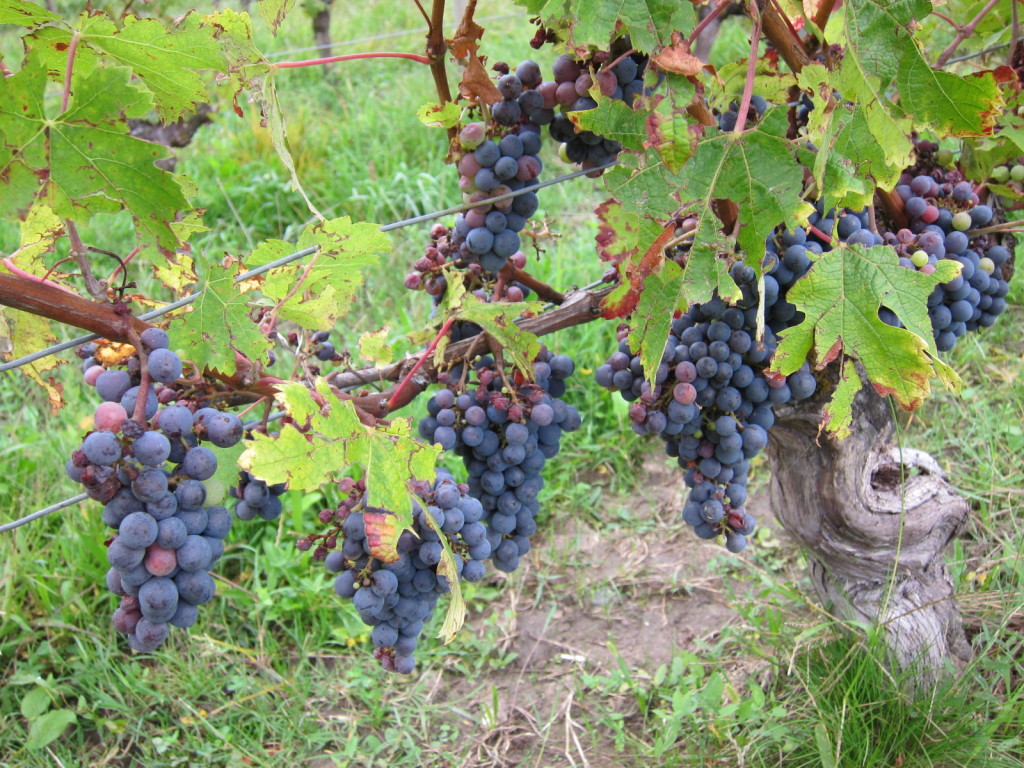 The charming father-son team of Philippe (the father) and Paul Bardet of Château Pontet-Fumet are proving to be innovators of the traditional as well, specifically with their farming techniques. Les Vignobles Bardet dates back to the 1700's, nurturing Saint Emilion vines grown in limestone and clay that today is farmed bio-dynamically, one of the first in the area to do so, while creating systems to help remove water from the vineyards when too much rain prevents fruit from ripening, they were the first to being use of cover crops, began the use of natural fertilizers, without chemicals or pesticides, and machines to help with gently destemming the fruit. Most recently Philippe developed a machine to remove all diseased or unwanted fruit from harvested vines called a QUALIBAIE, a machine that sorts grapes according to their diameter allowing only grapes of a certain size and circumference to enter their gravity flow fermentation tanks. Many throughout the region spoke very highly of Philippe and his innovative machine, and due to French law, they will all be able to benefit from it soon since there is not a patent system in France so innovations to their work are shared freely throughout the industry.  Philippe can protect his machine but not his idea, so for the next few years he will be able to use it on his own until other Chateau can build their own, which will inevitably happen sooner than later. But now, their estate benefits from its use helping create luscious wines with balance, finesse, structure and an evident sense of place.
We tasted both a Château Pontet-Fumet Saint Emilion Grand Cru 2010 and 1971. Though certainly well aged, the 1971 still displayed acidity and balance mingled with dried cherry, raisins, wild mushroom, crushed leaves and earthiness. The 2010 lept from the glass with ripe blackberry, blueberry and plum with sweet spice, toasted vanilla and dried herbs. Available here for $34.99.
Francoise Lannoye is a vivacious character – lively, funny, interesting, somewhat feisty, boasting an infectious laugh. In addition to creating her lavish 18th Century Chateau Ambe Tour Pourret cooking school led by charming Chef Bertrand, while making her Chateau Ambe Tour Pourret Saint Emilion Grand Cru Classe wine, she also has Chateau Lanbersac in Puisseguin-St Emilion, a more modest yet just as special Chateau with 55 acres of vines planted in limestone and clay soils located not far from the city of Saint Emilion. A former commercial real estate pro, she has always loved welcoming new friends and old ones, because once you meet her you are a friend, to her Chateau to share a glass. Through her oenotourism she shares her passion and love for the wines of St. Emilion, sharing soul of the winemaker behind a bottle. Though each of the wines we tasted throughout the journey were the same varieties of Cabernet Franc, Merlot and a touch of Cabernet Sauvignon, each different vineyard and AOC displayed different elements of the earth, from wet stone in Pomerol from gravel filled soils, to minerality in St Emilion from clay and limestone soils.  The Puisseguin-St Emilion also brought in layers of violets, ripe strawberry, raspberry dusty earthiness in her Chateau Lanbersac wine. $16.99 available here.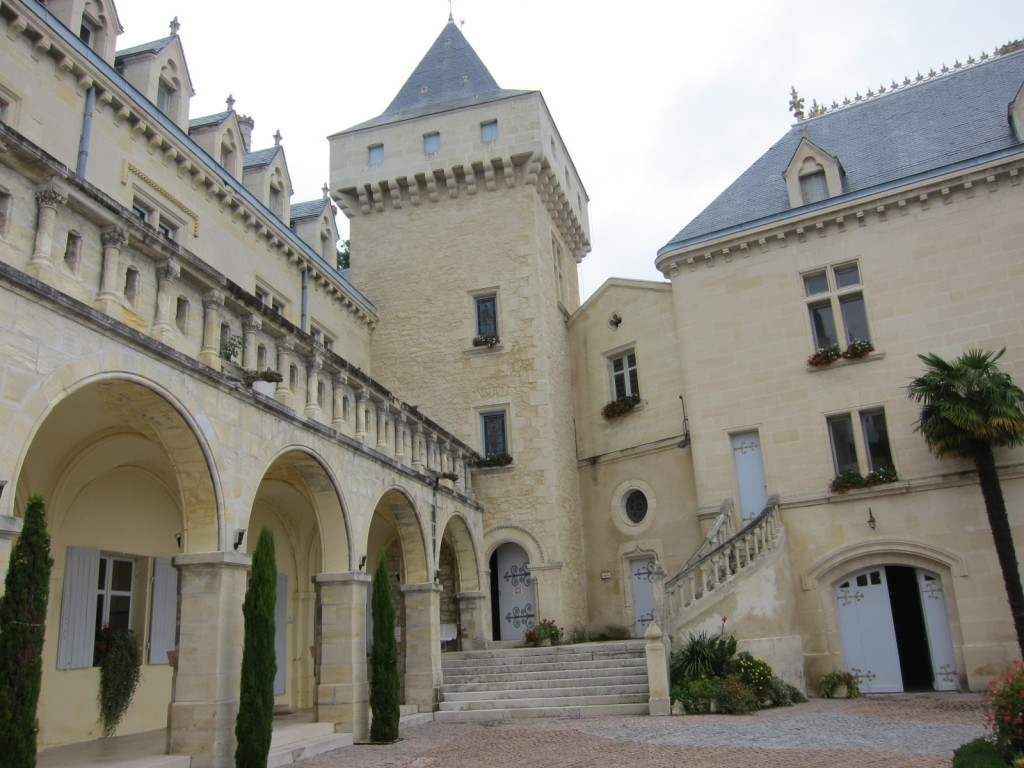 Perhaps one of the most classic, traditional spots to visit in the Right Bank is in Fronsac at Chateau de La Riviere.  A winery and guest house, with 5 well appointed rooms available for overnight stays looking out on to their pristine vineyards, this Chateau is filled with history. Dating back to the 1600's when the Chateau was built by the then Mayor of the town, the almost 500 acre estate, with 148 acres planted to vineyards, was known to have helped the Allies hide ammunition in their expansive under ground caves during WWII when the Germans had taken over the region.  Now, they are producing quality wines from vineyards farmed completely bio-dynamically in soils made up mostly of sandstone and limestone.
La Riviere has one of the few white wines we had throughout the trip. Chateau de La Riviere white is a lush, fresh and citrus filled Sauvignon Blanc with a touch of Sauvignon Gris, with great, balanced acidity, pairing well with a salad of avocado, asparagus,  tomato and barely poached egg with a pinch of fluer de sel. The wineries signature Merlot based Bordeaux blend showed the approachability of the wines and of the land, with more fruit forward characteristics than some from Pomerol and St. Emilion, perhaps appealing to more of a New World palate. Red cherry, red berry, sweet herbs and wild flower notes fill the wine accented with hearty leather, star anise and nutmeg notes. Chateau de La Riviere red is carried at Trader Joe's locations for around $28 or it can be purchased here.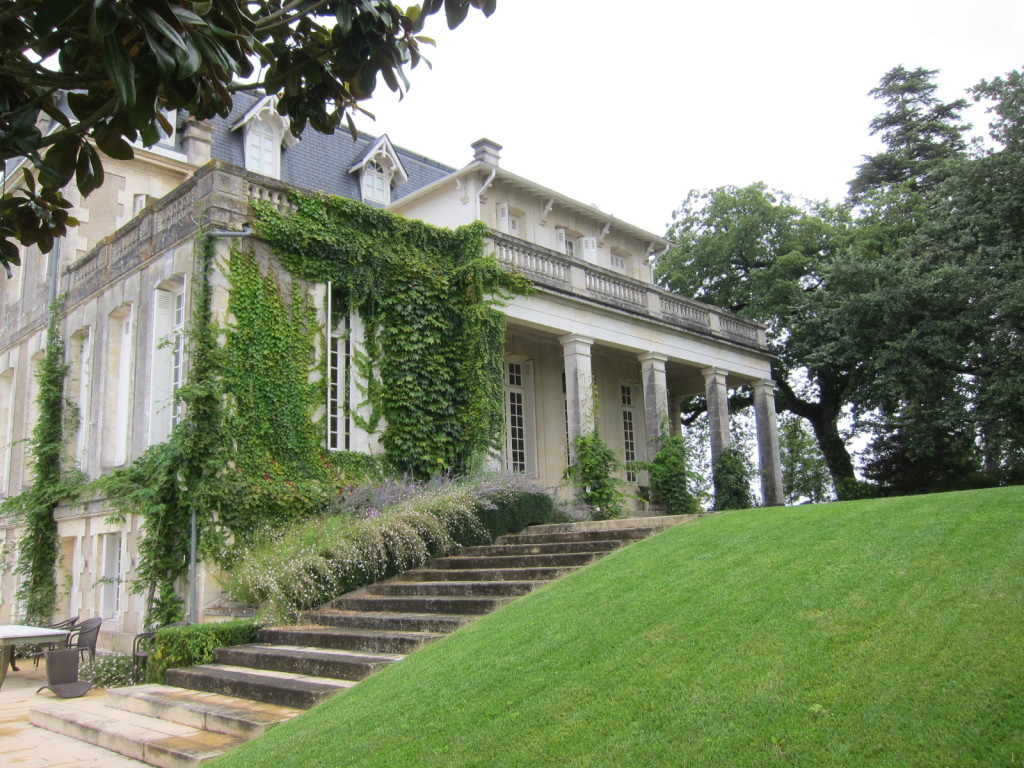 Also in Fronsac, Chateau du Gaby proves the superiority of the land and the structure of the soil, said to have once been used for target training when the cannon was invented (the part of Fronsac where Gaby is located is considered the best part of the region, called Canon-Fronsac). There is depth and character to their wines, like the 2009 Chateau Gaby, expressing full, ripe tannins wrapped around bright fruit, toasted cedar and earth. We tried a 2002 of this wine as well, that maintained its richness and character, but softened with age displaying more dried fruit, dried flowers and leather notes in the wine, proving the age-ablity of these wines. Chateau Gaby Bordeaux blend is carried at Total Wine and More locations for around $27 a bottle.
With as much history and grandeur that the wines of Bordeaux hold, specifically these of St. Emillion, you might think there would be an arrogance to their winemakers and owners. Wonderfully, that is not the case. The Jurade of today proves that with the group coming together in camaraderie, celebrating the terroir of their land, history of the vines and the wonderful wine that is being made every year. Though maintaining the quality of the wines and the historical significance is not easy, especially in a season like 2013 that was overall cool and wet, with an uncharacteristically long ripening season, they manage through, continuing to improve techniques while staying true to traditions, as the true ambassadors of their region. The wines are all about their sense of place, with winemakers striving to ensure the true aromas and flavors of their terroir shine through in every wine. Because these limestone, clay and gravel soil grown grapes are so big, tannic and robust, winemakers have mastered the art of making wine with cement, stainless steel and oak fermentation tanks creating wines with soft tannins, balanced acidity, approachability and incredible flavor that will age for years to come.
Get the SideDish Newsletter
Dallas' hottest dining news, recipes, and reviews served up fresh to your inbox each week.