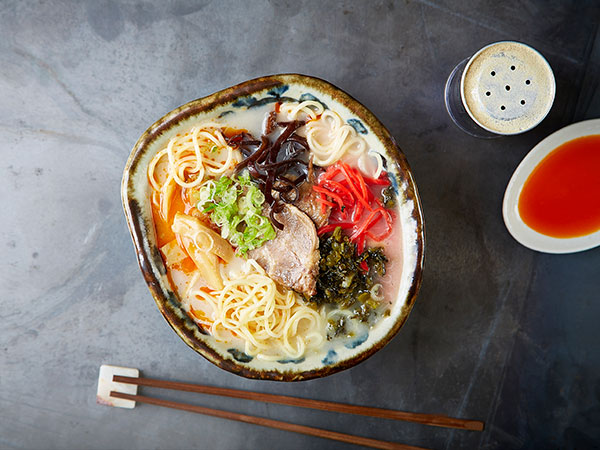 Ages ago—too long ago for most of y'all to remember—I wrote that Teiichi Sakurai would be opening a fish market at Sylvan|Thirty, the mixed-use development in West Dallas/North Oak Cliff. (It's currently being erected as I type this.) Well, forget what I said earlier about the fish market. That's not happening anymore. Sakurai has switched gears completely. Instead, he's opening a ramen shop.
Let me repeat that again: Teiichi Sakurai will be opening a ramen shop.
This will be Dallas' second dedicated Japanese noodle place (Tanoshii came first in September), but if anyone in our city can pull off a ramen restaurant that rivals those in Japan, it's Sakurai. He currently makes the best tonkotsu in Dallas.
The owner of Tei-An and Tei Tei Robata is serious about doing his third restaurant, Ten, right. He's thought about opening a ramen place for three years. Ten (or "天" in Chinese and Japanese) means "sky" and "heaven." Hatsumi Kuzuu, the same designer who did FT33, is designing the tiny 750-square-foot space, which only has enough room for 13 seats. Guests will be seated around a toppings bar, where they can choose what they'd like to add to their bowl. Gyoza and chashu will be available to order as side dishes. So far, Sakurai has plans to make three different kinds of ramen: tonkotsu-shio, shoyu, and miso. He probably won't have a curry ramen on the menu.
"My philosophy of ramen is that it has to be a street food. Quick and easy. This is an old-school ramen shop," says Sakurai. "I try to do culture more than business. If I like to make business, [the shop would] probably be four times bigger than this and lots of waitress running in general. But it's my passion introducing a culture, not a business. That's why seating is limited."
To the chef-owner, a $22 bowl of ramen is "nonsense." He doesn't want to charge any higher than $10 a bowl. Guests are encouraged to eat quickly, like they do back in Japan.
Sakurai plans for Ten to open in May. It'll be right across from Cox Farms, the Sylvan|Thirty grocery store that's supposed to open this month. [Update: It's been pushed back to January, according to Oak Cliff Advocate.]
Get the SideDish Newsletter
Dallas' hottest dining news, recipes, and reviews served up fresh to your inbox each week.