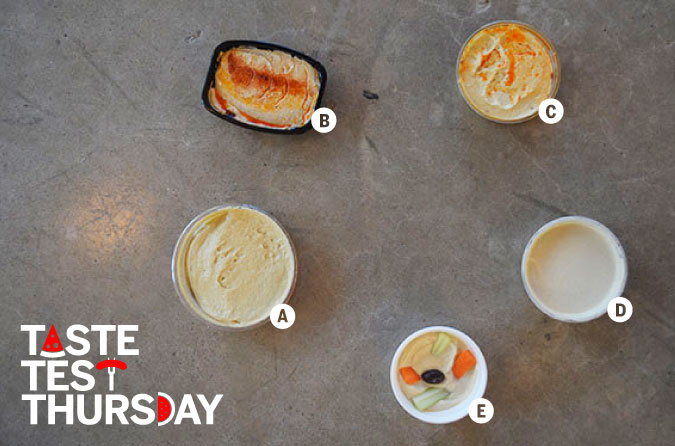 I hum, you hum, we all hummus together.
Of all healthy snacks, my favorite is dipping baby carrots into a mash of pureed chickpeas/garbanzo beans. (I am currently alternating between typing this and eating hummus with potato chips. Don't judge.)
Well, enough of my jibber-jabbering. Hummus doesn't wait for anyone. Hummus disappears, as you know. We tasted five different hummuses (hummi?) this week. One of them was a common national brand, Sabra. Three of them came from Dallas restaurants (Fadi's, Cafe Izmir, and Food From Galilee), and one of them came from this company in Austin.
Let's get on with it.

A. Sabra's classic hummus – National brand (Ingredients: cooked chickpeas, tahini soybean oil, garlic, salt, citric acid)
B. Fadi's hummus – Dallas, TX (Ingredients: chickpeas, lemon, garlic, tahini (sesame seed) paste, salt and pepper, topped with olive oil and paprika.)
C. Grandma's humus – Austin, TX (You can get this at Green Grocer. Ingredients: organic, chick peas, sesame tahini, fresh squeezed lemon juice, olive oil, etc.)
D. Cafe Izmir – Dallas, TX (Ingredients: sesame seed, whipped garbanzo beans, garlic, dairy, and olive oil)
E. Food From Galilee – Dallas, TX (Ingredients: pureed garbanzo beans, tahini sauce, lemon juice, and garlic)


A bunch of hard-working people who were still in the office at 5:15 p.m. Not a small crowd, that's for sure.
"Too much tahini."
"Best flavor and texture combo. Has heft."
"Very garlicky!"
"Nice little lemon flavor. A good thickness/consistency."
"My favorite. Tastes like what hummus should taste like."
"A little sour. Bad after taste."
"Definitely can taste the chickpeas."
"Had a sweet, almost fruity flavor. Not bad, just unusual. The consistency was my favorite. (I like it smooth.)"
"It almost has an acidic taste to it."
"Hints of an olive taste."
"A little too smooth, but still hummus."
"Very, very good! Great texture. Lemony."
"Garlicky, with a plastic/citrus aftertaste."
"Odd watery consistency, but not smooth."
"Grainy texture."
"A little tart. High on lemon and garlic."
"Really runny, but not bad."
"More like hummus water, too thin."
"I can't get over the look of this. Yesterday, when I got home, my dog looked shameful. She had thrown up something that looked like this."
"Consistency of salad dressing. Nothing hummus about it."
"Sauce. What! Not real hummus."
"Overwhelming taste of black pepper. Ick."
"Nice flavor, creamy"
"Appropriately lemony, but could use more tahini"
"Perfect for dipping."
"Nice and light, but has somewhat of a bitter, vinegar-like taste."
"I like the flavor of this one the best, even though the consistency is a little too runny."
"Subtle herb flavor. Delicious."

4 votes for (E) Food From Galilee
3 votes for (C) Grandma's Humus
2 votes for (A) Sabra
1 vote for (B) Fadi's

Cafe Izmir's hummus is deceptively advertised on its menu. "Known as Dallas' Best!" it says. But when I got back to the office and took a whiff of this salad-dressing-esque hummus, I thought they made a mistake. This couldn't be hummus. Confused, I showed it to the visiting yoga teacher who was just about to teach class at D Magazine. I didn't tell her where it came from.
"Is this hummus??" I asked.
"Is that from Cafe Izmir?!" she exclaimed.
Then she proceeded to say that it's always that runny AND it's the best hummus she's tasted. Okay. I gave it a shot.
But none of our taste testers really like watery hummus. Although the flavor was probably the most complex of all the hummuses (I loved the smokiness of it), the texture begot this appetizer a total of zero votes. Cafe Izmir loses.
People really leaned toward Grandma's Humus (a brand from Austin) and Food From Galilee, which is in Snider Plaza. The latter has a solid hummus. No frills, no unnecessary extra tahini. It's got a pretty great texture that's not too pureed and not too blocky. Grandma's Humus is basically the same, texture-wise, but it is definitely more lemony. It has a strong acidic taste to it.
Overall, Food From Galilee wins for its better balance of tahini sauce and lemon and garlic. The trifecta.
If this taste test proves anything, it proves that we feast with our eyes more than our noses.
Get the SideDish Newsletter
Dallas' hottest dining news, recipes, and reviews served up fresh to your inbox each week.