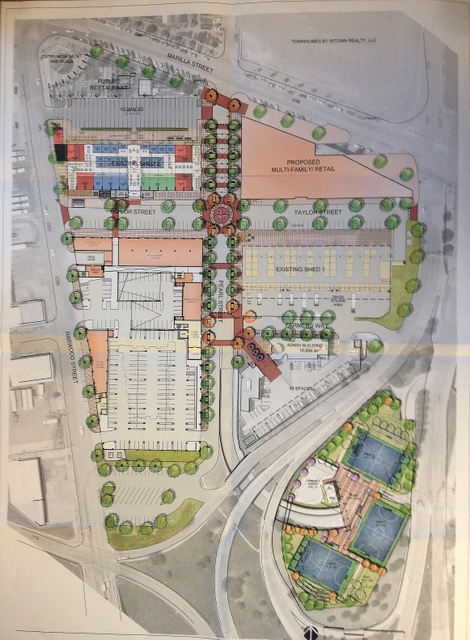 As you probably know, the Dallas Farmers Market was sold to DF Market Holdings last June. The names behind the business are Managing Partner Brian Bergersen, Janet and Phil Cobb, and Ruthie and Jay Pack. Many people feel the group took a public relations blow last week when Pecan Lodge announced they were moving from DFM to Deep Ellum. Was it a loss for the Dallas Farmers Market? Hell, yes. Was it the end of the world? Hell,no. Pecan Lodge wanted a larger, free-standing building which the market couldn't provide. Life goes on.
Last week, I met with real estate developer Brain Bergersen (Spectrum Properties) and retail broker Jack Gosnell (UCR Urban). They brought along the architectural renderings of the Dallas Farmers Market designed by Good Fulton & Farrell Architects.  I'll consolidate the long meeting into one shortish post.
*DF Market Holdings has hired Dan Rizzie, the former Dallas painter and '80s contemporary art icon, to design the market's new logo and add some artsy touches to other areas of the market. It was Janet Cobb's idea to invite  Rizzie to join the team to design the logo and branding for the Farmers Market. Janet and Phil, who have been friends with Dan for many years, invited him to Dallas in November to meet and walk the space. Janet and Phil own two Rizzie paintings.
"What excites me about the new Dallas Farmers Market is that it could very well end up being one of the best in the country. After all, it is Dallas folks," Rizzie says. "I first went to the DFM in the '70s when I moved to Dallas to attend graduate school at SMU. I'm no stranger to the place and I believe the new team's passion and commitment to this project will make it happen. I'm excited to work with this group for that very reason. I see the new market's future as a continuation of tradition mixed with the new and visually exciting city that Dallas has become. That combined with fond memories, and knowing whats to come are inspiring my design."
* Overall, DF Market Holdings plans to create 70,000 square feet of restaurant/retail space, 300 apartments, 750 public (free) parking spaces, a community garden, and administration building with a culinary learning center, and three  futsal fields which will be a training facility for kids with games and tournaments and open to the public. Also there will be urban workout facilities including yoga and a jogging track available for downtown residents, workers, and visitors on a usage fee basis. In addition, there will be international Futsal tournaments. There will be a band shell at the east end of Shed 1. Entertainment entrepreneur Angus Wynne will be booking local talent.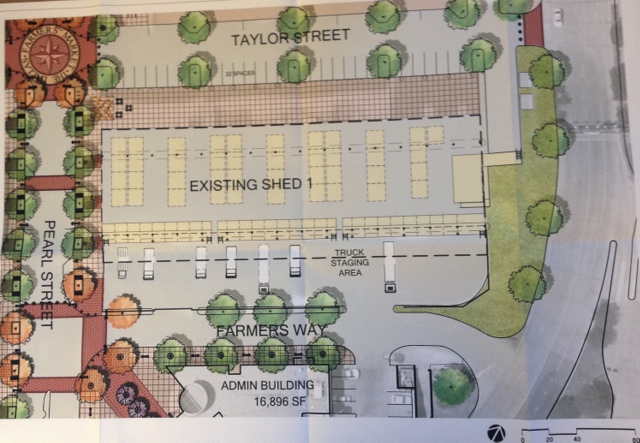 *Shed 1 will temporarily close on January 1 and will be reconfigured (see picture above) to double the number of vendors to 60. During renovation, farmers will operate out of Shed 4. Once it's completed, Shed 1 will be dedicated to farmers, farmers' representatives, and possibly other local merchants such as a flower vendor. The raised platforms on the north side will be demolished, and seven rows of stalls will be installed. Say goodbye to cars traffic in Shed 1. The raised platforms on the south end will remain, but the loading space behind each stall will be extended from three to ten feet. The extra space could benefit farmers who currently have to rent several stalls to house their produce. Cosmetic changes include new paint and concrete, misters, new water lines and sinks in each stall, heaters, and fans.  Plans call for reopening on May 1, 2014.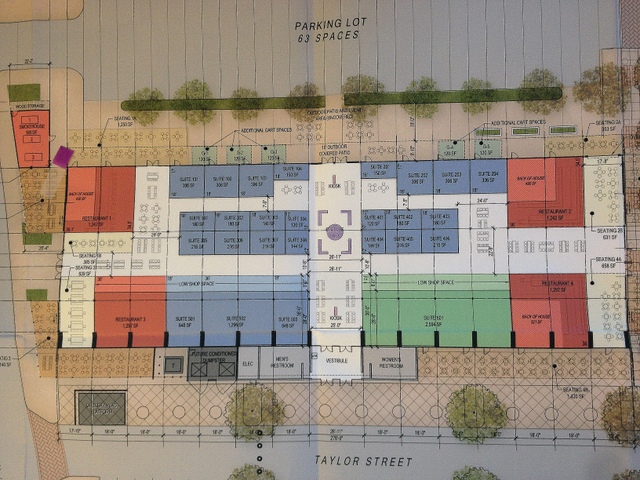 *Shed 2 Pecan Lodge will not be one of the four anchor restaurants, but Gosnell and Bergersen have three leases out on the other three. "We have application for more stall space tenants than we have room for now," Gosnell says. "It comes down to putting in the right mix of vendors." The design is open and fluid and will allow clear views across the whole space.  There will be indoor and outdoor seating. Shed 2 will be a "retail emporium" with some of the same merchants while new entrepreneurial, artisanal merchants will be added, featuring primarily Texas products such as olive oils, nuts, and cheeses. Current plans call for closing Shed 2 in May 2, 2014.
*Shed 3 and Shed 4 will be demolished to make  way for an additional 20,000—25,000 square feet of restaurant and retail space and a four-story apartment complex.
 Stay tuned for names of the restaurants and vendors coming to the Dallas Farmers Market. It's happening fast.
Get the D CEO Newsletter
Stay up to speed on DFW's fast-moving business community with weekly news reports, interviews, and insights.