Just because the weather has turned a bit crisp we don't have to stop drinking white wines, but now is the time to enjoy those richer, well-rounded white with a bit more texture, body and weight. Here are a few sure to please your palate from fall to spring; some selections were sent for editorial consideration.

Gruner Veltliner has become a favorite among many in the wine profession, with its food friendly style and approachability the mineral, citrus and stone fruit filled wine produced primarily in Austria continues to grow in popularity.  I recently tried one from Oregon produced by Chehalem, the first Willamette Valley winery I have had the variety from.  2012 Ridgecrest Gruner Veltliner, grown on the Chehalem estate melds white flowers, white peach, green apple and melon with spice, wet stone and glycerin for a balanced and fresh wine that is distinct, interesting and delicious. $24 available via the Chehalem website.
I am a huge fan of Alsatian style Pinot Gris, with steely notes, bright minerality and rich aromas of fig, pear and apple without being overly fruity. MacMurray Ranch 2012 Russian River Pinot Gris fits this description perfectly. With a portion of the wine aged on the lees (yeasts) and stirred every two weeks to develop rich, well-rounded textures the wine fills the palate with baked apple, ripe figs, Asian pear and spice. $16.31 at Spec's.
The more Viognier I drink the more I want to drink, especially if it is from Miner Family Wines.  Miner Simpson Vineyard Viognier marries tropical and stone fruit together with a touch of fresh white flowers, for a lush, lively and always delicious wine with balanced acidity, rich texture and a deliciou, concentrated finish.  I love this wine, perfect for sipping on its own at the start of an evening or pairing with Asian dishes. $20 available at various Sigel's locations or via their website.
Arneis is one of the oldest indigenous varieties to Northern Italy. Incredibly dry, yet fresh and vibrant it is a white wine that has been growing in popularity recently due to its easy ability to pair with anything from seafood and salads to roast chicken, pork tenderloin or cheese filled pasta dishes. Vietti Roero Arneis 2012 brings both balanced acidity and freshness to the palate, melding with the natural earthiness of the Italian variety. $23 available at Pogo's.

Another indigenous and still rather undiscovered white from Sicily is Carricante. Filled with bold minerality and acidity, the wine reminds me of some you might find in Greece, like a citrus filled Assyrtico, balancing nicely with foods ranging from simply grilled fish to hearty pasta with cream sauces. Tascante Buonora 2012 Carricante highlights this minerality and terroir from the volcanic soils near Mount Etna the vines are grown in, making this food friendly wine ideal for any time of year. $22 available here
One of my favorite white wines from Italy is Vermentino. Crisp and light, yet still with texture and good character. Vermentino Ammiraglia 2012 from Marchesi de' Frescobaldi is filled with citrus, fresh herb, honey and floral notes, plus a bit of brininess and wet stone, finishing with a touch of spice. $20, on sale for $15.60 available here.
New Zealand has been known as the land of fruity and fresh Sauvignon Blanc for years, yet within all the grapefruit and gooseberry some producers are utilizing the use of oak to round out some of those crisp, acidic tones. Nobilo Icon selects their Sauvignon Blanc fruit from three vineyards dotted throughout the Marlborough region, leaves the fruit with a bit of skin contact before fermentation and then uses specific yeasts to ensure that the finished product has the desired tropical and stone fruit notes with complexity and length within the wine. $17 available at Goody-Goody and Total Wine and More stores.
Chile is fast establishing itself as a region for great Sauvignon Blanc, some very bright and crisp, some with blending depth with freshness from use of specific clones grown in ideal soils, and some with great texture from either lees aging, use of specific yeasts during fermentation or some use of oak in the aging process. Garcia and Schwaderer Special Selection Marina Sauvignon Blanc 2012 is one of those with using specific Sauvignon Blanc clones grown in the cool Casablanca Valley creating a wine filled with wet stone and mineral notes mingling with tropical fruit and aging 4 months in oak to round out the overall flavor, depth and elegance in the wine. $25, just being introduced into Dallas now.
Another Sauvignon Blanc that is still fresh and fragrant, but also with some depth is from Tuck Beckstoffer commemorating the year his highly respected viticulturist family moved to Napa Valley, 75 Wine Co. Sauvignon Blanc 2012 brings together two classic French Sauvignon Blanc clones grown in Lake County, CA for a fresh, mineral and stone fruit wine highlighting notes of white peach, ripe apricot and apple. $14 available via their website.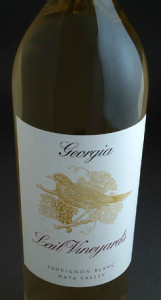 Perhaps one of the finest Sauvignon Blanc produced today comes from the always lovely Robin Lail with her Georgia Sauvignon Blanc. With the help of winemaking master, Philippe Melka, Robin crafts a rich and rewarding wine aged 18 months in new French oak to create a complex, balanced wine filled with stone and flint minerality, ripe stone fruit and honey. A gorgeous wine to be sipped slowly and savored on its own or with your favorite fall dishes from Thanksgiving turkey to simple buttered pasta. $120 available in a limited quantity at various Sigel's and Spec's locations or via the Lail website.
Brenda and Clay Cockerell continue to grow their Calistoga winery, Coquerel Family Wines, adding in new varieties like a bit of Cabernet Sauvignon or Verdelho, but their original Terroir Coquerel Sauvignon Blanc continues to be a favorite. Grown on their 50+ year old vines on their Calistoga estate the Bordeaux style, French oak fermented (of which 50% is new) wine is aged on the lees (yeasts) for 6 months creating richness, weight and character, melding beautifully with the freshness, minerality and acidity inherent in Sauvignon Blanc. $32 available at Sigel's stores or via their website.
Get the SideDish Newsletter
Dallas' hottest dining news, recipes, and reviews served up fresh to your inbox each week.