I love that as a community of wine drinkers in Dallas we are becoming more and more adventurous with our palates, eagerly seeking out new wines from regions or varieties that have typically not been the norm of the past.  However, with that, there is still something about a good glass of Chardonnay.  Whether heavy and rich from oak aging or fresh and mineral filled from stainless steel fermentation, whether tropical fruit and citrus filled or layered with stone fruit and marshmallow, Chardonnay continues to be one of the most popular varieties enjoyed by Americans, particularly in Texas.  Here are a few new releases that I would recommend, a few selections were sent for editorial consideration.
One of the best samples of the year landed on my doorstep last night – 2011 Chateau Montelena 40th anniversary Napa Valley Chardonnay, commemorating the 40th anniversary of the start of the winery that many say put Napa Valley on the map when their Chardonnay took first prize at the infamous Paris Tasting in 1976, beating out competing bottles of Montrachet, Chablis and the like in the very French competition. CEO Bo Barrett, son of Montelena founder Jim Barrett who passed away last year, included a note with the bottle saying that his dad simply "wanted to do something to make people happy" which he did, often, with his ripe cherry, licorice, leather and spice filled Cabernet Sauvignon, as well as his iconic Chardonnay.  Congratulations on 40 years Chateau Montelena, and to 40 more! $50 available at Pogo's or via their website.Another Napa Valley favorite is Frank Family with winemaker Todd Graff crafting incredible wines from throughout the valley.  Frank Family 2012 Carneros Chardonnay displays the benefits of the season last year in Napa where Mother Nature was kind with both quality and production size creating wines filled with structure, balance and finesse. Fermented in both new and partially used French oak then aged for 9 months giving the wine depth and texture, layering toasted caramel, butterscotch and honeysuckle with crisp green apple and melon notes.  The alcohol is a touch high (about 14.4%,) as 2012 was a warm year, but good acidity in the wine creates overall balance. $35 available at Goody-Goody, Spec's and other wine stores throughout Dallas.

A new wine from a very old Napa Valley estate comes from Beringer with their 2012 Luminus Chardonnay from their Big Ranch Vineyard in Oak Knoll.  Different from their creamy rich Private Reserve, the Luminus (or Light in Latin) is fresh, vibrant with good texture and acidity, and a balanced palate filled with citrus, pear, apple and toasted almond notes.  $39 available via their website.
Robert Mondavi Winery sources from vineyards throughout Napa Valley, even a touch from Russian River in Sonoma, for their Napa Valley 2011 Chardonnay, giving winemaker Genevieve Janseens the ability to craft a distinctly Californian wine, aged 10 months on the lees with continual battonage (or stirring of the lees) to create a creaminess melding with the natural bright acidity of the apple and pear filled fruit.  $19 available via their website.
Franciscan Napa Valley Chardonnay is a consistent, go to white wine for any day of the week.  Their barrel fermented, 7 month oak aged on the lees 2012 brings complexity and creaminess to the palate intertwined with fresh lemon curd, golden apple and honey.  Though suggested retail price is about $18 a bottle, Spec's and Goody-Goody stores both have it for around $13.
CrossBarn from Paul Hobbs, one of the most respected winemakers in both California and Argentina, was created to honor his love for family, the land and his craft, employing sustainable vineyard work while making elegant wines.  CrossBarn 2012 Chardonnay from cool vineyards on the Sonoma Coast maintains bright acidity and freshness with notes of white flowers, honeysuckle, juicy pear and white peach.  $25 available via their website.
Kistler is considered by many to be one of the all time greatest Chardonnay wines from Sonoma County, and their Kistler Sonoma Coast, Las Noisetiers makes it easy to understand why.  Fresh, lively and lovely with layers of tropical melon, guava and subtle acidity that makes the wine taste delicious on its own, or when paired with shellfish or seafood.  Kistler wines are available via allocation through their website.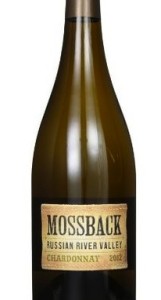 A little bit further inland in Sonoma County lies Russian River, known as much for their outstanding Pinot Noir wines as for their Chardonnay.  I recently tried a sample from Mossback, their 2012 Russian River Chardonnay, a small production (about 1100 cases) wine from the Giguiere family who has a long history of farming, aptly naming their wine after the old fashioned term for farmer.  20% oak barrel fermented, giving the wine a bit of roundness and texture, along with a touch of spice and vanilla, enhancing the stone fruit, ripe pear and golden apple notes of the wine. $17.99 available via their website.
A new wine from Carlo Trinchero (of Trinchero Family  Wines) and Josh Phelps (or Joseph Phelps) just hit the Dallas market from Sonoma County, simply stated Complicated….a great name for those who buy labels because how many can relate to that….the great thing about their wines is that it explains as much who they are as next generation winemakers to the millennial generation.  Their Complicated 2012 Chardonnay is filled with lemon curd and Meyer lemon zest with white peach, fig and quince.  $18 available via their website.
Livermore, California, just 30 minutes away from Napa and about an hour from San Francisco is the land of Petite Sirah (as Concannon was the first in the area to make a single variety bottling of the grape,) delicious Cabernet and incredible Chardonnay (as is evident by the Wente clone Chardonnay taken from budwood obtained in Burgundy and developed by the Wente Family.) Another great family of winemakers also settled in Livermore to make both world class Bordeaux style wines and beautiful Chardonnay.  Steven Mirrasou, 6th generations of the Mirassou family who first planted grapes in California in 1854, settled in Livermore (after receiving a degree in literature from NYU) and started Steven Kent Winery with his father, Steve.  Today they make gorgeous, passion filled wines, like his Steven Kent 2012 Merrillie Chardonnay, named after his paternal grandmother.  Small production (only 504 cases) from Wente clone fruit, barrel fermented, and bottled with out filtering to ensure the full flavor and freshness of the wine stays intact, while maintaining balance between acidity and fruit. $34 available via their website.
Washington State benefits from a wide variety of micro-climates, from almost dessert like conditions to incredibly rainy most of the year.  Horse Heaven Hills AVA on the eastern side of the state within Columbia Valley is one of the warmer parts of the state, ensuring fruit has the ability to ripen even in the coolest years.  Another bonus for the location, the mineral rich, volcanic soils vines are grown in from both the Missoula Floods and the volcanic activity that defines the area.  The result, structured, balanced and interesting wines with texture and depth.  Mercer Wines 2011 Reserve Horse Heaven Hills Chardonnay burst with juicy green apple, lemon-lime and tangerine notes with stone and mineral notes. $30 available via their website.
Get the SideDish Newsletter
Dallas' hottest dining news, recipes, and reviews served up fresh to your inbox each week.