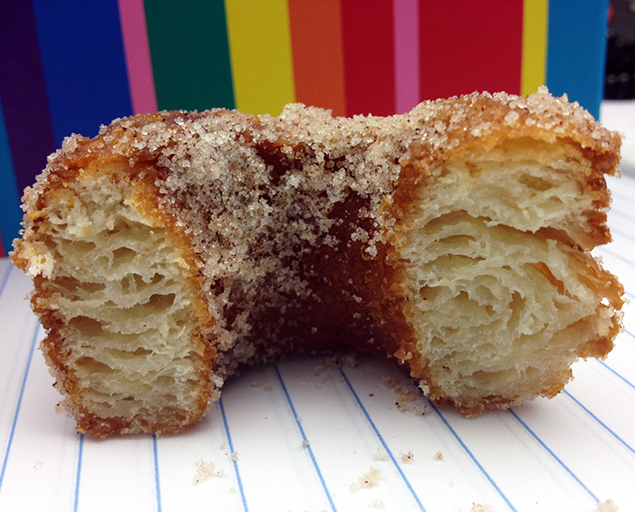 Given how obsessed with cronuts as I am, it is my pleasure to report a discovery of immeasurable greatness.
Friends, family, and enemies: There are DONUT CROISSANTS at the Village Kitchen.
(In case you missed it, this restaurant opened a little over two months ago inside Highland Park Village, with Chef Andre Natera acting as Big Kitchen Boss.)
My exhaustive cronutty search came to an end after the D Home ladies brought a few into the office last week. My little donut brain exploded.
You can get these sweet, flaky pastries for a whopping price of $8. It comes with a dipping sauce of Mexican hot chocolate. Natera's donut croissants are about two inches in diameter and completely covered in cinnamon sugar. Cut these little babies in half, and you'll find yourself lost in a maze of layers upon buttery croissant layers. It's lick-your-fingers good.
This is the closest thing there is to a cronut in Dallas, from what I can tell. Urban Taco's churrnuts are creamy rings of sweetness, but they're more like churros. Souk's creative donuts (aka 'cronuts') are best eaten right out of the fryer, but Natera's donut croissants are perfect even at room temp. They're good to the very last bite. They have a certain je ne sais quoi about them. Go get yourself one before I eat them all.