Back when my dad was growing up in Taiwan, noodle makers were considered blue collar workers. It was family tradition to pass down the trade from father to son, son to grandson. But this back-breaking work wasn't an enviable job.
Now, in today's age of fancy technology, noodle makers are hard to find, especially when a machine can easily churn out chewy strands faster than humanly possible. That's why Monkey King Noodle Co., a fast-casual Chinese food stand in Deep Ellum, has decided to do everything old school. Andrew Chen, one of the owners and chief noodle maker, makes everything from scratch. He's become a semi-superstar for his craft.
Monkey King Noodle Co., which opened softly in mid-September, is named after the legendary fable of Sun Wukong, a mischievous character of bedtime stories for every progeny of Chinese parents. Even though this hipster Asian stand opened with little fanfare, it's become a favorite lunch spot in Deep Ellum already. Austin must be seething with jealousy. Deep Ellum has arrived.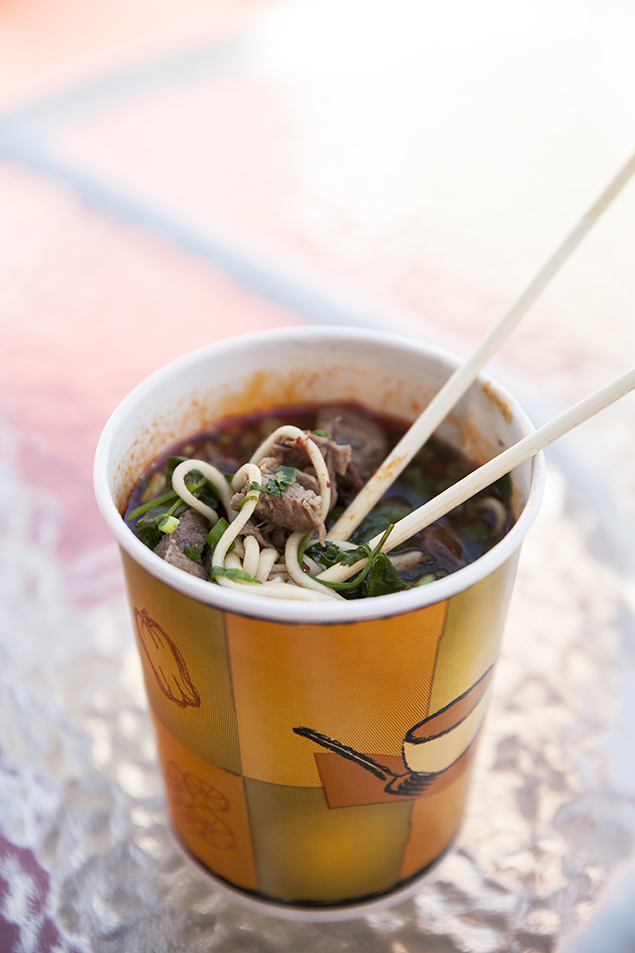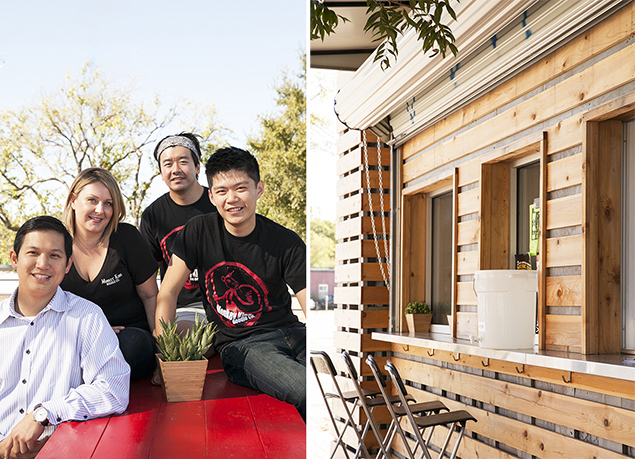 The ball for this Chinese food dreamhouse started rolling after Chen and his business partners—Michelle Midyette (a jewelry designer), Michael Wang (numbers guy), and Michael Chen (no relation, previous execuchef at The Kessler)—lured a man from northern China to Dallas for a two-month noodle boot camp. It was a little like The Karate Kid, where this northern, Mr. Miyagi-ish Chinese guy trained Andrew Chen every day, for five hours a day. "He didn't make me carry bags of flour, but it's definitely a physical work-out," says Chen. "The real traditional method is just flour, water, and hands. You're basically manhandling the dough to the point where you can get it to stretch as thin as you want. It takes a lot of arm strength."
Noodle makers use all kinds of methods to manipulate the dough. They stretch it, twist it, and some people bob it up and down, which is Chen's way of making Monkey King Noodle Co.'s tasty strands so QQ. (In Taiwanese, we describe noodles as 'QQ' if they have a certain bounciness, kind of like biting into a gummy bear.) Lunch-goers line up outside of this wood-slatted building, which is the same way we do things along the narrow streets of Taipei. There are very few places to sit (you can watch Chen make noodles if you sit in front of the window), so the food comes in to-go containers. Sitting inside the restaurant isn't even an option, given how the building is the kitchen. Three Asian ladies (one of them, I saw, was wearing leopard-print leggings) wrap dumplings all day. "We're Chinese street food, so we have that street food mentality. We want it to have that pedestrian feel," says Chen.
The star of Monkey King Noodle Co. is the spicy beef noodle soup, and if you decide to order it non-spicy, consider yourself a wimp.  Spicy beef noodle soup is the epitome of Chinese comfort food. Southerners love their chili, and Taiwanese love their beef noodle soups. When it's cold outside, it's all we ever want to eat. And though it pains me to say this, Monkey King Noodle Co.'s spicy beef noodle soup is better than my mother's. I'm sure she'll agree with me once she tries this fiery blend of tender beef shank, house-made twisty noodles, cilantro, scallions, and chili oil. Chen says this is an old family recipe with a few alterations, and the broth is stewed overnight. Soy sauce gives it that darker coloring.
The best way to consume this dish is to pour it into a large bowl at home. I love eating on the rooftop patio, where you can sit at a red picnic table decorated with succulents, but the narrow carton makes it hard to slurp wildly without getting red chili oil all over your clothes. I looked like a dotted-red art installation after my first visit.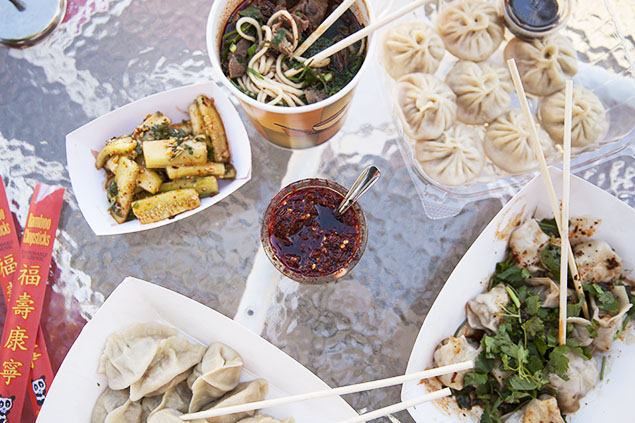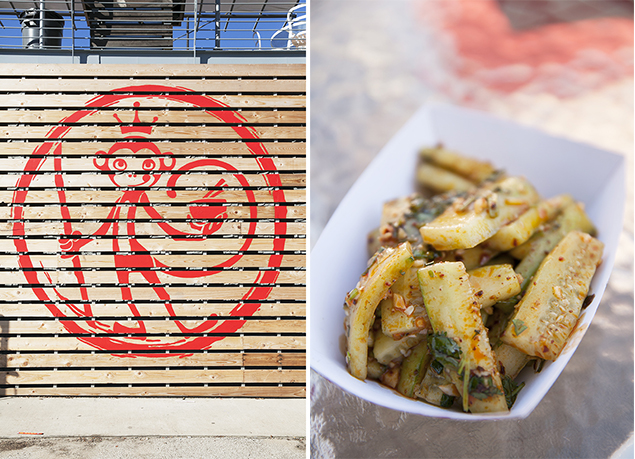 The same goes for the dan dan noodles. Never eat this out of the carton while you're in a moving car. The result is not pretty. But, if you're hungry, it's worth ruining your white t-shirt. I can vouch for this. A light chicken broth is added to minced pork, cilantro, chili, ginger, and garlic. Simple ingredients, but the result is a fragrant mix of bold flavors. The flattish pork soup dumplings make a nice side item (8 for $8), and it's definitely satisfying to slurp up the juicy broth as long as you don't notice that the dough isn't cooked all the way through. (My batch was a tad doughy in the middle.) They're served with a black vinegar-soy sauce-ginger mixture, which is a little odd, given how I've only eaten soup dumplings with white rice vinegar mixed with ginger slices. This is how it's usually served in Taiwan and Shanghai. But, according to Andrew Chen's noodle teacher, this is how they eat soup dumplings in northern China. It's a bit of an ode to him.
I didn't care much for the jajangmyun, which they call "black bean noodles" at MKNC. It makes a nice vegetarian option with all the chunky cucumbers, potatoes, and onions, but the sauce was a bit thin and didn't quite work with the noodles' thickness. Too much vinegar dominated the taste of the won tons in chili sauce, too. It's cool that Monkey King is trying to do something fresh with won tons, but I'm a proponent of making them into a soup. When I told Chen this, he told me it's actually an off-menu item. If you ask for won ton soup, they'll make it for you.
The menu at Monkey King Noodle Co. is small, and everything is certainly worth a try. Andrew and Michael Chen are thinking about adding gua bao, Taiwanese pork belly sliders, to their short list. And maybe even a cold beef tendon salad, if Dallas eaters can handle it. So far, they've been overwhelmed with the positive response and tiny conundrum of running out of food. The next step would be to hire another noodle maker, open for dinner service (this starts November 16), and figure out specific hours. Whatever they do in the future, it wouldn't matter. They could start wearing clown masks and force me to swallow dirt for all I care. I could eat that spicy beef noodle soup every day for the rest of my life. As long as Monkey King Noodle Co. is open, I'm happy.
Get the SideDish Newsletter
Dallas' hottest dining news, recipes, and reviews served up fresh to your inbox each week.