Over the last decade, Portland, Oregon has established its presence amongst eaters, embracing the "farm-to-fork" movement, where utilizing local, in-season and ethically produced ingredients is a requisite.  After spending eight years in Portland's demanding culinary climate, chef Brian Zenner elected to return to Texas. Do not be mistaken. This has been cause for the people of Dallas to celebrate.
Last night, Apheleia Restaurant Group, whose other notable venues include Oak and PakPao, invited an eclectic mix to a Belly & Trumpet tasting of the familiar and obscure.  Executive chef Zenner presented a tasting menu of petite, well-balanced dishes in the restaurant's first paired dinner: "Exploration of the Pacific Northwest."
The evening started with a cocktail of choice and a bevy of unique hors d'oeuvres, my personal favorite being the peekytoe crab beignets with lemon mascarpone, tarragon and Pernod aioli.  Preferring whisky to gin on cooler evenings, I requested that mixologist Matt Perry present his favored rye concoction.  The Scorched Belly, a calculated blend of Rittenhouse Rye, Casoni 1814 and Doulin Blanc, finished with a scorched lemon was nothing short of perfection.
Dinner commenced with an amuse-bouche of American Sturgeon caviar, Snow Fungus, and egg.  The caviar was fresh and delicate, providing the accustomed, pleasurable bursts of salinity that defines its luxury.  The "Snow Fungus" is an available, yet largely unknown white mushroom originally hailing from Asia.  Its gelatinous texture truly constituted a unique serving mechanism, with the caviar, smoked egg purée, and chive oil completing the bite.
Our first course featured Oregon's own Rivers Edge chèvre, a weekly made cheese pasteurized by goat's milk, rennet and salt.  Paired with my seasonal-favorite butternut squash, chanterelles and filberts, the dish was singularly enjoyable, but even more so when accompanied by a 2012 Grenache Blanc from Consilience Vineyards in Santa Barbara.  In isolation, the young wine was cloyingly sweet for my palate, but it ultimately brought out the strident flavor of the peppercorns hidden within the creamy goat cheese.
The second plate showcased Manila clams from Washington State.   Accidental arrivals from Japan circa 1920, the mollusks were well cooked and seasoned; but the star of the dish was the Serrano ham, which provided a natural saltiness for the clams on top of the blistered cherry tomatoes and Napa cabbage.
Consistent with my belief that the United States is capable of sourcing luxury fungi, our third course consisted of house-made gnocchi topped with Oregon-foraged black truffles, roasted cauliflower and shaved Parmesan.  Each bite was savory goodness, whispering notes of clove, forest floor, dark chocolate and butter cream.
The fourth course featured Sablefish, complete with black trumpet mushrooms and a unique pear-based reduction.   Commonly referred to as "Black Cod" in the United States, the skin-on whitefish was extremely light and flaky.  The inclusion of pear was thoughtful, as it provided the perfect amount of acidity, rounded out by the char of the skin and earthiness of the black trumpet mushrooms.  Intelligently, the Sablefish was paired with a slightly chilled 2011 Solena Pinot Noir from Willamette Valley; emphatically disproving the old adage that only white wine be served with fish.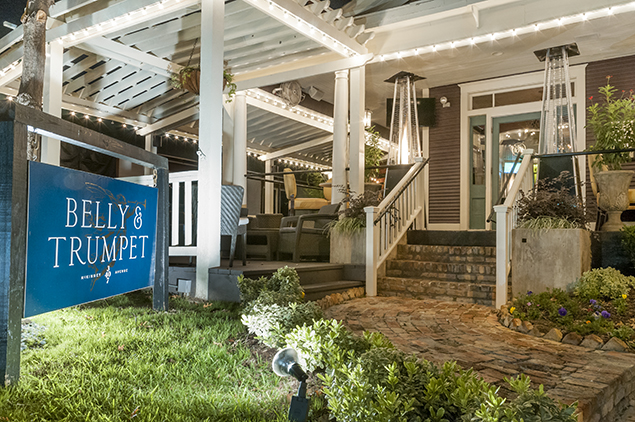 The grand finale consisted of a beautifully seared American Wagyu Kobe filet, sourced from the renowned Snake River Farms in Boise, ID.  Each steak was artfully marbled in traditional Kobe fashion, providing the optimal balance of fat and protein with each bite.  The semi-sweet fig reduction, accompanied by a visceral 2009 Long Shadows Syrah from Columbia Valley, Washington proved to be the best pairing of the evening.
Stay tuned as Apheleia's Managing Partner Richard Ellman stated that this is the first of many paired dinners to come at Belly & Trumpet.  Between Chef Zenner's time at The Mansion on Turtle Creek and Oak, it's likely that you've experienced his work before.  It's time you come do the same now that he's leading the way.
Get the SideDish Newsletter
Dallas' hottest dining news, recipes, and reviews served up fresh to your inbox each week.