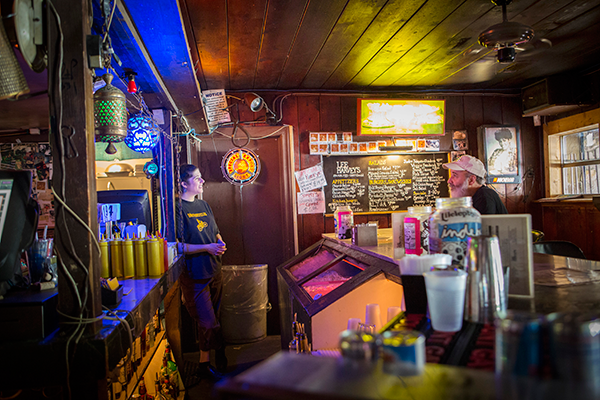 This month Tara Nieuwesteeg gives us to this 10-year old dive bar with a vibe of "being someone's living room." But not the someone you might think.
With its mysterious name and somewhat unsavory locale (think unlit streets and the sounds of sirens in the distance), most people don't know what to expect from Lee Harvey's. But when I saw that fence lined with cheery red lights and the expansive yard full of picnic tables, I knew I would like the place.
Lee Harvey's has a wide porch that doubles as a stage for live music, an outdoor bar with a chest full of ice-cold beer, and a flimsy screen door that leads to the wonderful dive inside. The decor: neon beer signs, a pool table, an arcade machine (Ms. Pac-Man/Galaga), scuffed wooden booths, and Bob Marley playing from the jukebox. It's every dive bar that ever made you lose track of time.
Let's get this out of the way: it's odd to find a fun place, an escape, named after a dubious character such as Lee Harvey Oswald. But it fits. When I stopped by on a weeknight not long ago, the bartender, Jacki, had her dark hair up in a messy bun and greeted me with a warm smile. After a few minutes, we were talking about the history of Lee Harvey's.
People often come in believing this was Oswald's house or his parents' house. Continue reading.
Get the SideDish Newsletter
Dallas' hottest dining news, recipes, and reviews served up fresh to your inbox each week.