It's a little crazy how close Denton is from Dallas. But 40 miles somehow translates into a million light years away. If we're honest with ourselves, Denton really deserves more from all you I-don't-venture-above-635-people. This artsy college town has transformed from a No Man's Land to a thriving food scene in the last 13 years. Visiting Denton is kinda mind-boggling, if you haven't been there in a while. Everything's so close and cute and within biking distance. The restaurants are hip, the people are bearded, and the music scene is banging.
Spending a day there—lounging, eating, shopping—is the perfect way to explore this town. So we're giving you eating suggestions for a full 24-hours in Denton. And for some of you po' folks out there, this is probably the best getaway trip you can afford right now. Need a break from life? Go to Denton.
Here's our guide to great breakfast and lunch options.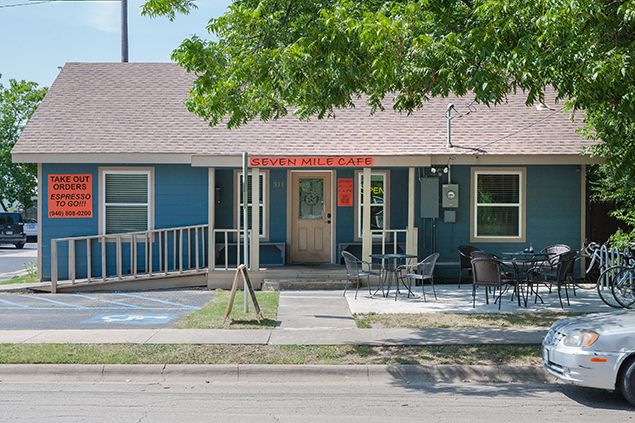 311 W. Congress St.
Denton, TX 76201
Monday – Friday 8:00 a.m. – 2:00 p.m.
Saturday and Sunday 8:00 a.m. – 3:00 p.m.
Located inside a small blue house with a backyard attached, Seven Mile Cafe is a go-to spot for Denton-ites.  Guitars hang on the wall as decoration. The café serves breakfast and lunch with lots of pancake, omelet, and sandwich options. The most popular burger is the California burger and the black bean burgers are favorites, too. We shared the jack-and-cheddar grilled cheese and pear sandwich that is served on sourdough bread with tortilla chips and coleslaw. The restaurant is also environmentally friendly by using cage-free eggs and plant compostable paper coffee cups.
Next door, in what used to be an old church, is Seven Mile's coffee shop. This cavernous room carries Stumptown Coffee from Portland, Oregon and fresh pastries. —Marley Dablo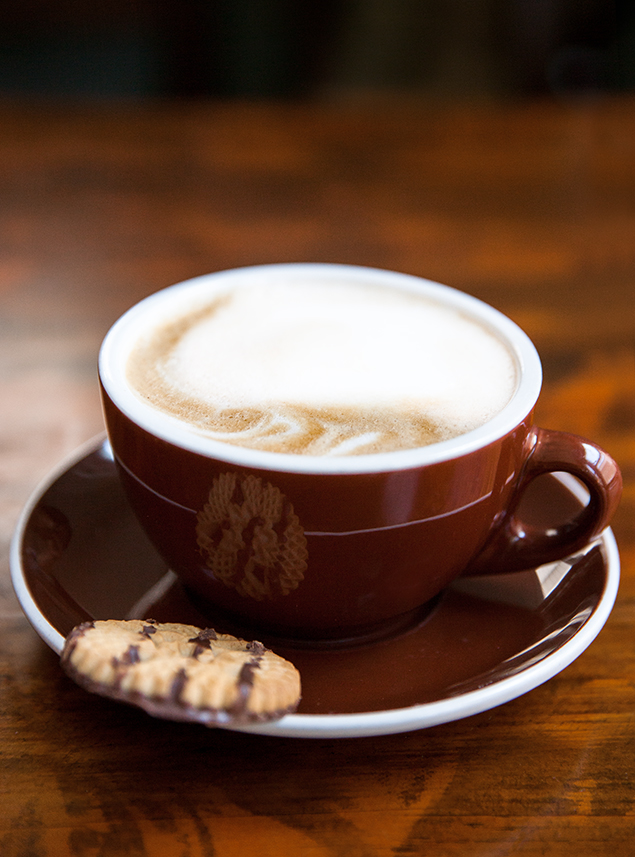 309 Fry St., Denton, TX 76201
Thursday – Sunday 8:00 a.m. – 3:00 p.m.
Denton is so off-the-beaten-path weird that it has restaurants inside actual homes inside actual neighborhoods. Cups & Crepes, a breakfast and lunch place specializing in coffee and crepes, is located on the bottom floor of a residential white house. This small but cozy restaurant has a couple of different dining areas downstairs, and the owner, Patrick, and his wife live in the upstairs part of the home. Him and one other employee run the place as a team and when you're ready to order, you step up to the counter to order and pay at the same time.
Phillip, a hippie who loves working at Cups & Crepes, helped us order the lemon curd crepe and a regular latte. Specialty lattes—like the Milky Way (chocolate and caramel), Red Hot (cinnamon and vanilla), and the Nutty Professor (chocolate and hazelnut)—make this a fun hangout spot for college students. Other crepe options are the sweet Reese's crepe with nutella and homemade honey peanut butter, and the savory chipotle pulled pork crepe with fresh hand-pulled pork with homemade chipotle barbecue sauce rolled up with spinach and black beans.
Patrick says opening this spot was his wife's dream, but he had to take over the business when her health began failing her. Patrick enjoys meeting the students and catering to them, but this spot isn't always open because he does a lot of traveling. Sometimes, it's closed for weeks at a time. The house was built in 1907, but the cozy breakfast spot is reaching its eighth year of feeding hungry college students and neighbors. —Marley Dablo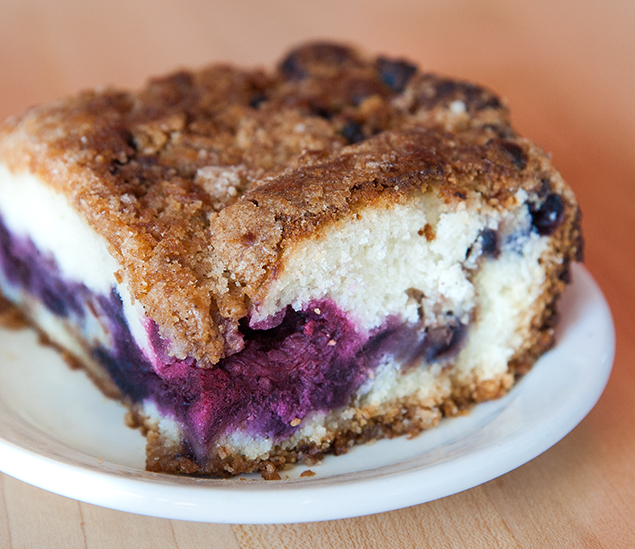 603 N. Locust St., Denton, TX 76201 
Monday through Sunday, 7 to 3 p.m.
Before you freeze in front of Loco Cafe's bakery case of fresh black-and-blueberry buckles, gluten-free chocolate chip cookies, and cranberry coconut biscotti, don't forget Loco Cafe has a menu of awesome savory breakfast foods, too. This industrial-looking spot with plenty of natural light is a Denton institution. Anyone who wants to start their morning off right heads to Loco for its Loco Moco, a $6.50 plate of diced hash browns with cheddar and jack cheese, your choice of salsa or gravy, and a buttery dense biscuit. Two eggs, fried or scrambled, complete the dish.  Wash it down with a refreshing shaken tea, and you're ready to roll.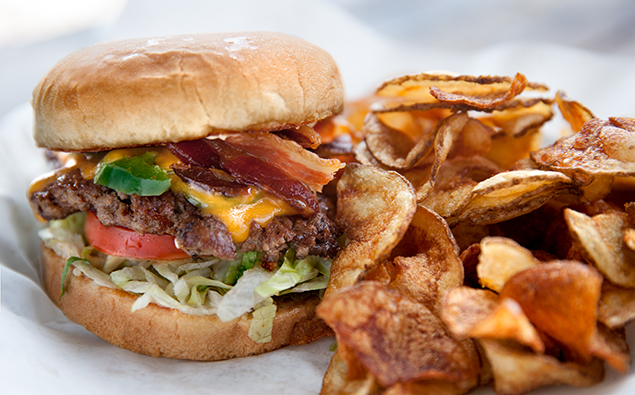 113 Industrial St.
Denton, TX 76201
Sunday – Tuesday 11:00 a.m. – 10:00 p.m.
Wednesday – Saturday 11:00 a.m. – 11:00 p.m.
First thing I noticed when we walked in here was the smell of bacon and an upside down Christmas tree hanging above the hostess' podium. The red neck, white trash, blue collar slogan explained the decorations of the restaurant which included a motorcycle, license plates, Barbie dolls, and the chandelier made of beer taps. It's where you would take someone if they had never been to Texas. You can also sign your name or whatever you prefer on the walls. Carol's name happened to already be there.
The menu is mostly burgers, sandwiches, and barbecue so we order one of the most popular burgers – the garlic jalapeno garlic burger that is served with homemade chips. It was topped with crispy bacon, jalapenos, and smoked garlic aioli. The charred edges of the burger went well with the crispy bacon. The pulled pork Cuban and Bubba burger are other popular options. —Marley Dablo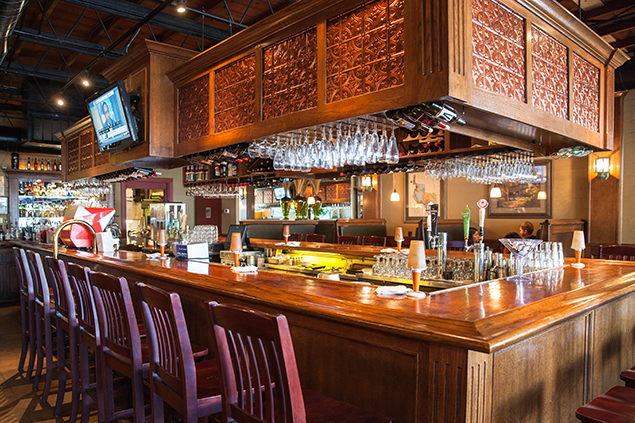 600 N. Locust St.
Denton, TX 76201
Monday – Thursday 11:00 a.m. – 10:00 p.m.
Friday 11:00 a.m. – 11:00 p.m.
Saturday 12:00 p.m. – 11:00 p.m.
Sunday 12:00 p.m. – 9:00 p.m.
Before there was Loco Cafe, there was GreenHouse. These two establishments are right across the street from each other, and they're also owned by the same people. Weird nymph photos cover the bathroom walls, but don't let that scare you away from the menu. People go here for the live music and the John B's Burger, which is listed on the menu as "A Denton Classic." Super-duper nice servers take your order for a glass of soda, and practically let you get away with murder by letting that be the only thing you eat and drink at GreenHouse. Instead of complaining, they let you go, free of charge. (Apparently, this is pretty usual here.)
Chill and relax at GreenHouse. Ain't nobody gonna shoo you away.
Get the SideDish Newsletter
Dallas' hottest dining news, recipes, and reviews served up fresh to your inbox each week.