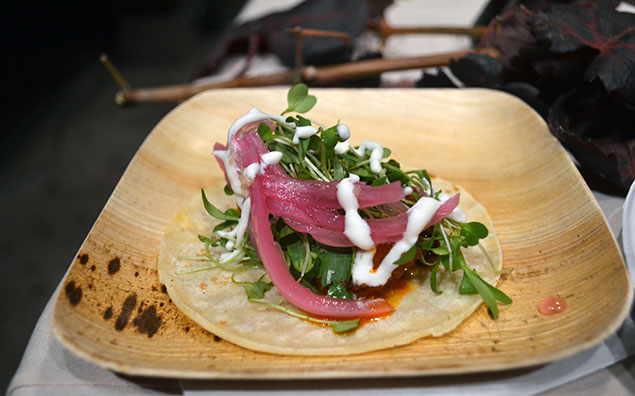 Let's be real, now. There's no better place for a serious getaway trip than Wine Country. Napa may be a small, touristy town, but it's one of those rare parts of the world where time stops and people start aging backwards. I'm quite serious. The trees and leaves turn orange-yellow-red when it's fall, there's a sweet languor in the air as you drive along the roads, and the eating and drinking is unparalleled.
The best time to visit? Definitely this time of the year. Flavor! Napa Valley, an annual festival that gathers people from all over the country (and Canada, apparently) for the best gastronomic experience, takes place in November. Last week, Flavor! Napa Valley invited me to experience all the goodness of NorCal, and I can't say I had a single dull moment. It's definitely worth a trip out there, Dallas people. Here are seven reasons why.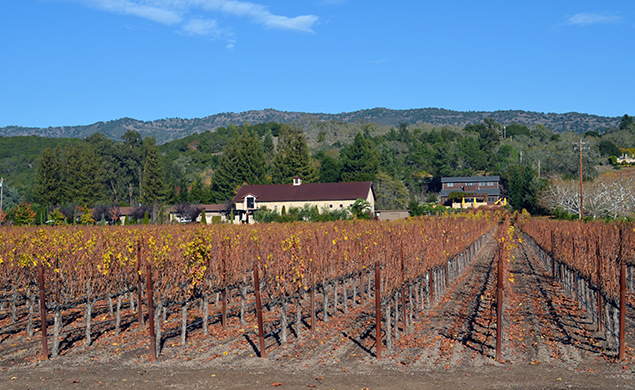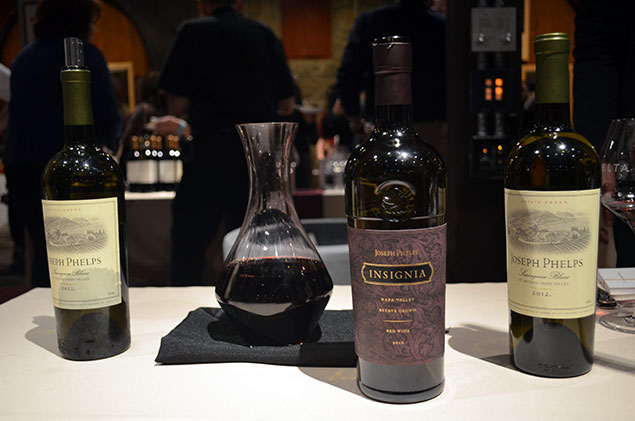 1. The Appellation Trail makes Chefs for Farmers look like a small fry.
Chefs for Farmers was huge, amazing, and wonderfully put together. Iris and Matt McCallister can't get enough credit for that. But the Appellation Trail, one of Flavor! Napa Valley's highlights, is at least twice its size. The Appellation Trail takes place inside the Culinary Institute of America at Greystone, which is a three-story-tall building sitting on top of a hill. Imagine yourself in a castle, surrounded by about 90 to 100 different wineries ready to pour you some sips. A little Staglin Family Vineyard's 2010 Estate Cabernet Sauvignon here, a little Round Pond Estate's 2011 Napa Valley Cabernet Sauvignon there. 30+ participating restaurants are also there to provide light bites. There's coffee, there's tea, and you're surrounded by the best food and drink in Napa Valley. I met a couple who rued the fact that the Appellation Trail took place the same day as their parents' anniversary in 2012. They had to miss it. But for 2013, they thanked the lucky stars they could attend. Overall, it's a fantastic way to introduce yourself to Napa, with all the wineries under one roof. All you have to do is buy a ticket and go.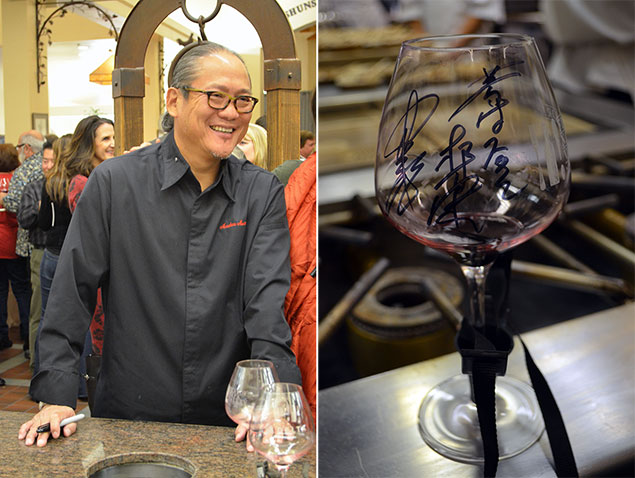 2. Celeb chefs like Iron Chef Morimoto will sign your wine glasses. In Japanese.
At Flavor! Napa Valley, it's possible to see your favorite chefs in real life. Masaharu Morimoto, a nice fellow, stood patiently at the Appellation Trail while his fandom took pictures with him. He signed all the wine glasses with the coolest of signatures. Definitely a keepsake. Definitely a highlight of the event.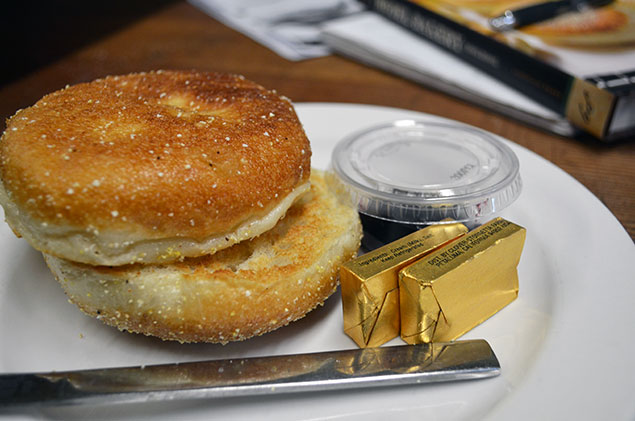 3. While you're baking English muffins at Model Bakery with owner Karen Mitchell herself, you'll get the chance to eat the best English muffins in all of Napa Valley (and maybe North America). Three times. 
Flavor! Napa Valley has a bunch of classes—like the one at Model Bakery—that motivates people like me to take a 6 a.m. flight from Dallas, just to make English muffins in the afternoon. As soon as I hopped off the plane last Wednesday, I rushed to St. Helena, home of these famous breakfast pastries. Michael Chiarello once featured Model Bakery's English muffins on The Best Thing I Ever Ate, thus launching them into well-deserved stardom. Mitchell and her assistant, Gordon, started the muffin demonstration from dough-creation to the finished, fried-up product as a small group of us gathered in the back of the bakery. Self-proclaimed bake sale queens/PTA mothers and ex-winemakers watched the process from start to finish, and we sampled the muffins numerous times throughout the three-hour long class. It was like being in English muffin heaven.
4. It's okay if you don't know anything about wine.
I promise, you won't look like a doofus. Nobody will judge you for it. The festival is for wine amateurs and serious wine geeks, too.  There's a Wine Lover's Boot Camp for two days, led by a master sommelier, and it will teach you everything you need to sound like a know-it-all.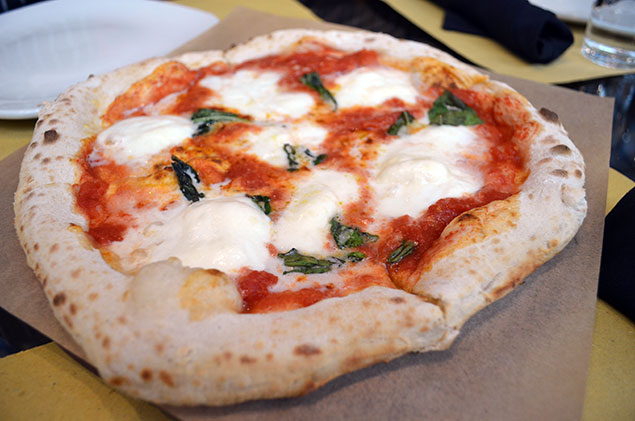 5. Learn how to make Neopolitan margherita pizza with the chef-owner of Ca'Momi Enoteca.
Again, a chunky reason why I love Flavor! Napa Valley is because you can get up-close-and-personal and pop Napa chefs' personal bubble spaces. There's no divide here. At Ca'Momi, located inside Oxbow Market, we kneaded dough and stood in the teeny tiny kitchen while pizzaiolo Dario de Conti made margherita pizzas. The only downside to the entire class: not having a stone oven waiting for me at home.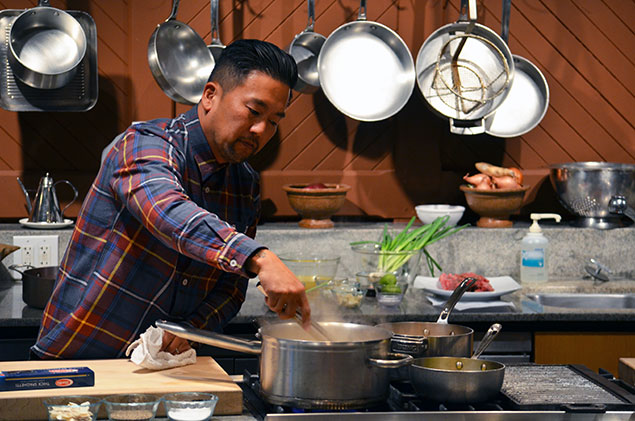 6. Spend a good 60 minutes in the same room as Roy Choi.
CIA alum Roy Choi is known for being a pioneer of the food truck movement. He was one of the first food truck operators to use Twitter as a business tool. "I see it [the movement] as a model we can use to feed so many people and neighborhoods… and platforms for chefs to reach people," he said at the beginning of his culinary demonstration. This past Saturday, Choi cooked up a $4 spaghetti inspired by Scott Conant's $24 spaghetti at Scarpetta in NYC.  (Conant, by the way, was also at Flavor!) I wish I had a photo of it, but $4 spaghetti has never looked that good. I like that it was totally do-able, even for homecooks on a budget.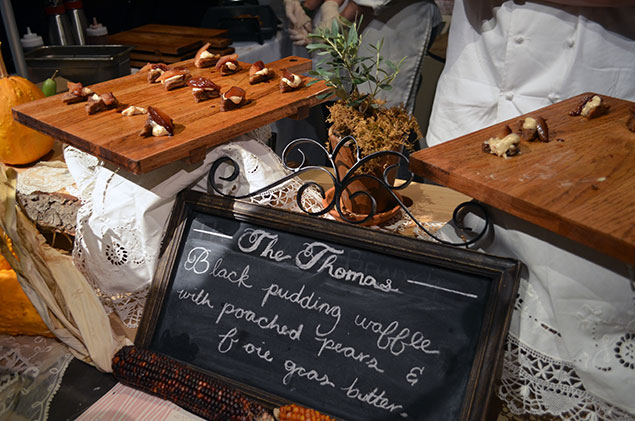 7. Eat really good food with really good people.
If you had to ask me what I loved about Flavor! Napa Valley the most, I'd say it was the people. You can take a class all by your lonesome, but be prepared to leave with six new friends. And phone numbers. That's how the festival works. I know this is gushy—and gushy isn't my style—but I speak the truth. Flavor! Napa Valley people, united by a common love for food and drink, form bonds easily. A nice couple invited me to a wine tasting after our Neopolitan pizza class. Another mother-daughter pair asked me if I wanted to shop around Oxbow Market with them. That pair also made friends with another couple (from New York) at an olive oil-making class. They exchanged numbers in order to coordinate schedules for next year's Flavor! Napa Valley festival. That's how it works in Napa. Strangers don't exist.
Get the SideDish Newsletter
Dallas' hottest dining news, recipes, and reviews served up fresh to your inbox each week.