It is National Vodka Day – and how lucky are we that is falls on a Friday so we can indulge in as many tasty creations from sweet to savory as possible tonight to celebrate the day to its fullest extent…and then just have ESPN's College Game Day to worry about in the morning.  Here are a few ideas and recipes to make sure you enjoy National Vodka Day.  A few samples were sent for editorial consideration.
Though I may not have one of these until Saturday morning, a good Bloody Mary, or a clever and tasty alteration, is one of the best ways to enjoy the super clean, clear spirit.
The company that makes Clamato used to make a product with beef broth infused into the tomato juice, Beefamato…it was delicious, and a surprisingly flavorful addition to a pot roast or the braise for beef.  It is now off the market, but I have tried this Roma Rustica recipe from Grey Goose that reminds me of the flavor, somewhat like a beefy, smoky Bloody Mary, while adding the tasty kick of citrus from their Le Citron Vodka.
Roma Rustica
1 ½ Parts GREY GOOSE® Le Citron
1 ½ Parts Tomato Juice
Crushed Ice
1 Dash Tabasco
1 part Beef Broth
Slice of Kirby or English Cucumber
Splash of Worcestershire sauce (optional)
Directions: Fill a rocks glass with crushed ice. Add GREY GOOSE® Le Citron Flavored Vodka, tomato juice, Tabasco and broth. I like Worcestershire sauce in my tomato juice based cocktails so a splash in here is also delicious. Garnish with a slice of Kirby or English cucumber.
Bloody Gazpacho
2 ounces Absolut Vodka
4 Basil Leafs
1/2 inch of fresh Cucumber
4 ounces Fresh Tomato juice
Dash Balsamic vinegar
6 Drops of Tabasco
4 Dashes Worcestershire sauce
1/2 shot Fresh lemon juice
2 pinch Minced garlic
2 pinch Ground pepper
2 pinch Celery salt
Directions: Shake all the ingredients with ice and strain into ice-filled Collins glass, garnish with basil.
I love fresh herbs of any kind in cocktails.  From mint to basil to rosemary bartenders and mixologists are adding a little green flavor from the garden, and since herbs are the only thing this green thumb can grow I love interesting flavor combinations using herbs in cocktails to elevate their flavor.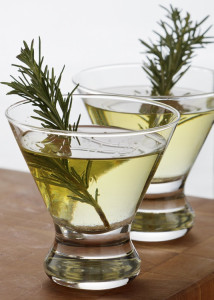 525 Fizz
1 oz. New Amsterdam Vodka
1 1/2 oz. Elderflower liqueur
Prosecco
Absinthe wash
Rosemary
Directions: Combine, shake and strain vodka & elderflower liqueur into a chilled absinthe washed martini glass. Top with prosecco and garnish with fresh rosemary.
Lavender-Thyme Lemon Cocktail
1/2 cup sugar
2 tablespoons dried lavender flowers
20 sprigs fresh thyme
1 Liter Italian lemon-lime soda
8 ounces Ciroc Vodka
4 ounces fresh lemon juice
Slices of fresh lemon, for garnish
Directions: Bring sugar, lavender and thyme to a boil in 1 1/2 cups of water, stirring to help sugar dissolve and reduce water by 1/3. Cool completely, then strain and divide the lavender-thyme syrup evenly in 4 tall Collins glasses filled with ice. Add 2 ounces vodka to each glass, 1 ounce of lemon juice and top with the Italian soda. Garnish with a lemon wheel.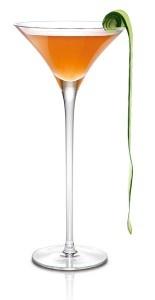 The Mint Condition
Created by Mixologist Otis Florence of Pouring Ribbons in New York City
2 oz. SKYY Infusions Moscato Grape
.5 oz. Aperol
.5 oz. Lime juice
.5 oz. Simple syrup
1 large sprig of mint leaves
1.5 oz. Soda water
Directions: In cocktail shaker, add all ingredients except for soda water but do not muddle. Add in ice and hard shake. Double strain into a martini glass. Top with soda water and garnish with a cucumber.
If you like a fruitier cocktail, a new product just launched last month in Dallas that will instantly help transport you to a beach – Tropix. An ultra-premium vodka from France enhanced with pineapple and coconut to create sweet tropical, sunshine in a bottle flavors, and actually won't hurt your waistline (always nice to hear when coconut is involved) as 1.5 ounces is only 81 calories, and is delicious when mixed 1 part Tropix to 2 parts diet Ginger Ale and garnished with a lime. Just launched last month the product is available throughout Dallas now.
Island Rose
1 1/2 ounce Tropix
1 ounce Pomegranate Juice
4 ounces Champagne
Dried pineapple for garnish
Directions: Combine first three ingredients in an ice filled cocktail shaker and shake until very cold. Strain into a flute and top with Champagne.  Garnish with the pineapple.
Deep Eddy Sweet Tea Vodka made a name for themselves creating an all natural made from pure cane sugar, Austin honey, Texas Hill Country aquifer water, real black tea and Texas corn.  No artificial flavors, colors or ingredients.  Not long ago they introduced their Deep Eddy Ruby Red Vodka, in honor of our state fruit, and continued with this pattern, creating a pure, natural and refreshing vodka column distilled 10 times and using Texas corn for the vodka base, then adding pure cane sugar and ruby red grapefruit from Texas, California and Florida.  It is fast becoming one of the most popular flavored vodkas across the country.
Southbound Greyhound
2 parts Deep Eddy Ruby Red
1 part club soda
Garnish with a slice of grapefruit and a lime
Directions: Add the vodka and soda to an ice filled rocks glass and stir.  Garnish with a grapefruit slice and a squeeze of lime.
And we can't talk about Texas vodka and not talk about Tito's, one of the best from our state celebrating their 16th anniversary this year. It is so good that sipped over ice just with club soda or ginger ale, garnished with lemon and lime, maybe a spring of mint or thyme is perfect. You can also get creative with your Tito's with one of their flavorful infusions, like the spicy lemon and jalapeno one below.
Lemon and Jalapeno Infused Tito's Vodka
In a glass jar or your Tito's bottle combine:
– One lemon per liter of vodka
– One jalapeno sliced
Directions: Peel lemon rind without removing the pith(white inner layer.) Let lemon rind infuse for 3-5 days, then add jalapeno for 12 hours to a day. Jalapeno can be left in but lemon and any other citrus should be removed after 3-5 days.
And if you are in the mood for a cocktail to get you ready for fall, consider one of these: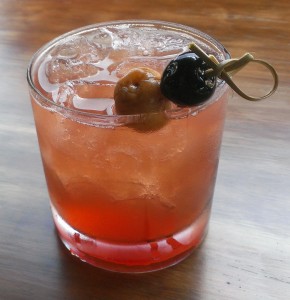 Salted Plum Vodka Collins
Recipe courtesy of Outpost American Tavern:
1 Salted Plum (Ume)
1.5 Chopin or other potato vodka
.5 lemon juice
.25 Balsamic-cherry gastric
Preparation: shake and strain over fresh ice into a rocks glass; float gastric; garnish with cherry.
Apres Ski
Created by Rael Petit of Mulberry Project
2 oz. SKYY Infusions Blood Orange
6 oz. hot apple cider
Nutmeg
Cinnamon stick garnish
Directions: Combine ingredients in a snifter glass. Sprinkle with nutmeg and garnish with a cinnamon stick.
Get the SideDish Newsletter
Dallas' hottest dining news, recipes, and reviews served up fresh to your inbox each week.