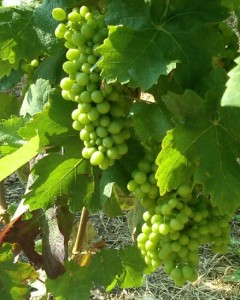 October is Texas Wine Month!  And, as Texans we have a lot to celebrate this month wine wise as our state boasts one of the largest and most rapidly growing wine industries in the country.  According to the Texas Wine and Grape Growers Association Texas ranks 5th in wine producing states in the country with 420 growers on 4400 acres of land in 8 AVAs across the state, with 273 bonded wineries from here to El Paso and everywhere in between.  All together the Texas wine industry contributes $1.83 Billion of Economic Value to the state…and it only continues to grow with wine related tourism hitting almost 1.5 million visitors in 2011.
Why the growth and popularity? Because our Texas wines have made tremendous strides in the past decade in production techniques, vineyard and variety management and overall taste to evolve into the product we have today. Wineries that once planted trendy, popular varieties, but unfortunately didn't survive through our hot Texas summers, turned instead to varieties that thrive in the heat and beg for difficult growing conditions with little water and infertile soils, ideal for growing some of the best Old World varieties in the world.  In the same sense that early producers in Oregon had to figure out what was best to plant in the volcanic Dundee soils of Willamette, many experimenting early on with Cabernet Sauvignon that could never get ripe, many Texas growers had to work through what they thought might grow to find what will grow – mainly Italian and Spanish red and white varieties, along with some Portuguese reds and Rhone style whites in areas. Hearty varieties like Tempranillo and Sangiovese, fresh, floral and acid rich Vermentino and Viognier, dense Alicante Bouschet and Aglianico.
Here are a few of my favorites from Texas to enjoy this month.  A few selections were sent for editorial consideration.
I have written a few times about my love for the crisp and elegant Duchman Family Winery Vermentino ($15), but the winery using grapes grown in the Texas High Plains AVA also makes incredible Italian reds, like their Sangiovese ($25), Aglianico ($28) and Montepulciano ($28.)  Though each individual the wines display earthy, dusty Texas attributes mingling dried fruit, dried wild-flower and cigar box notes with sweet spice, firm tannins and good acidity to create wines that pair well with our beefy Texas cuisine like smoked brisket and grilled meat. The wines are available at Spec's and Total Wine stores in Dallas or via their website.
Pedernales Cellars in the Texas Hill Country has made a name for themselves with their San Francisco International Wine Competition gold medal winning Tempranillo, but they also do something special with a few white varieties, specifically Rhone style Viognier and the Spanish grape, Albarino.  Mineral rich soils of the hill country create interesting wines filled with wet stone, fresh herbs and floral notes, followed by stone fruit, melon and citrus flavors.  Great patio wines with texture and abundance making them both easy drinking and interesting.  Wines are available for under $20 a bottle available at Spec's locations throughout Dallas or via their website.
McPherson Cellars in the Texas High Plains is one of the most respected wineries in the state. Run by UC Davis trained winemaker Kim McPherson, son of one of the founders of the Texas wine movement, professor Doc McPherson.  The wines are vibrant, varietally correct, thriving in the West Texas terroir. McPherson Sangiovese is filled with layers of dark cherry, licorice, rich leather notes and a touch of fresh herbs on the finish. McPherson Tempranillo shows the elegance of this hearty Spanish red with earthy, herbal notes wrapped around blackberry, black cherry and spice notes.  Both retail for around $20-$25 and are available at Spec's locations throughout Dallas.
Though this trend towards planting Spanish or Italian vines is spreading throughout the state, some wineries are still making traditional Bordeaux style wines from Cabernet Sauvignon or Sauvignon Blanc varieties, and some doing it well.
Fall Creek Vineyards in the Texas Hill Country, owned by Ed and Susan Auler (proud parents of Deed Eddy Vodka co-founder Chad Auler) purchased their property in 1975 knowing the estate, with soils filled with limestone, gravel and sandstone, would benefit from cooler evening temperatures and breezy days based on its proximity to Lake Buchanan adjacent to the Fall Creek Vineyards.  The result for their wines, approachable flavors filled with ripe fruit and balanced acidity.  Their Sauvignon Blanc is New World in style with bright citrus, honeydew melon and honeysuckle notes making it a great Texas patio wine.  The wine is about $10 a bottle available at Spec's stores throughout Dallas.
And recently Bending Branch Winery in the Texas Hill Country AVA won a Double Gold Medal at the 2013 San Francisco International Wine Competition for their 2010 Newsom Vineyards Cabernet Sauvignon.  The winery, best known for their rustic, tannic Tannat wines, prides itself on making high quality, small production, eco-friendly and sustainably farmed wines. I haven't tried the award winning Cabernet but it is available for purchase via their website for $100 a bottle.
Get the SideDish Newsletter
Dallas' hottest dining news, recipes, and reviews served up fresh to your inbox each week.