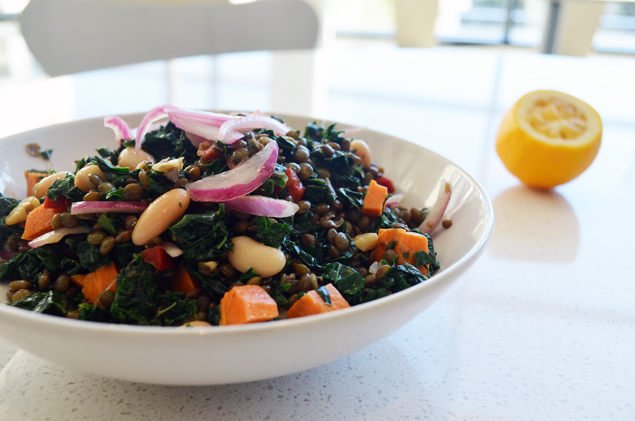 Remember Green House, the food truck? Now the team behind it is opening a restaurant inside NorthPark, tucked away behind the movie theater. Instead of junk food, movie-goers can grab a healthy bite to eat and avoid the food court area before they gorge on popcorn. Green House Market should be open by mid-November.
The menu has lots of greens. From the press release:
Staple entrees from the truck – Grilled Ciabatta Sandwiches and Stir-fried Brown Rice Bowls – will return to the menu.  The restaurant will also feature a fresh pressed juice and coffee bar featuring Blue Bottle Coffee.  The market style menu will feature items such as House-made Granola & Greek Yogurt Parfaits, Curried Pumpkin Soup with Coconut Milk & Basil, Cumin Scented Chickpeas with Castelvetrano Olives & Meyer Lemon, Sprouted Quinoa Tabouli, Seared Tuna Loin with Citrus Aioli & Micro-greens, and Flourless Lemon-Almond Cakes.
Ben Hutchinson, who served as the chef on Green House food truck, has transitioned into his role as executive chef of the brick 'n' mortar. He's created a slew of good-for-you foods that fit the needs of the NorthPark mall crowd. Check out his recipes for a wilted kale and lentil salad, along with a cauliflower "cous cous."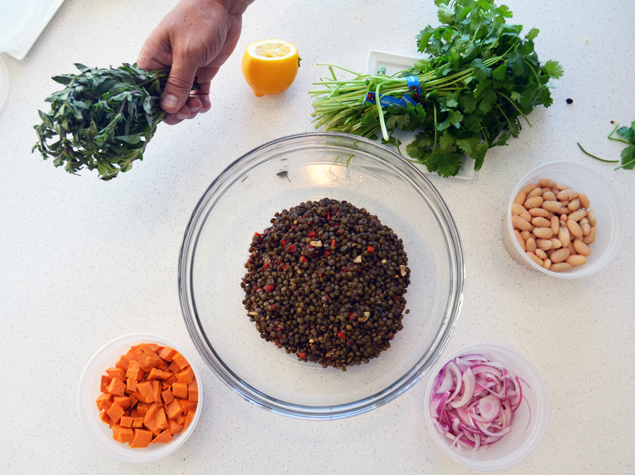 Wilted kale and lentil salad
1 bunch kale- (any variety other than flowering or ornamental)
1 T olive oil
1 clove garlic , crushed
pinch red pepper flakes
1 cup green lentils- cooked
1/2 cup white beans- cooked
1/2 cup sweet potato- cut into 1/2 inch dice
2 T red bell peppers- roasted, peeled and  cut into 1/2 inch dice
1/2 small red onion- sliced thin
1 T  red wine vinegar
1/4 cup extra virgin olive oil
1 teaspoon chopped oregano
salt and pepper
1. Preheat oven to 350,  toss sweet potato dice in 1/2 T olive oil, sprinkle with salt and pepper, then roast until tender. About 15 minutes.
2. Meanwhile,  prepare kale. Remove large stems, julienne leaves, then rinse in plenty of cold water to remove all dirt and grit.
3. (Drain but do not  dry in a spinner, the water drops clinging to the kale will be used to wilt it.)
4. Pour 1 tablespoon of olive oil into a large skillet. Add crushed garlic, then heat over medium heat. As garlic begins to brown around the edges, add red pepper, then kale.
5. Cook 1 to 2 minutes until kale is wilted but still bright green.  Spread out on plate or pan to cool.
6. While kale cools, add  bell peppers and red onion to a bowl with the vinegar, olive oil, and oregano. Season with salt and black pepper.
7. Add lentils and white beans to the red onion vinaigrette, then toss in roasted sweet potatoes.
8. Marinate for 15 minutes then toss in wilted kale.  Taste and adjust if needed with salt and pepper.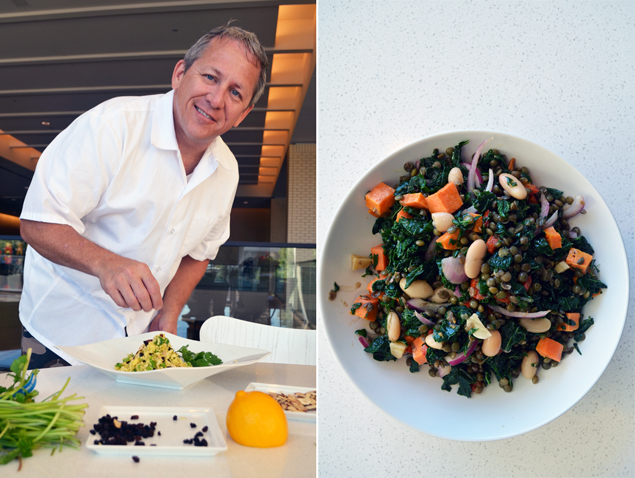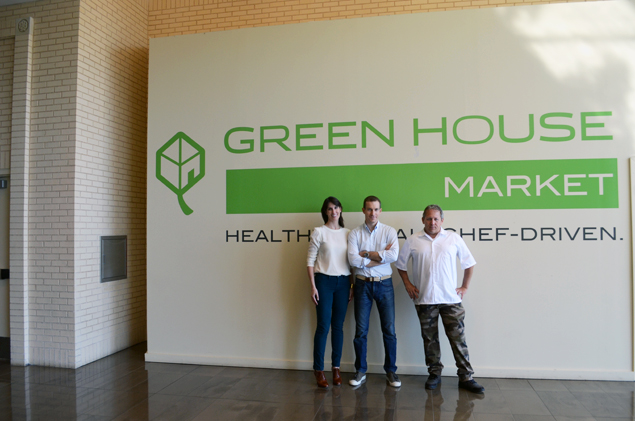 Cauliflower "cous cous"
(Makes about 4 cups)
1 head cauliflower
1/2 med. yellow onion, finely diced
1 T extra virgin olive oil
1 t curry powder
1 clove garlic minced
1 yellow squash diced
1/2 cup sugar snap peas sliced
1 T Zante currants
1 T toasted sliced almonds
1 T chopped cilantro
1 T chopped scallions
1/2 lemon
Sea salt to taste
1. Cut out core and break apart cauliflower into small florettes.
2. Put cauliflower into food processor and pulse until it resembles cous cous.
3. Heat 1/2 T olive oil in a skillet, add onion, then garlic, and sautee 1 minute over med high heat. Then add cauliflower to pan, sprinkle in curry powder, toss to combine. Then heat through.
4. Remove cauliflower into a bowl to cool. Wipe out skillet, then heat remaining 1/2T oil.
5. Sautee squash and sugar snap peas for 1 minute, then add to cauliflower mixture.
6. When cool, add currants, almonds, herbs and gold in. Add lemon juice and salt to taste. Serve cold or at room temp.
D CEO Newsletter
Stay up to speed on DFW's fast-moving business community with weekly news reports, interviews, and insights.