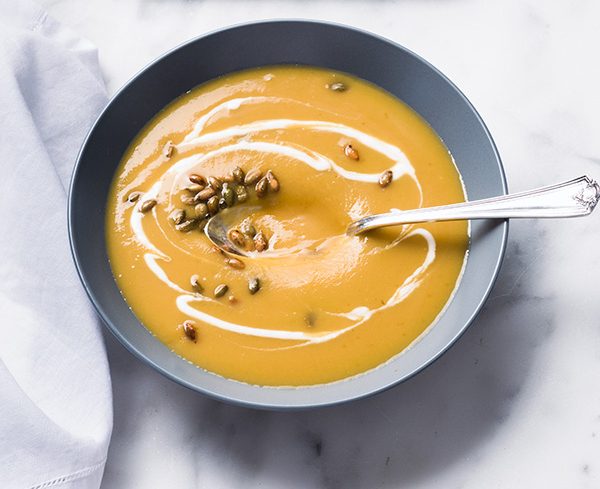 If you haven't met Rosalind Lynam yet, you're missing out. Even though she's the beautiful wife of Matt Pikar, execuchef/owner of Nora and Afghan Grill, she definitely runs the kitchen at home. Her four-person unit (which includes her two young daughters, Stella and Nora) is a snacking family. They love all things healthy.
In the fall, she makes scrumptious soups to feed her little ones. October is great for butternut squash. You can find this juicy vegetable at your local farmers markets. Pick up a few to make Rosalind's butternut squash soup with ginger and pumpkin seeds. (As seen in the fall issue of D Moms.)

Butternut Squash Soup with Ginger and Pumpkin Seeds 
Prep: 30 minutes | Cook: 20 minutes
Serves six
Ingredients
2 tbsp. unsalted butter
1 lg. onion, chopped
1 bunch of green onions (about 7 or 8 stalks), chopped
Half a Serrano chile, chopped
1/4 tsp. sea salt 
2 1/2 lb. butternut squash (peeled, seeded, and cut into ¾-inch chunks)  
6 c. chicken broth
1 tsp. fresh ginger juice, pressed from grated ginger
1/4 c. roasted pumpkin seeds and yogurt
Directions
1. Melt butter in a 3-quart pot over medium-high heat.
2. Add the onion, green onion, Serrano chile, and salt. Cook vegetables until they're soft, about 5 minutes.
3. Add butternut squash and water.
4. Reduce heat and bring to a simmer. Cook until squash is tender throughout, about 15 minutes.
5. Remove the pot from heat and puree the vegetables with a hand blender until smooth. (You can also blend in a blender and return to the pot if you do not have a hand blender. If you use a blender, fill only three-quarters full, as hot liquids expand when blended.) When smooth, add the ginger juice.
6. Stir and add more salt to taste.
7. Serve topped with roasted pumpkin seeds and yogurt.
Tip: Cutting a dense butternut squash is a notoriously difficult task. Use a rubber mallet to help push your knife through thick spots.
Health note: With only two tablespoons of butter and no cream, this rich soup boasts minimal fat.
Get the SideDish Newsletter
Dallas' hottest dining news, recipes, and reviews served up fresh to your inbox each week.