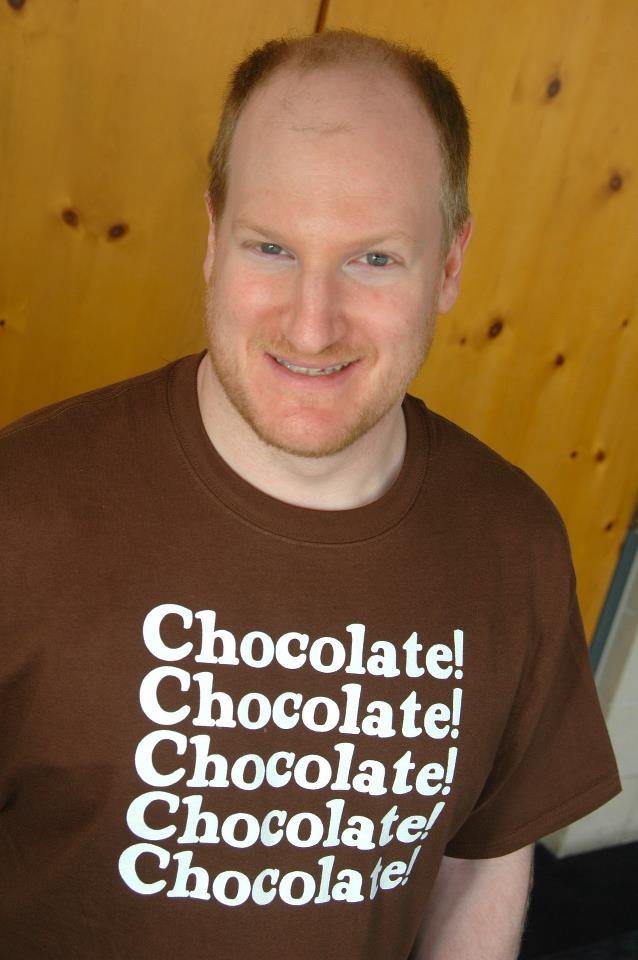 In four full days, Dallas will be celebrating its fourth annual Chocolate Conference & Festival at the Addison Conference Center from 9 a.m. to 6 p.m. This big one-day hullabaloo—which you'd think had a team of crazy, gung-ho chocolate people behind it—is actually the work of one man. Sander Wolf. During the day, he's a computer guy. At night, he transforms into a dude who takes his hobbies above and beyond the call of chocolate duty, successfully luring the best chocolatiers to his festival.
It's going to be one helluva chocolate party on October 26.
Here's the deal: Tickets are actually pretty cheap. $20 for an adult, $5 for a kid. It's $60 if you want to be VIP. Get tickets here.
Lucky for you, you can also enter to win two free tickets. Scroll all the way down to the end of this post if you want Sander's generous gift. I'll pick a winner at noon on Thursday, October 24.
Carol Shih: Do you only have one kid? Does he like chocolate?
Sander Wolf: Yes. I have a 5-year-old… and he's very good about it. He had show-and-tell one day and I sent him to class with some chocolates. He liked it, his teachers liked it. All the other kids said it was disgusting. I was giving him 70% bars that aren't too sugary, so he's used to that. He likes it. But the other kids.. I guess it was too much for them.
CS: Have you met Scott DFW before?
SW: Yeah, I've met him. He's very been helpful. One of the first things that got me into chocolate was a tasting he did back at Dough Monkey–remember when that was around in Snider Plaza?–and it was just a paper plate, little pieces of chocolate on it, and you just tasted 'em and wrote down which one you liked best. That was probably the first time I've tasted chocolates that were that interesting. That micro-craft chocolate stuff. If I haven't had this before, I wonder who else hasn't tasted this?
CS: What's your day job?
SW: I do computer stuff. I do system administration-type stuff. Most of what I work with is at a data center, so I usually work from home most of the time.
CS: What's the most expensive chocolate you've eaten? Or went through a lot of effort to get?
SW: Here, look at this one. [He hands me a Potomac bar.] I made a three-hour trip to Virginia to get a bar of this. Yeah, Ben Rasmussen. I'd read about him and I'd had some of his chocolate before… I was going up to D.C. for the Fancy Food show, so I drove all the way to Virginia to meet him at his factory, which is really his basement.
CS: How do you eat chocolate?
SW: I try not to be too weird about it. I just eat it.
CS: Why do you like this chocolate? [The Potomac]
SW: Well, first, there's nothing wrong with it. There aren't any defects. It's not grainy, it's not out of temper, you don't taste anything burned–so at least all technical things are right about it. And it's an interesting flavor. When you looked at the bar, did you think it'd taste like that? [I shake my head no.] When you look at the back, cacao and sugar. That's it. So how do you get flavor out of a little bean and sugar?
CS: Have you ever tried making your own chocolate?
SW: No, I haven't. But I want somebody in Dallas to start doing that. There's nobody in Dallas doing bean-to-bar chocolate. There's a guy, Clay Gordon, who came to a couple of events I did, and his theory is that if your city can support a beer-maker or brew pub, your city should be able to support a chocolate maker. But we haven't yet. So we just started having one in Houston. We have Tejas Chocolate in Houston, and they came up to the conference last year. He's got a nice little factory down there. And he's going to teach (and I'm really excited about this) a bean-to-bar chocolate class with Dandelion Chocolate on Sunday, after the Chocolate Festival.
So at least, in Dallas, we will have bean-to-bar chocolate made. At least we'll have gone through the process.
CS: How do you sign up for the class?
SW: Online at dallaschocolate.org. I think it'll be really fun. I'm excited about it.
Get the FrontRow Newsletter
Get a front row seat to the best shows, arts, and things to do across North Texas. Never miss a beat.