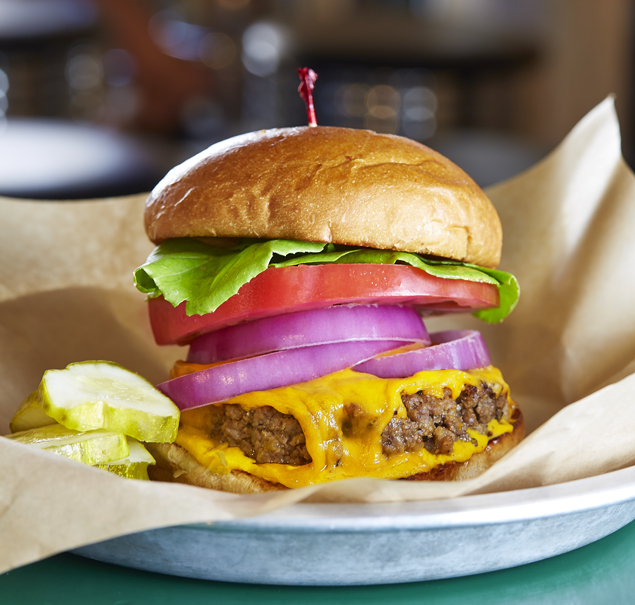 As seen in the October 2013 issue.
Shannon Wynne (Meddlesome Moth, Lark on the Park); his 28-year-old son, Sam; and Keith Schlabs opened Rodeo Goat in Fort Worth last November, right at the height of Christmas season. The father-and-son team strung multicolored lights across the restaurant—made to look like a holding pen at the rodeo—and placed a saddled, bucking goat over the bar. (They bought it from a South Texas taxidermist who kept the goat in his freezer. His name is Billy Goat Shaver.) Then they waited for burger fiends to come hungry.
Now, those of us who take our burgers seriously can probably make the trek to Forth Worth in our sleep. If you want a seat at the Rodeo Goat, you almost have to fight for it. People come in droves, nurse their beers at communal tables or outside on the bar patio, and order burgers they can't get anywhere else. One of the most popular choices, the Caca Oaxaca, is stacked to the brim with chorizo, a couple of slices of fresh avocado, pico de gallo, a fried egg, queso fresco, and a tangy Tabasco-mayo sauce. "I think a lot of the burger trends are hokey and cute for cute's sake," Shannon says. But we wanted flavor profiles that make sense and taste good."
The 7-ounce patties are made from grass-fed beef that is ground in-house daily, and Shannon claims the buns are made by "secret little elves that live in mountains." Cryptic, but his words might as well be true. Since these steadfast buns refuse to turn mushy—despite how juicy the beef patties are—Rodeo Goat's burgers are good to the very last bite.
Get the SideDish Newsletter
Dallas' hottest dining news, recipes, and reviews served up fresh to your inbox each week.