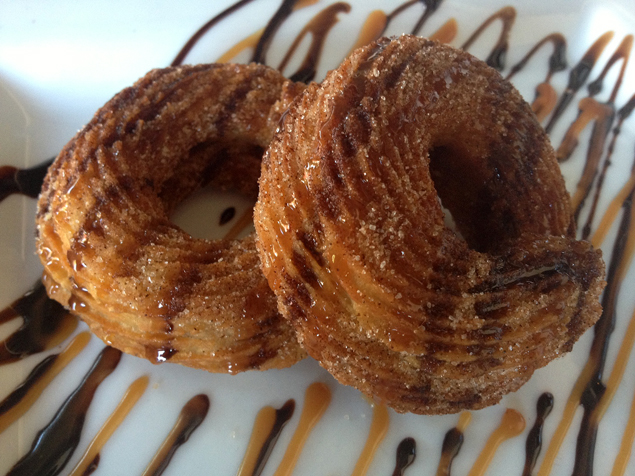 As all of you may be well aware, I've been obsessed with cronuts.
Apparently, I'm not the only one who's been thinking about them. Markus Pineyro, owner of Urban Taco, says he was inspired by the croissant-donut-hybrid and spent many a night churning a new idea in his brain. After countless hours, he came up with the churrnut. It's a churro + donut.
Yes, friends. This is real. You're not just dreaming. Pinch yourself if you don't believe me.
Here's what makes a churrnut a churrnut:
Churro-like, crusty exterior with cinnamon and sugar.
Chocolate abuelita and caramel sauce drizzled on top
Soft, doughy inside with a house-made cajeta filling (Cajeta is a goat milk and sugar combination. Pineyro describes it "like a Mexican caramel" that's similar to dulce de leche.)
To tell you the truth, the churrnut is just as good as it sounds. If you're clamoring to get one of these, I'd buy a seat to Urban Taco and Taco Trail's collaborative dinner tomorrow. It's from 6:30 to 9:30 p.m., and it's $45 per person. Expect awesome beer pairings on the menu, like the Holy Mole Brew made especially for tomorrow. The churrnut will be making it's debut as the dessert after four courses of savory foods. Call 214-922-7080 for reservations.
Get the SideDish Newsletter
Dallas' hottest dining news, recipes, and reviews served up fresh to your inbox each week.