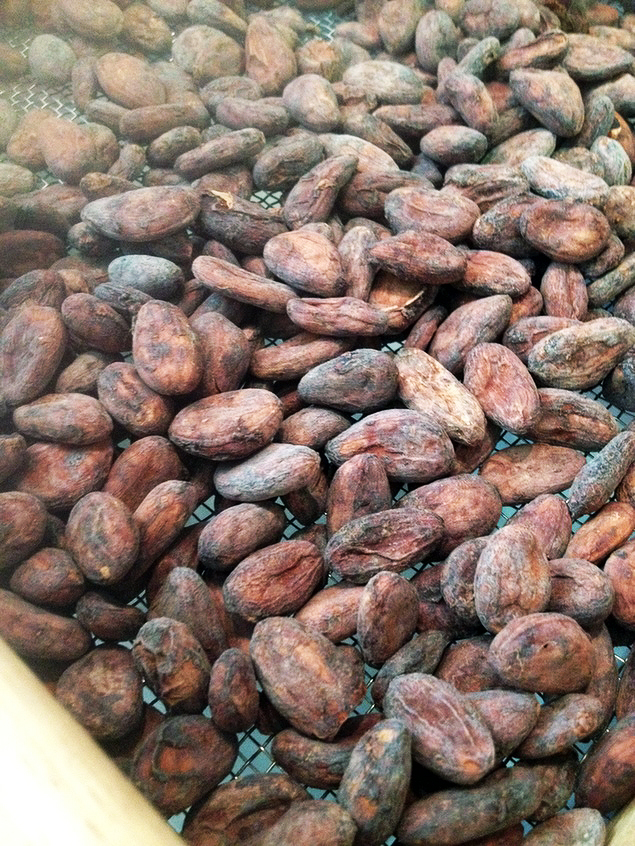 My Private Chef in Deep Ellum was filled with students of the chocolate arts for the first ever bean-to-bar class of the Dallas Chocolate Conference and Festival. Those who attended were just as varied in their intentions as they were in their looks. Some were older folks looking to hone their recipes. Some were established chocolatiers who both gave and received advice throughout the seven-hour class. Others were simply cocoa fanatics who wanted to know more about their favorite subject. I, as an invited guest, was there to soak in every facet of chocolate bar creation, as well as to document the faces that seemed so enraptured by chocolate, it nearly felt like I was imposing on a sacred ritual.
The bean-to-bar class was organized by Sander Wolf, the computer-engineer-come-chocolate-connoisseur who also happened to organize the rest of the conference with his cocoa compatriot Adrienne Newman, known by her friends as Madame Cocoa. More than anything, Adrienne explained, education was an important aspect of the weekend activities.
"People don't realize that this level of chocolate exists," she said to me. "That's what so exciting about it. It feels like we're on the bottom floor. There's still so many people to touch with this knowledge."
We went through the process of chocolate barring from start to finish, using a process cultivated in part by Alice Nystrom of Dandelion Chocolate, located in San Francisco. She and Scott Moore, Jr. of Tejas Chocolate in Houston spearheaded the class and made sure the group was focused and engaged, with activities like sifting cocoa beans and sampling finished products. I may have accidentally grabbed a couple of extra pieces. What? Good chocolate doesn't grow on trees.
In fact, it does. April and Scott explained that the beans on a cocoa tree really do make a difference in the final formation. Not only that, but the process itself can make a difference. As April's partner told the class, "You're not just tasting the beans, you're tasting the chocolate maker's factory as well."
After sorting the beans, they were roasted. While the roasting went on, we broke for a nice lunch, courtesy of Cane Rosso. Once the beans were finished in the oven, they were then winnowed using a hairdryer, which separated the roasted bean from the nasty shell. Afterward, the beans were combined into a glob of beautiful brownness. When the texture was completely smooth, the chocolate goop was tempered and set in plastic molds, where they were left to cool off and harden.
One of the most interesting things I learned about the attendees, was finding out that many amateur chocolatiers attending the event did so in their spare time. Everyone had other jobs. Adrienne herself works in real estate, when she's not working with Sander for the festival.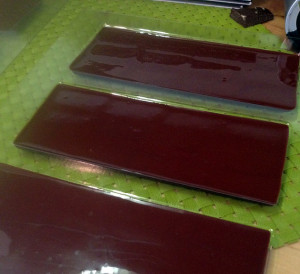 Both April and Scott were open to discussion and advice from the other chocolatiers in attendance, like Troy Easton of Sublime Chocolate and Kevin Wenzel of Wiseman House Chocolates. (Last week, Teresa Gubbins broke the story that Easton has been making small batches of chocolate from beans.) It was nice to see people so passionate and eager to share ideas with each other, even if it was about something I knew next to nothing about.
With the chocolate cooled and hardened, we snatched up the newly-created bars and other confectionery goodies, and said our goodbyes. As I spoke with Adrienne about the class and the conference as a whole, she seemed excited about the prospect of next year's event.
"Dallas has a taste for the finer things. I'm an Austinite, but I've lived here for eight years. It's a place where I think that can grow even further, and so hopefully the events that we pull together, and the talent that we bring in from across the nation, show that there's even further to go."
Jacob Austin Medina is a D Magazine intern and a journalism major at the University of North Texas. 
Get the SideDish Newsletter
Dallas' hottest dining news, recipes, and reviews served up fresh to your inbox each week.