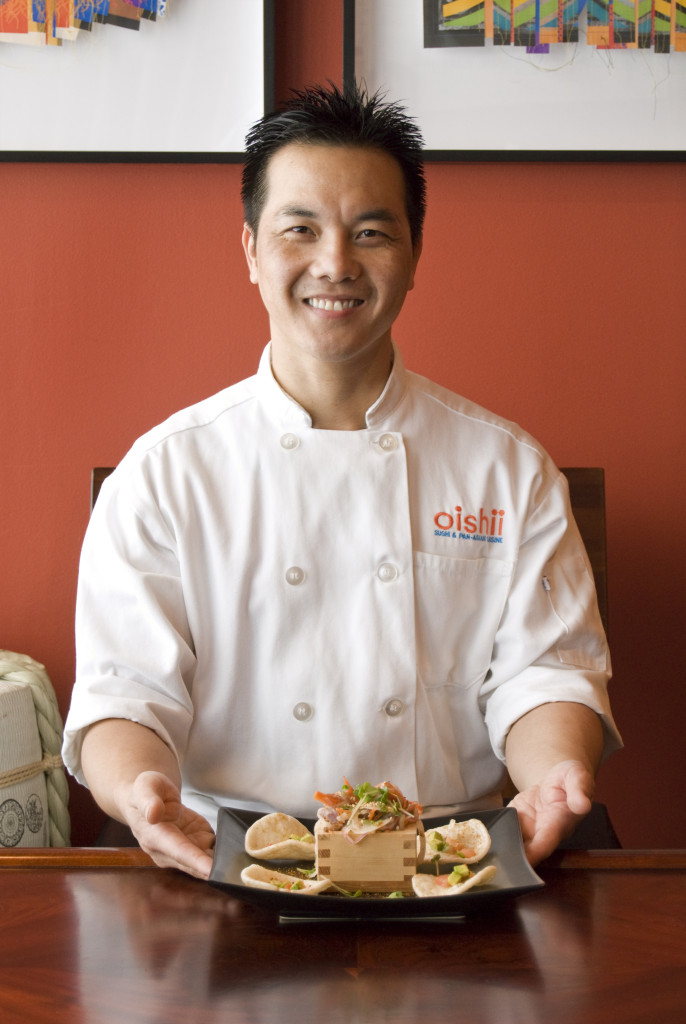 It's happening, it's happening. It's really happening!!!
Pinch yourself to make sure it's true, because Oishii—the pan-Asian restaurant that always could—is finally back and ready for business on Monday, October 21.
After a fire destroyed it last year, Oishii at 2525 Wycliff Avenue had to undergo heavy remodeling. Owner Thanh Nguyen, a great sport, has bounced back since then. He has a fierce and loyal following, and some of y'all have been harassing my inbox for the last six months about the restaurant. Well. Now you can leave my inbox alone. This is exciting, isn't it?
You can read the release over and over and over again, if you'd like. Here it is:
DALLAS,TX—"Let's meet for sushi at Oishii."  Proprietor and host, Thanh Nguyen throws open the doors of his Asian eatery on Wycliff , known for good food, extremely fresh sushi, and great prices, on Monday, Oct. 21st.  Beginning at 11:00 am, regulars can enjoy the golden wall tiles from Italy and the new oversized Italian suspension lighting fixtures reminiscent of large bells while dining on their favorite specialty items such as the #42 Roll, Tribeca Roll, and G Roll.   Rebuilding to overcome extensive fire damage that occurred late last  year is now complete.

Diners can expect the same lunch menu of everything from the Spicy Salmon Cabbage Salad to the Sushi Lunch Platter.  Dinner items of chicken, beef, pork, seafood and vegetarian, plus popular soups like the Pho Soup and the Crab and Chinese Asparagus Soup return.  Also coming back are Chef's Specials like Peking Duck and Coconut Seabass.  Of course, the extensive sushi menu returns.  Thanh is known for his custom sushi with special requests.  And he promises "Half Off Bottles of Wine Wednesday Nights" once again.

Opening in 2003, the pan-Asian Oishii became a neighborhood favorite in Oak Lawn, Park Cities and with nearby medics from the UT Southwestern medical district.  Often told by docs that he is the only person they know who works as hard as they do, Thanh swells with pride over his legions of fans.

Thanh Nguyen (Than Win) was born the Year of the Ox, in a small village of 4,000 some 200 miles from Saigon, Vietnam.  Those born that year are said to never expect to win the lottery.  However, if they work very hard, they can succeed.

So "The Year of the Ox" is alive and well on Wycliff Avenue in Dallas, Texas, as a former rice field worker immigrated to America—learned English; got a college degree in computer science; learned the techniques of a sushi chef; became a US Citizen; and oh, yes, met and married a special Vietnamese lady (their families were friends) who now is a successful pediatrician.  Together they have three children, ages 3, 4, and 6.  And Oishii restaurant is the success of lots of hard work along the way.

Oishii is located at 2525 Wycliff Avenue, Suite 110, Dallas, TX 75219.  Hours of operation are Mon.-Thurs. 11am-3pm and 5pm-10pm; Fri. 11am-3pm and 5pm-11pm; Sat. 11am-11pm; and Sun. 5pm-10pm.  For reservations 214-599-9448.  www.dallasoishii.com .
Get the SideDish Newsletter
Dallas' hottest dining news, recipes, and reviews served up fresh to your inbox each week.