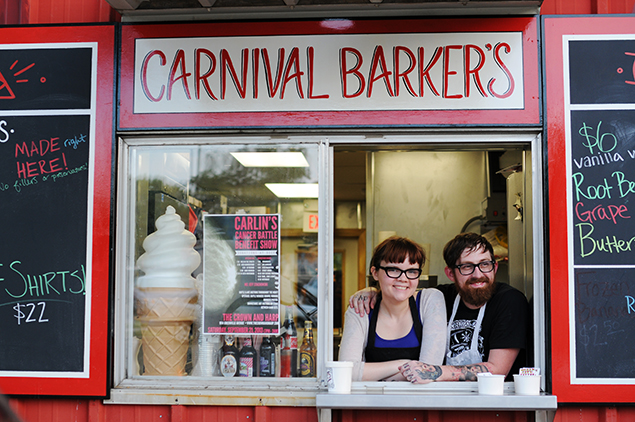 Three days ago, the Dallas Morning News' Leslie Brenner put up a blog post that dissed the new Truck Yard in many ways. She's taken a beating in the comments, so I thought I would provide a little clarity and review where she got it right, where she might have been a little less than correct, and what she completely missed.
Now let me start off by saying the food truck market vertical is a space that I know pretty well. I've written well over 150 blog posts about food trucks and trailers in Dallas and Fort Worth. I strive to strike a balance and not post too much about food trucks. The DMN, on the other hand, has under 10 posts with any sort of food truck tag.
Let's dissect Ms. Brenner's comments.

She went to Truck Yard last Thursday. "We drove there, we parked, we ventured in," she says. We have a clue here. As you can see in the photos in our own Margaux Anbouba's post, the Truck Yard is very crowded. If Ms. Brenner simply parked and went in, it had to be an off-hour. Perhaps a late, late lunch. What she missed are the huge crowds. If anything, the Truck Yard could falter under its success. I don't think so, but there are lots of people who don't like endless hunting for a parking space or a table.
Ms. Brenner starts off with the expectation of lots of food trucks in this food truck park. She writes: "Truck Yard only had two food trucks. No, not 22 — two! This is what everyone so excited about?" I suspect that Brenner was thinking of owner Jason Boso's original concept of a multi-food truck park in the old Arcadia space.
There were two food trucks when she arrived: Ssahm Korean BBQ and what she calls a "taco truck sponsored by a Mexican ingredient company."  Umm, that second food truck was So-Cal Tacos, a much beloved truck in the Mid-Cities that is opening up their brick 'n' mortar location soon.  (So-Cal is currently working with Food Network's Aaron Sanchez to benefit his Hispanic Scholarship Fund charity. 100% of the funds went to the organization.)
Ms. Brenner had already tried Ssahm about 2.5 years ago with less-than-positive results. Here, I'll agree with the DMN writer but for different reasons. Ssahm can be maddingly inconsistent. One time it'll be great, and the next time it might be too spicy. My brilliant progeny once said about a Ssahm taco: "Nice crunch, too spicy, and not enough chicken."
She says she'd "been hoping to find something fresh and different I hadn't tried." She adds, "Shouldn't be much of a challenge in a food truck park, right?" But she is referring to fresh and different food trucks, and that's where Ms. Brenner really misses the boat. Look around. Look at the funkiness, the tree house bar, and Lower Greenville.  There are young people and old people. It has a beer garden. It's fun. THAT is what Truck Yard is. It's a destination spot to hang out with friends, have a drink, and soak up the atmosphere with food from whatever food truck happens to be there. What it is NOT is a food truck park.
She then rants about not seeing the "Carnival Barker's, the ice cream truck." I just don't know what to say about this rant. Carnival Barker is not even a food truck. It's a window in the front of the building! At the entrance! There is a big ice cream cone on top of it, too, that you can't miss.
Ms. Brenner then unloads on the schedule after talking to the Truck Yard's publicist.  The listed food trucks and the ones actually there did not match up.  Indeed, Ms. Brenner gets it right on this one.  Keeping a good and accurate truck schedule is a difficult problem and Truck Yard is going to have to work harder at being accurate with their schedule.  In this case, both Bobaddiction and Easy Slider had previously notified Truck Yard well in advance of a conflict, and Truck Yard got replacements, but just did not update the web site's schedule.  We should recognize; however, that Truck Yard has been open at just about 2 weeks.  With those crowds, it is going to take some time to work out the kinks.
Finally, Ms. Brenner asks, "I'm wondering whether there even are three interesting food trucks in Dallas. "Okay, let me make this easy on you, and in no particular order: Easy Slider, Taco Party, Good Karma Kitchen, Nammi, Pompeii, Trailercakes, Enticed Shaved Ice, Guava Tree and/or Ruthie's Grilled Cheese. And it is a shame that you missed out on Yellow Belly, City Street Grille, Munch Box, or Little Vessel Grill, who have all closed for various reasons.
Yes, Ms. Brenner, we have more than three interesting food trucks in Dallas.
Get the SideDish Newsletter
Dallas' hottest dining news, recipes, and reviews served up fresh to your inbox each week.