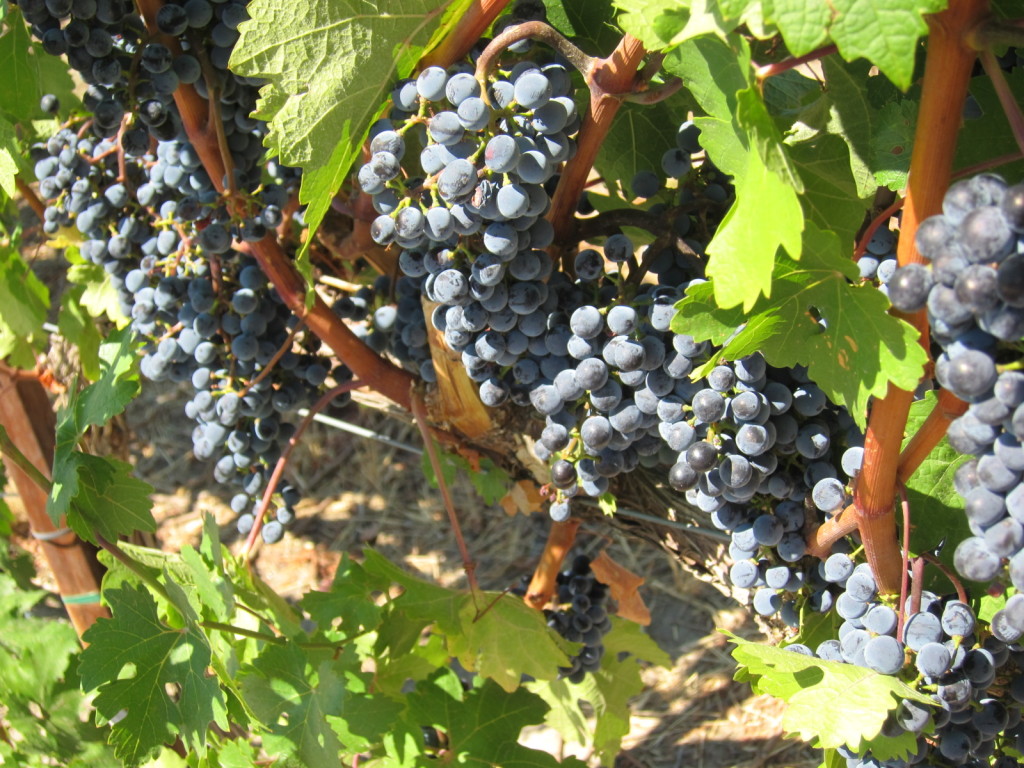 Three years ago I had a chance to have dinner with Ste. Michelle Wine Estates President and CEO Ted Baseler at their Stag's Leap Wine Cellars in Napa Valley. Over dinner we talked about Ste. Michelle's goal to work with a broad range of wineries in their now extensive portfolio either through sole ownership, a shared partnership or simply handling winery management creating a "string of pearls" throughout the company.  It is a focused decision for Ste. Michelle that they do not take away the individuality of each individual property.  Instead, they have empowered their wineries to work independently of each other creating the best wine they know how to make…even if it means a little competition for who is the best within the company, and ensuring that making this quality wine is all they focus on. The back office Ste. Michelle team (communications, accounting, marketing, regulations, etc.) steps in to manage the day to day business tasks.
I had a chance to experience this first hand, traveling to Ste. Michelle's home of Washington State to the Walla Walla region to visit their high end properties ColSolare, owned in partnership with Antinori, Northstar, Spring Valley Vineyards and then down to Willamette Valley, OR to Erath, traveling as a guest of the company. This was the first trip of this kind for the company, visiting multiple properties within the portfolio at once, as Ste. Michelle has always focused on letting each of their properties shine on their own. However, seeing each back to back allowed us to get a feel for how important terroir is to their wine, and how though each is different, focusing on different varieties and in different locations, each maintains the exact same goal, make distinct wines with a true sense of place, always to the highest quality possible.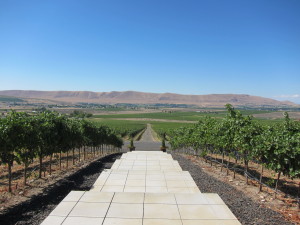 ColSolare sits at one of the highest elevations on Red Mountain, just a short distance from the city of Pasco, WA. It is an AVA (Agricultural Viticulture Area) within an AVA, this one the Columbia Valley AVA. It is one of the driest and hottest places in Eastern Washington, with temperatures soaring to the high 90's and 100 degree mark in the later summer months and only 6 total inches of rain a year, the winery is known for their robust yet refined, Cabernet Sauvignon blends, that are delicious upon release, thanks to the long barrel and bottle aging the wine goes through while still at the winery, but will also age nicely over many years..
Owned in partnership with Italy's Antinori family the Super Tuscan profile is an influencer of this wine, yet ColSolare is a completely distinct and individualistic wine, showing the flavor of these mineral rich soils greatly influenced by the Missoula Floods that washed through the area 15000+ years ago as well as the underlying volcanic rock that covers most of the region. Because the region is so hot the management of the vines requires constant attention from Winemaker Darel Allwine as well as the Antinori team that travels to the region often to assist with their production. Allwine was just recently promoted to the position of Head Winemaker from Cellar Master after long time ColSolare Winemaker Marcus Notaro moved to run the winemaking team at Ste. Michelle's Stag's Leap Wine Cellars property.
The Red Mountain estate was planted in 2007, set with high density vines, on average about 2000 plants per acre, but keeping total fruit yields low, an average of 3 pounds of fruit per vine (a normal standard is about 8 pounds) creates highly concentrated, lush, rich and robust fruit. To ensure their vines can manage through the hot summer afternoons the winery maintain a thick canopy of leaves on the vines to help shade the fruit and prevent sunburn. In the wine world they often talk about measuring the Brix, or the amount of sugar in a grape, to help understand when is the best time to harvest, and there is a general idea throughout the industry of what that number needs to be to indicate the time to pick the grapes has come. Many in this region, specifically at ColSolare, don't focus as much on the level of Brix in the grapes as they do the phenolics and the acids, since as long as the acidity is present the Brix can be higher than what some consider the norm, and waiting a little longer than what this normal may be will ensure that the flavors have developed within the grape, the seeds are dark, the tannins have become ripe creating an overall end result of softer, lusher wine.
Carefully harvesting these grapes is also important, which is all done by hand at ColSolare, and the majority of fermentation starts with grapes left whole, gently poured into tanks in a gravity flow method, to create a fresher wine. After fermentation the wine is aged for 22 months in 100% new French oak barrels adding sweet spice, chocolate and caramel notes, toasted leather and slightly smokey aromas and flavors to the cherry, blackberry and licorice filled wine. In addition to Cabernet Sauvignon the winery also has a bit of Cabernet Franc, Petit Verdot, Malbec, Syrah and Carmenere planted on the property that they use in their blend when appropriate, as these additional varieties add various elements to the wine, like softness or structure, floral or spicy notes, complexity to a wine, but ColSolare usually sees around 80-90% Cabernet Sauvignon fruit.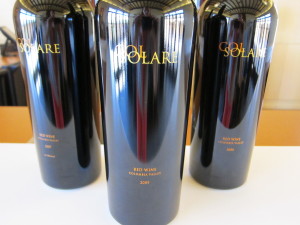 The current release of ColSolare available is their elegant yet pronounced 2009, filled with aromas of black licorice and fresh herbs leaping from the glass, followed by layers of dark cherry, blackberry and mocha blended with rich leather and cedar notes. This is your steak wine, bold, powerful and yet refined, displaying how perfectly suited Eastern Washington is for growing intense, balanced Cabernet. The winery also produces a second tier wine, their Shining Hill, made from the same fruit that goes into their ColSolare just not aged exactly the same or as long, released an average of about a year prior to their ColSolare.  ColSolare retails for around $75, Shining Hill retails for around $40, both are available via the winery website, at PK's or at select Central Market locations in Dallas.
Northstar Winemaker Merf Merfeld loves Merlot. The former beer brewer turned wine aficionado has changed the "Sideways" perception of Merlot for wine lovers across America, showing both how lush and expressive of a wine Merlot can be and how perfect Eastern Washington is for growing the grape.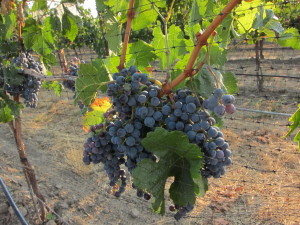 I had a chance to spend a good deal of time with Merf a few years ago when I attended his first "Merlot Camp" as a guest of the winery.  The multi-day, intensive wine adventure in Merlot gave me an in depth perspective on why Washington is so perfect for this friendly variety. Though summers in Eastern Washington can see temperatures soaring into the 100 degree range, especially in areas like Red Mountain, typically it is the ideal diurnal flow between highs in the 80's and low 90's dropping to lows in the 50's, ideal for ripening fruit and developing high acidity, perfect for adding freshness and giving the ability to age the wine, with Northstar vineyards being in some of the cooler parts of the region near Walla Walla, Blue Mountain and the northern parts of Columbia Valley, similar to the Right Bank of Bordeaux, as this is best for growing Merlot.
Beyond temperatures it is the soil that sets this region apart from all others, and helps with the correlation between Bordeaux and Washington. The Merlot regions have much in common with each other, specifically the soil comparisons, like the intensely mineral rich limestone, clay and gravel soils of Pomerol, Fronsac and St. Emilion and the volcanic soils mixed with earthy, mineral rich soils of clay, basalt and silt in Eastern Washington, specifically in Walla Walla, deposited in the area by the Missoula floods.
Merf has had the goal for quite some time to make a Right Bank Bordeaux style Merlot in Washington, working with some unique practices for Washington, specifically a special outfitted concrete tank he had made, to create constant temperature controls during fermentation, as well as carefully managing his use of oak during fermentation and aging, very similar to what is done in Right Bank Bordeaux. When I was with him a few years ago he was in the aging process of his perfect wine, this top tier, high quality, Bordeaux style Merlot, then without a name.
Now, it is in bottle and we had a chance to try his "Northstar Premier" Merlot, a very small production (only 180 cases made for the first release of 2009) the wine is a Merlot for Cab drinkers, filled with layers of black fruit and violets, with touches of spice, chocolate and earthy, herbal notes. An incredible wine, especially for the price – about $85 a bottle available via their website.
Additionally, the winery continues to produce their Northstar Walla Walla single AVA Merlot, filled with delicate notes of black cherry and plum with touches of dark chocolate and spice, retailing for around $55, and their work horse, Columbia Valley Merlot, filled with ripe blackberry and cherry notes with toasted vanilla, retailing for around $35, both available at Spec's stores throughout Dallas.
In a few weeks Northstar will open a "winemaker for a day" assemblage (blending) experience at the winery, allowing visitors the opportunity to create their own blend, both blending different Merlot wines from vineyards throughout the Columbia Valley, as well as adding in touches of other blending wines, like Cabernet Sauvignon and Petit Verdot, each layer adding different components needed to create the perfect bottle of wine.  The goal is to help guests, in a very hands on experience, understand the process that winemakers, like Merf, go through each and every time they make a bottle of wine, and help them identify the flavors they like the most in a specific region or variety.  I love the concept and am glad that more and more wineries are starting to offer these activities for their guests.
Later this week I will have more on the wineries of Ste. Michelle, both of which were some of the first wines of their regions I had ever tasted in their region.