I have just returned from a whirlwind tasting of wines of the Northwest —including some killer Pinot Noir from one of the best places on earth for it (Willamette Valley)—and my palate is still processing all the deliciousness.  So, as I prepare my notes on some of their incredible wines (including a few single vineyard/single clone knock outs from Erath, and single vineyard, library selections Domaine Serene and Adelsheim), I wanted to applaud some incredible California Pinot selections I have recently tried.  A few selections were sent for editorial consideration. All are delicious.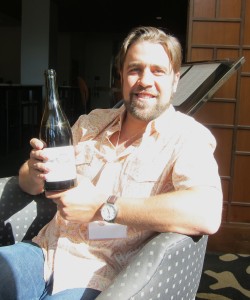 A few weeks ago I had a chance to sit down with Noah Dorrance, winemaker and co-founder of Banshee Wines in Healdsburg while he was in Dallas with the Pioneer Distributor portfolio show for trade. The former Crushpad employee started Banshee in 2008 with long-time friends Baron Ziegler and Steve Graf, each coming to love wine through different paths, but eventually ending in the same place – Sonoma County, at first creating their wine from fruit that became available when Crushpad (a company designed to let everyday consumers make their own wine from start to finish) went under.  The lucky thing, Crushpad had sourced some incredible fruit to work with, as well as buying quality barrels, and through his hands on knowledge, Noah and his team bought 13 barrels to make their first wines with.  Initially it was more for fun, to see how the wine would turn out, and happily quickly sold out.  Now with the help of consulting winemakers Ross Cobb and Katie Wilson Banshee is making about 10,000 cases a year and sourcing fruit from 20 different vineyard sites throughout Sonoma and the coast, with Burgundian style Pinot Noir and Chardonnay being their focus. Banshee 2011 Sonoma County Pinot Noir shows how delicate yet how much depth a wine can have. Sourced from 13 of the 20 vineyard sites they work with, creating a balanced wine filled with black cheery, ripe berry and plum notes.  Retails for around $25, which for quality Pinot Noir is often hard to find one under $30 or $40, available at some Whole Foods Stores, or via their website.
Donum Estate has become synonymous with quality when it comes to Pinot Noir.  Started in 2001 through the vision of President and winegrower Anne Moller-Racke who had the dream to create Grand Cru style Pinot Noir in Carneros by hand-tending each vine of their now 147 estate acres property,of which 62 are planted, specifically matching clones to soils and climates, ensuring that each year the very best wine would be produced from outstanding vineyards.  The estate, dispersed throughout San Pablo Bay in Carneros, Russian River and Anderson Valley, utilizes at least 10 different heirloom selection and Dijon clones of Pinot Noir, creating wines with personality and character, richness and balance, elegance and intensity.  Donum West Slope Carneros Pinot Noir is driven by complex Roederer selection fruit, a hallmark of Donum, with layers of black fruit and sweet baking spice mingled with earthy notes, a wine that will age nicely for many years, continuing to develop over time. The wine retails for around $85, the wine is available via their website, currently waiting on their next release.
Sister label to Donum Estate, Stemmler Winery is named in honor of Robert Stemmler, an early devotee of the promise of making great Pinot Noir in California, and for his dedication and passion to the variety. Their 2011 Stemmler Carneros Estate Pinot Noir from exclusively from their 45 acres of 20+ year old estate Pinot Noir vines planted with 6 different clones, each of which thrives in the foggy, windy, maritime climate of the region.  Hand-harvested, individually by block and fermented separately, as each block of fruit contains different clones and ripen at different times, then aged for 10 months in partially new French oak, then tasted and blended to create the ideal wine for the estate.  The fruit driven result is filled with ripe cherry, strawberry and herbal sage and thyme with a touch of fresh violets and orange zest.  A delicate and elegant wine with complexity wrapped in its finesse.
Buying a bottle of Twomey wine is usually a safe bet, as they have made their reputation on varietally correct Merlot and benefit from the consistency of their sister Silver Oak, but had a chance to try their 2011 release Twomey Russian River Pinot Noir recently.  I am a fan of Russian River Pinot, its coastal proximity and maritime climate is ideal for those finiky Pinot Noir grapes, creating lush, cherry and berry driven fruit forward wines, this one with a touch of spice and dark chocolate.  Retails for around $40, available at Spec's locations.
Similar to Twomey, you can usually bet your money that any bottle of Patz & Hall wine will be good, building a solid reputation for stellar Chardonnay and Pinot Noir from Sonoma County over their 25 year history. Since their start the four founders have worked together to create expressive, balanced and always very special wine from special, single vineyard lots or specific vineyard areas. Though the winery does focus on single vineyard designate wines, their Patz & Hall Sonoma Coast Pinot Noir, from fruit sourced throughout the area, shows how the cool weather climate benefits the fruit by creating a wine filled with layers of black tea, rose hips, red berry and spice. $45, available at Sigel's and Spec's stores.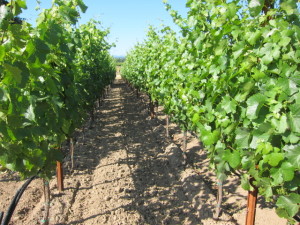 While visiting Sonoma a few months ago I had a chance to stop by Benovia Winery in Russian River to taste through a few of their current releases.  I had first tried the wines earlier in the year when Winemaker Mike Sullivan was in Dallas.  Celebrating their 10 year anniversary this year the winery continues to focus on showing its sense of place, and how Russian River and specifically their Estate Cohn Vineyard, once owned by Arne Cohn and used by William Selyem for one of their single vineyard Pinot Noir and, when Benovia owner Joe Anderson bought the property, Kosta Browne had contracted use of the grapes.  Today the Benovia Cohn Vineyard Pinot Noir is one of the stars of the winery portfolio.  Made from old vine Pinot Noir, planted in 1970, the low yield, highly concentrated fruit creates flavors of sweet red cherries, ripe black plum and layers of fresh wild-flowers and violets.  $65, and available in very limited quantity through the winery via their website.
In the heart of the Santa Rita Hills in Santa Barbara County Hillard Bruce Vineyards is quietly making a name for themselves for their small production Pinot Noir from their sustainably farmed estate, while living by their moto that the "time to be happy is now, the place to be happy is here, and the way to be happy is by making others happy." Yes, it may sound a bit like they are living in a fantasy, but if I get to drink this wine while making others happy, I am happy to be a part of this happy fantasy. Hillard Bruce Moon Pinot Noir displays a deep, concentrated intensity from low-yielding vines this cool weather fruit creates with bold, yet balanced red raspberry and black cherry fruit, with richness, bright acidity, a well rounded palate and a slightly spicy, lengthy finish. The winery, with Texas ties, is currently seeking distribution in Dallas, but for now you can buy their wine online via their website.  The Moon Pinot Noir retails for $70 a bottle.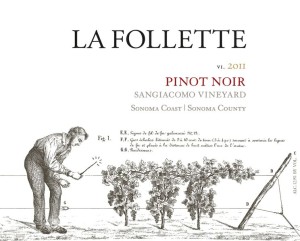 La Follette Wines, started in Healdsburg by Greg La Follette, a viticulture and winemaking master in the region having working through the years at BV, Jarvis and Flowers, along with consulting for Kendall-Jackson and traveling to Australia for work for Yarra Ridge, specifically on Chardonnay.  In 2001 he founded Tandem to focus on making Russian River Pinot Noir and Chardonnay, eventually renaming the winery La Follette after creating a partnership with Quivera Proprietor Pete Knight. Now the only focus of La Follette is to create world class, old world, cool climate Pinot Noir and Chardonnay.  La Follette Sangiacomo Vineyard Pinot Noir from Sonoma Coast displays this by creating a lush, fruit and spice filled wine with character.  Focusing on Pinot Noir clone 777, which tends to create big fruit forward juice, blended with more subtle 114 clone and Swan clone, fermenting slowly with indigenous yeast, and then aging the wine for 10 months in French oak, the result is a wine filled with both bold cherry and red currant fruit, along with subtle herbal and spice notes with good acidity, and a very food friendly palate and alcohol level (only 12.9%.) Only 536 cases of the wine were made, retailing for $40 a bottle, available via their website.
Get the SideDish Newsletter
Dallas' hottest dining news, recipes, and reviews served up fresh to your inbox each week.