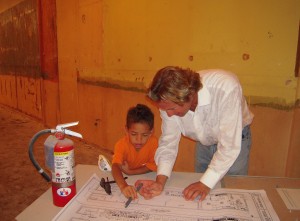 A peek at the reservations book at Neighborhood Services sheds some light on how the Nick Badovinus' new deal with Omni Hotels went down. "The guys at Omni are great customers," Badovinus says. "Bob Rowling and his family, Mike Deitemeyer, David Morgan, and James Caldwell—some of these guys I've know since I worked at Consilient Restaurants–are all regulars at NHS."
Let's take a look at the Cliff's Notes on these guys:  Bob Rowling is a Dallas billionaire whose TRT Holdings owns the Omni Hotels chain, Mike Deitemeyer is the President of Omni Hotels & Resorts, David Morgan is Omni's VP of Food & Beverage, and James D. Caldwell is president and CEO of Omni.
"These guys are really growing. One neat thing is, like us, Omni is an indy and privately owned hotel chain. They know how they want to be perceived and it's sympatico with Neighborhood Services," Badovinus says. "They like my culinary point of view and would like to position some of their [hotel] restaurants to incorporate the local and regional [food] possibilities."
The deal came together quickly—within the last three weeks. Badovinus' first two projects: working on Kitchen Notes, the restaurant in the Omni in Nashville. "I'm headed up tomorrow to cook with the guys," Badovinus says. His second gig: developing a kid's menu for the entire hotel chain. "I have a ten-year old son and he has been exposed to good food and he makes good decisions about what he eats," Badovinus says. "I'm compelled to take this opportunity and do something good on a broad reach."
Badovinus hints: "There are some other things on the horizon." One is Off-Site Kitchen in Trinity Groves. Construction is underway and Badovinus plans to be open by the end of the year. What are the other opportunities in his future? "Right now, I can't get real specific."
Get the SideDish Newsletter
Dallas' hottest dining news, recipes, and reviews served up fresh to your inbox each week.