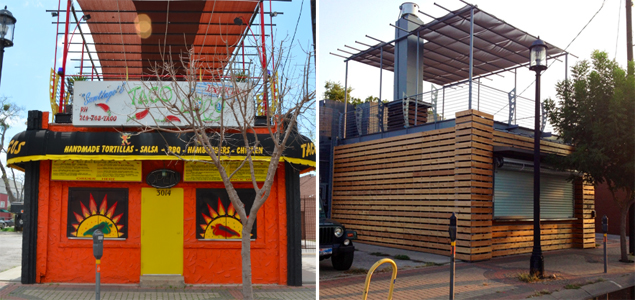 While we've all been eagerly awaiting the birth of Dallas' first dedicated ramen shop, Tanoshii, something equally juicy has been brewing in Deep Ellum.
Three friends—Andrew Chen, Michelle Midyette, and Michael Wang—have stripped the old Santiago's Taco Loco shop (3014 Main Street) of all its bright orange paint to modernize the standalone building. In a couple weeks, Dallas people will be able to fill their stomachs with Chinese street food at Monkey King Noodle Co., their restaurant currently in the making. There's no signage on the building yet, but it already holds a lot of promise.
For those who haven't grown up listening to Chinese folklore, "Monkey King" sounds like a random name, but it actually refers to one of China's most famous literary characters. Sun Wukong (aka Monkey King) is the hero of the novel, Xiyouji (Journey to the West). He's a mischievous immortal monkey, born from a rock, who has special powers. He can transform himself into anything.
It's a story that fits well in the neighborhood of Deep Ellum, which has gone from an area of vacant buildings to one of Dallas' hottest art scenes. 
"The concept is real, honest, good hand-pulled Chinese noodles, pork buns, dumplings and soup dumplings with some good Chinese veggies done in a fresh/modern way… The noodles are pulled by hand daily and the dumpling and buns are assembled one at a time. It's the exact same way they're making food in the night markets of Taipei or the street carts in Beijing. We're pulling from fond memories of going to the night markets in China after a night out and being able to eat some pretty amazing food while walking down the street," says Midyette.
Midyette (a Dallas-based jewelry design consultant who is often in Asia for work), Chen (formerly of Times Ten Cellars, has studied with a la-mian master), and Wang (the "numbers man" and Chen's cousin) have decided everything will be to-go. For those who aren't in a hurry, there will be a few counter seats in the front and a full rooftop garden with more room to stretch your legs. The three friends also hope to have a Monkey King food truck rolling by the end of this year or early 2014.
Before that happens, though, they will still be tweaking the finishing touches on their restaurant before it officially opens. No date has been set yet, but they promise it'll be happening soon.
Get the SideDish Newsletter
Dallas' hottest dining news, recipes, and reviews served up fresh to your inbox each week.