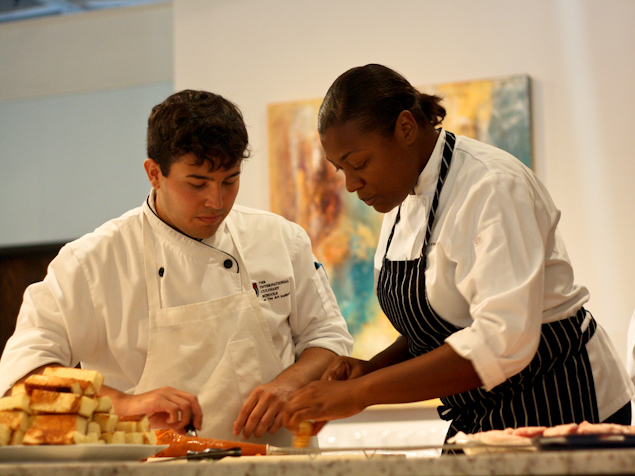 When they aren't pairing cheese with your wine, Wine Poste features special guest chefs who prepare enough food to give you the excuse to keep drinking.
At the second monthly dinner, Top Chef "fan favorite" and Dallas resident Tiffany Derry prepared a five-course meal, paired with wines carefully selected by James Jordan, Wine Poste general manager.
She says James made his selections based on her described flavor profiles. She says before guests arrived, he popped endless bottles of wine open to ensure he'd made the right choices, now that he had the chance to sample a few of the dishes beforehand.
Tiffany served her much-requested pork buns, a dish she whipped together while competing on Top Chef. And to celebrate peach month, Tiffany incorporated the fuzzy fruit into two of the other five courses. She also couldn't resist the opportunity to convert okra-haters into okra-lovers, sneaking the unpopular veggie into her fourth course.
By the end of the night, countless glasses of wine were poured, and a few guests came away with new wine purchases. Scan the Wine Poste website for news on upcoming cheese and wine classes, wine dinners, and wine tastings for your chance to sample delicious wines.
Jump to the photos for full descriptions of last night's wine and food selections.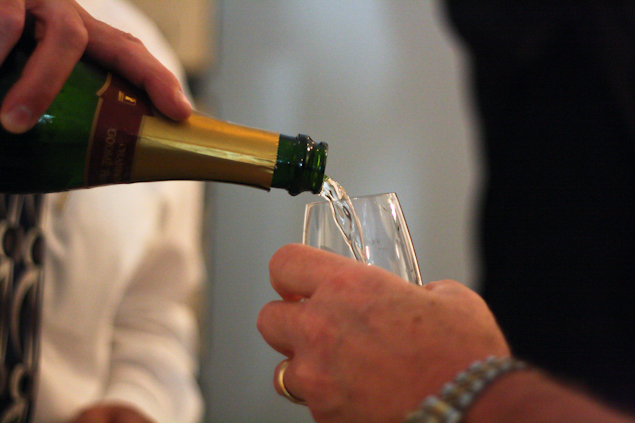 Reception: Guests started the evening with flutes of NV Godmè Pére et Fils Champagne Premier Cru Brut Reserve, located in Champagne's namesake region of France.
First course: Pork buns featured on Top Chef, consisting of pork belly topped with pickled vegetables and served between soft, steamed buns. Paired with a light and smooth glass of 2011 Flux Blanc white wine from California. My table detected a hint of mint and couldn't throw Tiffany enough compliments about this dish when she came by afterward to greet us. Because of the barbecue sauce, my table deemed this the favorite dish of the night.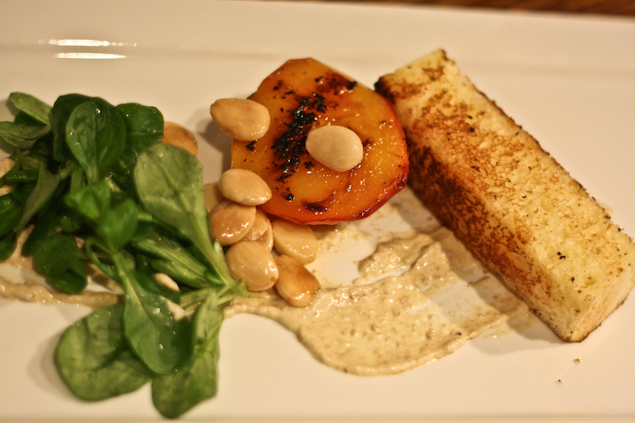 Second course: Grilled peach salad, served with peach-filled brioche, almonds, greens and a foie gras emulsion. The salty almonds paired well with the soft, grilled peach and the crispy brioche. Paired with a 2011 Abbazia Di Novacella Kerner white wine from Alto Adige.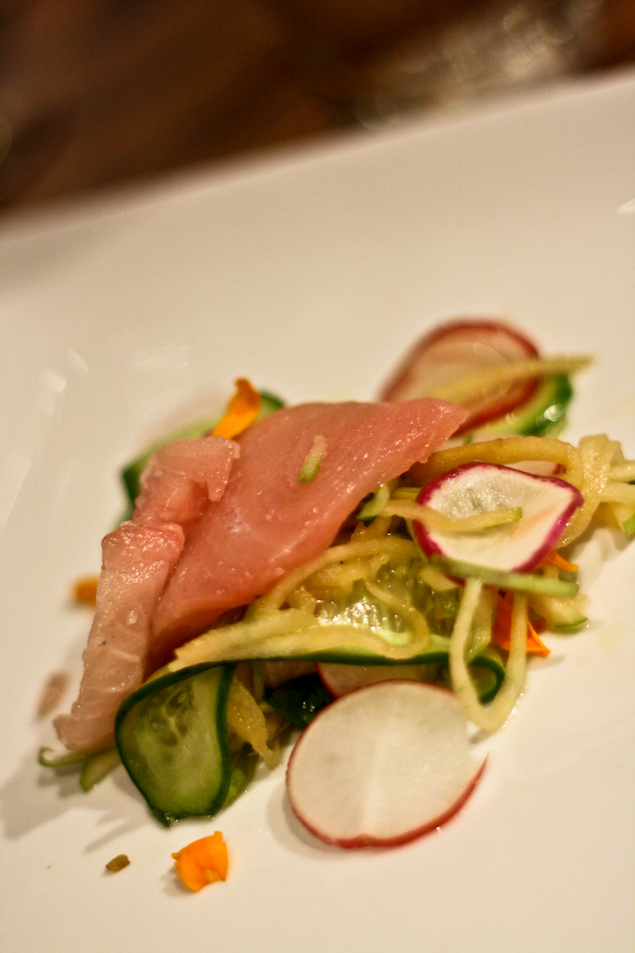 Third course: Raw amberjack served over thin cucumber and radish slivers and shreds of apple. My table was surprised at the mix of sweet from the apple paired with the salty and sour of the Num Pla Prik sauce. Guests at my table described the amberjack as a non-fishy, fresh tasting fish with good flavor. The sweetness of the 2011 Domaine Weinbach Gewürztraminer Cuvee Theo white wine from Alsace balanced out the overall saltiness of the fish and Num Pla Prik mix.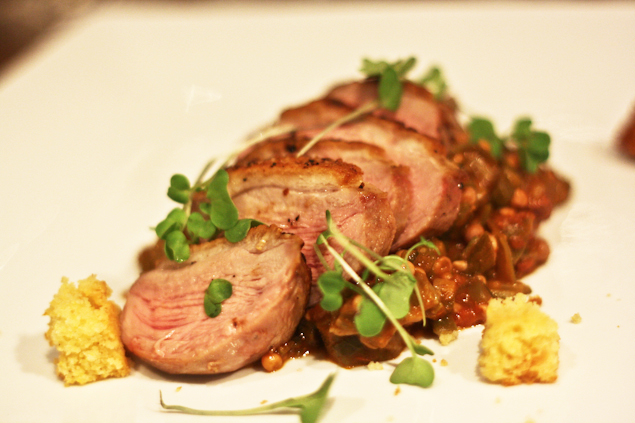 Fourth course: Peking duck served over an okra, tomato, and herb salad, garnished with cornbread croutons. It appears Tiffany was right when she said she'd convert us all into fans of okra. One guest at my table who admitted to not liking okra ate a few forkfuls of it before realizing what it was. Tiffany says if cooked properly, okra won't be slimy. The tomato paste and herbs spiced up the okra. My table called referred to this course at the Southern course and described the duck as fattier meat. Paired with the only red wine of the night, 2010 Pierre Usseglio from Chateauneuf Du Pape. This is the glass of wine most guests had James continually refilling.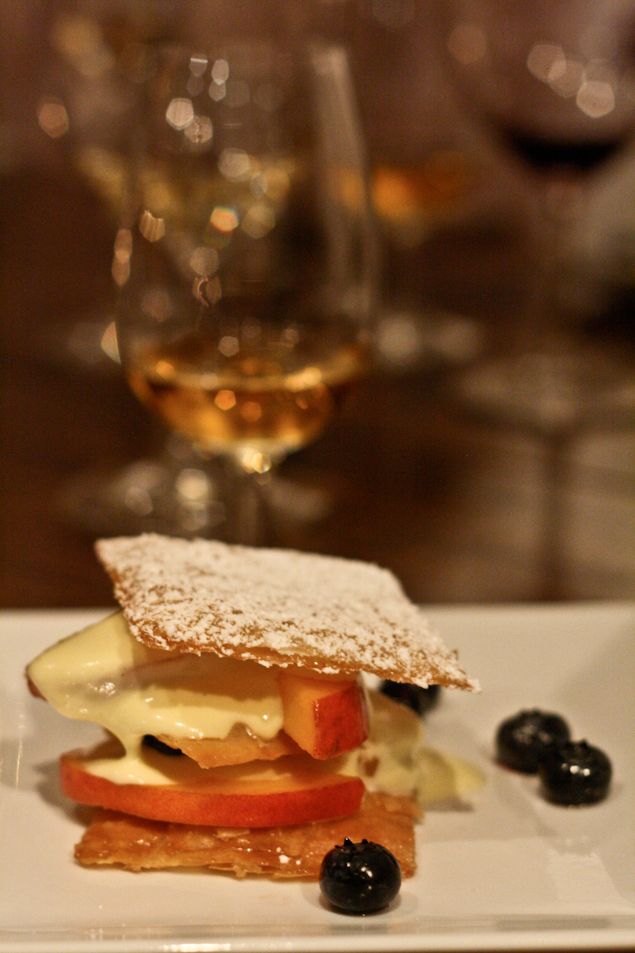 Fifth course: Peaches and crème, made of chilled Cooper Farm peaches and blueberries sandwiched between sugar crisp, which was dusted with powdered sugar and layered with a Muscato Zabaglione cream sauce. This was paired with the sweetest wine of the night, 2006 Chateau Les Justices from Sauternes.
Tegan Burkhard is an editorial intern at D Magazine. She is an online journalism senior at the University of Oklahoma who loves music and photography on the side.
Get the FrontRow Newsletter
Get a front row seat to the best shows, arts, and things to do across North Texas. Never miss a beat.