Continuing on with some suggestions for pairing with your favorite barbecued and grilled items, here are a few ideas for pairing with the heavier, heartier, richer proteins like beef, lamb and other game. Last week I gave you ideas on the lighter selections, like fish and seafood, grilled chicken breasts and veggies.  A few selections included below were sent for editorial consideration.
For grilled steaks, hamburgers, lamb, even pizza grilled on a pizza stone with your favorite meat toppings, you can't go wrong with a Syrah, Grenache, Cabernet Sauvignon or spicy, jammy Zinfandel, both easily pairing to the meaty characteristics of the grilled dishes without overpowering them.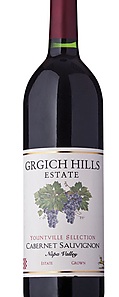 We have been grilling whole beef tenderloins on the grill lately, and have been pleased at how perfectly this pricey cut can cook on the grill, crusted in a bit of fresh rosemary, garlic and olive oil. For an expensive cut of meat you want to enjoy a good bottle of wine, and one of the best options comes from Grgich Hills in Napa Valley with their Cabernet Sauvignon. They just released their 2010, aged a total of 21 months in 60% new French oak, both in individual lots for several months then blended and aged another 18 months to ensure the flavors and styles of the wine coming from different lots meld and marry completely together before bottling. Filled with blackberry, black cherry and black licorice, this a wine that opens boldly and ends with a soft, velvety finish.
Paso Robles is situated in an ideal part of California to grow much more than great wine, as it is also one of the largest producing areas of vegetables for the country. The soil is nutrient rich, the climate is ideal (hot days/cool nights) and cool winds blow from the coast through the vines all hours of the day. The region is also large with some areas being hotter or cooler than others, allowing for everything from finiky Pinot Noir to the labrador grape that loves every climate, Cabernet Sauvignon, to grow well. Bridlewood Paso Robles Cabernet Sauvignon comes from the southeast side of Paso with a long growing season which helps grapes develop depth of flavor while maintaining balance and elegance. Bridlewood blends a bit of Merlot (17%) and Petit Sirah into the wine as well to add finesse while maintaining fruit forward characteristics.

Also from Paso Robles winemaker Austin Hope celebrates his Troublemaker. Named pretty much for himself, but don't think his carefree style means he isn't dedicated and extremely determined to create the best wines he can from Paso Robles fruit, celebrating the unconventional while excelling in the non-traditional. Troublemaker Blend 6 brings together 50% Syrah, 20% Grenache, 10% Mourvedre (Hope is a huge fan of Cote Rotie Rhone wines,) then adds in 10% Zinfandel and Petit Sirah for a black pepper, toasted nutmeg, cedar, blackberry and cherry filled wine that shines next to grilled skirt steak, roasted lamb chops or juicy hamburgers.
We recently tried a bottle of 2011 Melee Grenache also from Central Coast. A solid food wine made in a Northern Rhone style, celebrating the mineral rich soil it is grown in, the herb, crushed stone and ripe red berry filled wine was nicely balanced, maintaining a delicate palate even with its earthiness, finishing with a touch of licorice and spice.
One thing about Zinfandel that works so well is that often the older the vines the richer, more robust the wine becomes, and you can often find that rich, spicy, robust flavor at every price point. A good everyday Zin for enjoying with your grilled burgers and grilled pizza with lots of tomato sauce is from XYZin with their California Old Vine Zinfandel highlighting jammy ripe fruit and black pepper spice notes with just a touch of sweet vanilla from 15 months of American and French oak aging.
For smoked ribs and brisket chose a hearty, bold and robust red like an Argentine Malbec, Greek Xinomavro, Italian Sagrantino or some hearty Spanish or Portuguese red blend like those from Numanthia or Esporao; smoky Syrah and robust Cabernet can also work well here. These big wines will enhance to strong, spicy and smoky flavors of the meat and can meld well with sweet or spicy barbecue sauces.
Sagrantino is one of the boldest, most tannic grapes grown in Central Italy. Grown primarily around the village of Montefalco in Umbria, the highly concentrated variety shines when paired with robust flavors. Because this is such a highly concentrated, and tannic variety, Tenuta Castelbuono Montefalco Sagrantino DOCG ages the wine for 1 year in small barrels, then another 16 months in larger barrels and finally an additional 10 months in bottle before release, allowing some of the tannins to settle, helping create a leather and cedar filled wine with notes of black and blueberry, black cherry and mocha.
Bressia Profundo, from one of my favorite winemakers in Argentina, blends Malbec and Cabernet Sauvignon for a robust yet refined red, showing both depth in flavor and restraint to create a balanced wine with length, elegance and structure. Ideal for pairing with hearty grilled or smoked meat.
Another blend comes from Montes Twins, taking the favorite varietal of Argentina, Malbec, over to Chile and blends it with hearty Cabernet Sauvignon for a black cherry, blackberry and leather filled wine. Chile is often better known for their red pepper filled Carmenere, but this easy drinking, everyday wine shows the ability of Chilean soils to grow stand out grapes.
I have noted before my love for Greek wines, and the work that the New Wines of Greece has done to open up the eyes of the world to the special wines they are making within the country, well beyond the Old World Retsina that used to be the most well known, pine resin infused wine of the country, or the steely, highly acidic and delicious white Assyrtico of Santorini. In the mountainous North grapes like Xinomavro prove that the indigenous varieties of the country can create wines with character, intensity, and power in their tannin and highly acidic filled flavor profiles. I would recommend opening and decanting these for a few hours before enjoying them, but Xinomavro from Naoussa will be a perfect pairing to your grilled lamb, smoked brisket or Texas bone-in Ribeye filled with earthy, mineral notes and balancing fruit notes like cherry and blackberry with touches of sun dried tomato and olive. A few of the best are from Thimiopoulos Uranos, Kir Yanni and Boutari. Boutari is one of the easiest to find and their 100% Xinomavro Boutari Naoussa Grand Reserva is excellent; Kir Yanni Ramnista opens with initial aromas of wood, vanilla and spice, influenced by the extensive amount of aging the wine goes through, yet when given a chance to open in the glass will reveal layers of sweet spice, dark cherry, coffee, and the dried tomato notes that I love about this variety. Uranos, the Greek God of the sky, presents a big, bold tannin filled wine yet it also has great acidity, as many of these Greek wines do, making it a fantastic food wine especially with heartier and fattier cuts of meat.
Get the SideDish Newsletter
Dallas' hottest dining news, recipes, and reviews served up fresh to your inbox each week.