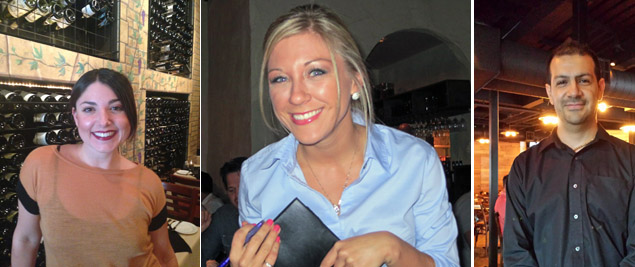 Thanks to three SideDish readers we have three servers who worked their butts off last week during DFW Restaurant Week 2013. Give them a hand and a big tip.
From JP: Ashley Preuss, Hibiscus
She jumped through hoops for us Saturday night at Hibiscus and it didn't start that way. Our dinner companions weren't in the best mood. Seems someone had called them earlier in the day warning that the table would only be held 15 minutes, so everyone had better be there pronto. Terrified we all got there 10 minutes early and were told to cool our heels at the bar with $13-a-glass Merlot because our table wasn't available. Grumble, grumble.
Eventually, they took us to our booth. Then Ashley entered our lives. She is working at Hibiscus while studying to be a nurse. She drives all the way in from Mansfield for her job. She explained in detail the structure of the menu, got our food out ASAP, asked how everything was and smiled no matter how many times we asked dumb questions. The great thing was her smarts and sparkling personality only enhanced our dining experience without becoming too chummy. BTW, the crab dip continues to be totally decadent.
From Catherine J.: Luis Rodriguez, Meso Maya
Luis Rodriguez took most excellent care of us at Meso Maya downtown tonight. His recommendations were spot on and he guided us beautifully through our first and most certainly not last visit. High marks all around.
From Greg B.: Paige Assadi, The Grape
I nominate Paige at The Grape.  She is not only knowledgeable of the entire menu but also has a great palate when it comes to wine pairings with our courses.  She has that perfect balance of staying away when you don't need her but magically appearing when you do. In many ways it is like catching up with an old friend when we do meet up.  She is a true professional and we always ask for her table when we dine there.