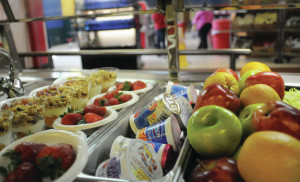 I meant to post this news last week but I forgot. The story, written by Dan "The Captain" Koller and published in Park Cities People, reports how some parents are pissed off  because the cafeteria at Highland Park Middle School is under construction and parents are responsible for providing lunches. I remembered I forgot the story last night when I was standing in my sister's kitchen watching my 14-year old niece, Mia, assembling her lunch for her first day at Colleyville Heritage High School. (She also made her 16-year old sister's lunch.) I relayed the subject of Dan's story to my family. Needless to say, they were outraged.
I understand there are a lot of busy mom's and making a lunch everyday may feel like one more chore on their to-do list. The parents were told last February that the expansion of the cafeteria would last into the fall semester, but last week officials announced that "design revisions and construction delays" have tacked another month onto the project. I encourage you to read the story. Here's the money quote:
Because no food can be cooked until the cafeteria is completed, the district is asking parents to send their children to school with prepared lunches. Some parents are not happy about that.

"This is going to be a huge inconvenience for me as a working mom to have to make an interesting, healthy, and delicious lunch every day," said Cynthia Smoot, whose son is in the eighth grade.

Smoot's beef is not just about the demands on her time. Her son plays on the football team, and she said athletes like him need more to eat than, say, a turkey sandwich and a bag of chips. By the way, that's exactly what will be brought from another campus if an HPMS/McCulloch student informs his teacher by 8:30 a.m. that he doesn't have a lunch.

"It wouldn't matter if I was Tracy Rathbun and whipping up the most delicious meal ever. After it sits in a hot locker for four or five hours, he's not going to want to eat it," Smoot said. "These kids involved in athletics, they're exerting a lot of physical energy. And you have to have a lot of protein to keep your brain energized and ready to learn."
Interesting points. But here is my thought: Parents have had six months to figure out a solution. Certainly someone could have figured this out before the first day of school. They should have asked Tracy Rathbun. IJS.
UPPITY DATE: Smoot says the parents were not notified in February. She says they received an email a week before school started.
Get the SideDish Newsletter
Dallas' hottest dining news, recipes, and reviews served up fresh to your inbox each week.