I am a big fan of refreshing cocktails during the summer but am often looking for a way to jazz up the traditional vodka soda or gin and tonic.  The addition of three simple liqueurs to everyday cocktails will ensure summertime entertaining goes off without a hitch – Cointreau, St. Germain and Domaine de Canton. I mixed a few of these cocktails on D: The Broadcast this morning.  Sample bottles were sent for use on the show. Each retails for around $35-$40 each, liquor stores throughout Dallas like Sigel's. Sigel's Plano just received approval to start selling spirits as well.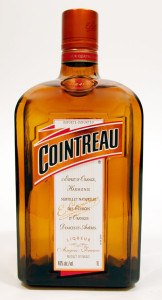 Cointreau, best known for its addition to our much loved margarita, said to have originated in Acapulco by Dallas socialite Margarita Sames in 1948, though that is just one of many stories on who the creator was, but in every version Cointreau is mixed with tequila and lime juice, poured into a salt rimmed glass over ice creating a thrist quenching, tasty cocktail.  But the flavors of the spirit go well beyond simply being mixed with tequila. Cointreau is the original triple sec, made from bitter and sweet orange peels, delicious on its own (it is 80 proof/40% alcohol) or when included with other spirits like vodka, gin or even when added to your favorite glass of bubbly.
Blueberry-Thyme Cointreau Rickey
2 oz. Cointreau
3/4 oz. Fresh Lime Juice
3-4 oz. Club Soda
5 Blueberries
2-3 Sprigs of Thyme
Method: Muddle the blueberries and thyme in the bottom of a highball glass.  Add the remaining ingredients with ice.  Stir briefly.  Garnish with a thyme sprig.Side Car
1 1/2 oz Remy Martin VSOP cognac
1 oz Cointreau
1 oz lemon juice
Method: Add all ingredients to a rocks glass filled with ice and stir.
Komali Serrano Sandia Margarita
2 parts Chinaco Blanco Tequila infused with watermelon and Serrano pepper
1 part Cointreau
1/2 part fresh lime juice
Method: Steep tequila with fresh watermelon and peppers for at least 24 hours.  Add all ingredients, including a few pieces of the infused watermelon and pepper, to a shaker with ice and shake until very cold.  Pour into a glass and garnish with lime.
Maiden's Prayer
1 1/2 oz Gin1 oz Cointreau1 oz Fresh Lemon Juice1 oz Fresh Orange Juice
Method: Combine all ingredients with ice in a mixing glass. Shake and strain into a chilled cocktail glass.
Garnish with an orange triangle.
St. Germain Elderflower Liqueur is the darling of bartenders and mixologists as the floral, herbal, fresh flavor adds oomph to pretty much anything it is mixed with. Made from wild elderflowers picked in the Alps, it is delicious in a glass of bubbly, white wine or sake and is especially tasty when mixed with gin, rum, vodka, bourbon…even Pisco.
Parisien Mojito
2 parts Blue Chair Bay white rum
1 part St. Germain
1 part lime juice
10 mint leaves
club soda
Method: Lightly muddle mint in Collins glass. Add other ingredients. Half fill glass with crushed ice and stir. Fill to brim with more crushed ice and stir again. Garnish with lime wedge.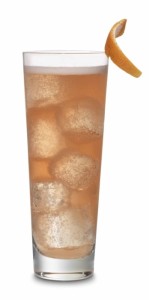 Sunny Weather
8 oz chilled Ruffino Prosecco
1.5 oz Grapefruit Juice
.5 oz St-Germain Elderflower Liqueur
.25 oz Campari
Method: Pour Ruffino Prosecco over ice in a collins glass until half way full. Add Grapefruit juice, St-Germain and Campari. Top off with more Ruffino Prosecco as needed. Garnish with a grapefruit twist.
Cuzco Fizz
2 parts Pisco Porton
1 part St. Germain
5-6 Green grape
½ part fresh lime juice
club soda
Method: Muddle grapes in the base of a shaker. Add pisco, lime juice, St-Germain and ice. Shake vigorously, strain into an ice-filled Collins glass and top with soda.
Domaine de Canton is spicy, sweet ginger liqueur hand made from baby Vietnamese ginger in the Aquitaine region of France, macerating the fresh ginger with herbs to create a rich, fresh and complex deep ginger flavor then added to VSOP Cognac. Incredible in anything from green tea to Champagne, or even mixed into vinaigrette for salad or in a coconut broth served with seared, fresh white fish.
Manhattan East
1 Part Domaine de Canton
1 ½ Parts Bourbon
½ Part Dry Sake
2 Dashes of Peychaud's Bitters
Serve in a chilled martini glass and garnish with an orange peel.
The Prisoner
1 Part Domaine de Canton
1 ½ Parts Brugal Extra Dry Ru
1 ½ Parts Pineapple Juice
Method: Add the juice of half a fresh lime. Serve in a chilled martini glass. Garnish with a lemon wheel.
Pimm's Cup
1 part Domaine de Canton
1 part Pimm's
2 parts Ginger ale
Method: Add all ingredients to a tall Collins glass over ice and garnish with fresh mint, lemon, lime and cucumber.
Get the SideDish Newsletter
Dallas' hottest dining news, recipes, and reviews served up fresh to your inbox each week.