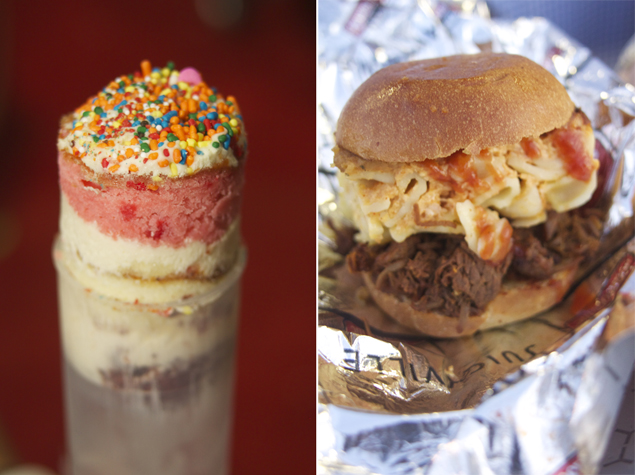 This weekend was my first time attending Taste of Dallas – actually my first time to attend a "Taste of Anywhere" – but it won't be my last. Last Friday evening, I met up with Kellie Spano, the administrative assistant at D, and a couple of our friends at Fair Park to see what this festival was all about. In short, it reminded me of a mini State Fair, minus the rides and games.
Vendors' booths lined up as far as the eye could see, trying whatever they could to get people to stop at their stands. Live music, food trucks, and vendors were outside, too. There were also areas inside Fair Park's automobile building, like the Taste of the Town indoor tasting experience and the Taste Tavern with beer, wine, and spirit samplings. One side served as a marketplace with products from a rubber broom with an excited demonstrator to Dallas-based clothing lines and dog treats. The other was more kid-oriented with strictly dessert and sweet booths, and a whole play area with blow up obstacle courses and slides. As we ate, we tried to make our way around based on the different cultures of food.
Jump for the complete list.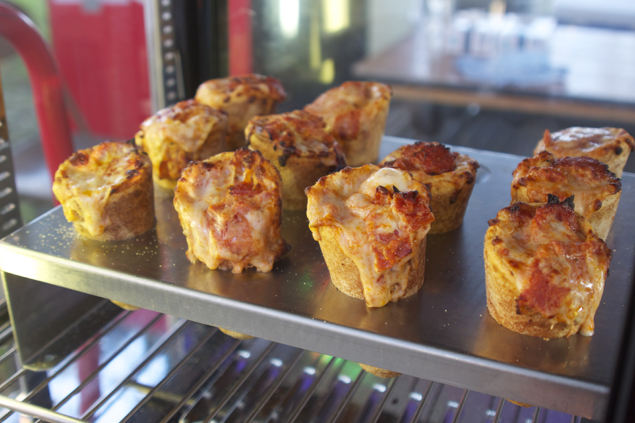 First stop: At Epic Cones, we went with the Cheezy Burger cone. It was filled basically like a sausage pizza, but with cheddar cheese to make it more like a cheeseburger. The cone itself probably had the best flavor.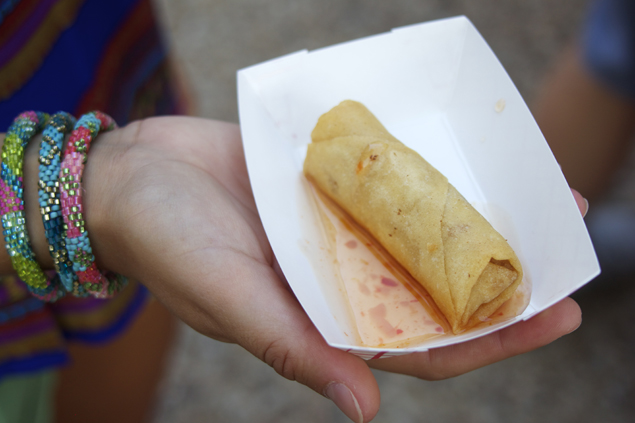 Second stop: Bhoon Thai Kitchen's booth. We tried a spring roll and the Bangkok Bang Bang Shrimp. The shrimp had a subtle little kick to it that was balanced out by a sweet sauce and won over the spring roll.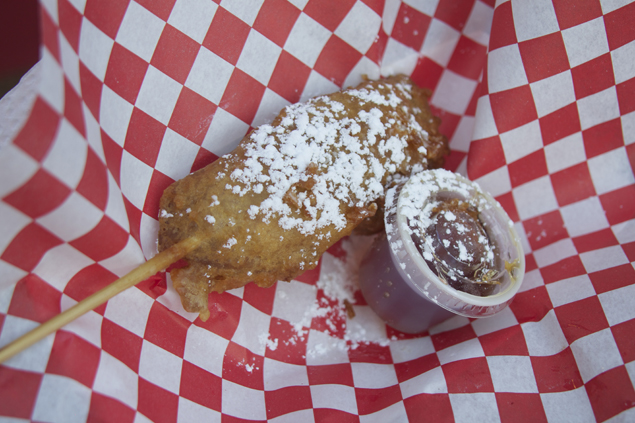 Third stop: This one was the most unique. I didn't catch the name of it, but I think it's the concession stand owned by the Parish family. (They also operate inside the State Fair, too.) Our favorite item and the most inventive came from this stand – the chicken and waffle on a stick. The chicken was deep fried in waffle batter and served with a little powdered sugar and syrup. This stand also served Kool-Aid soaked pickles (not so appetizing looking, so we skipped out on this one) and deep fried red velvet Oreos. Wow.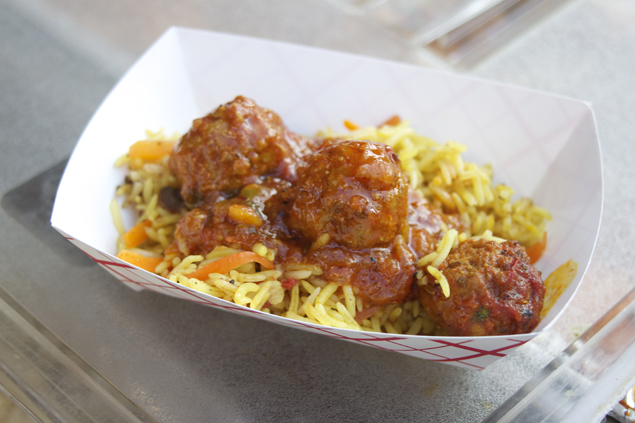 Fourth stop: Afghan Grill. We had beef kofta (meatballs served over rice) and a veggie-potato sambosa (a flaky empanada-like savory pastry). The beef in the kofta was the best, but the sambosa didn't have much flavor.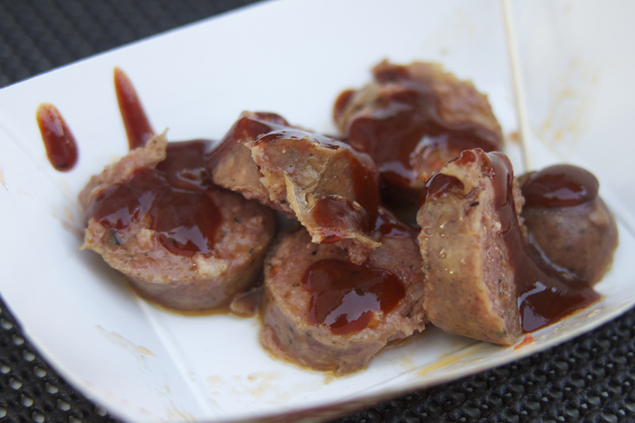 Fifth stop: Yes, we did get around to trying some BBQ. We tried handmade and all natural sausage from My Place Bar-B-Q. Their meats and sauces are handmade in northeastern Oklahoma without any MSG or gluten. Not too often do you see that kind of barbecue. There were several other vendors to get barbecue – like Riscky's BBQ and Lockhart – but this one stood out to us. The sausage definitely had a little spice to it, and it catches you by surprise after you've already consumed it.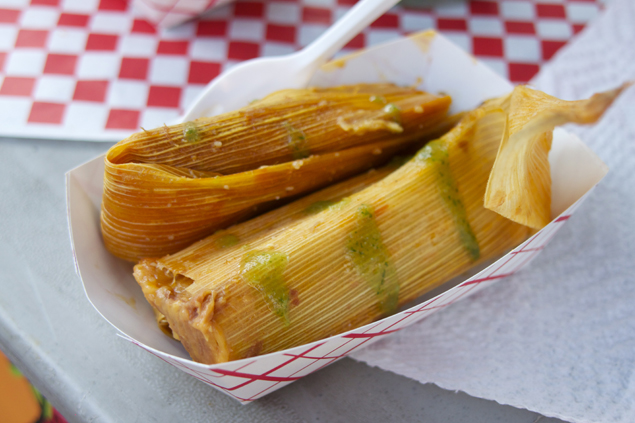 Sixth stop: On to my favorite cuisine – Mexican. I tried all three of the Dallas Tortilla and Tamale Factory's tamale options, which included a bean and cheese, pork, and beef tamale. I would have preferred more filling to masa in them.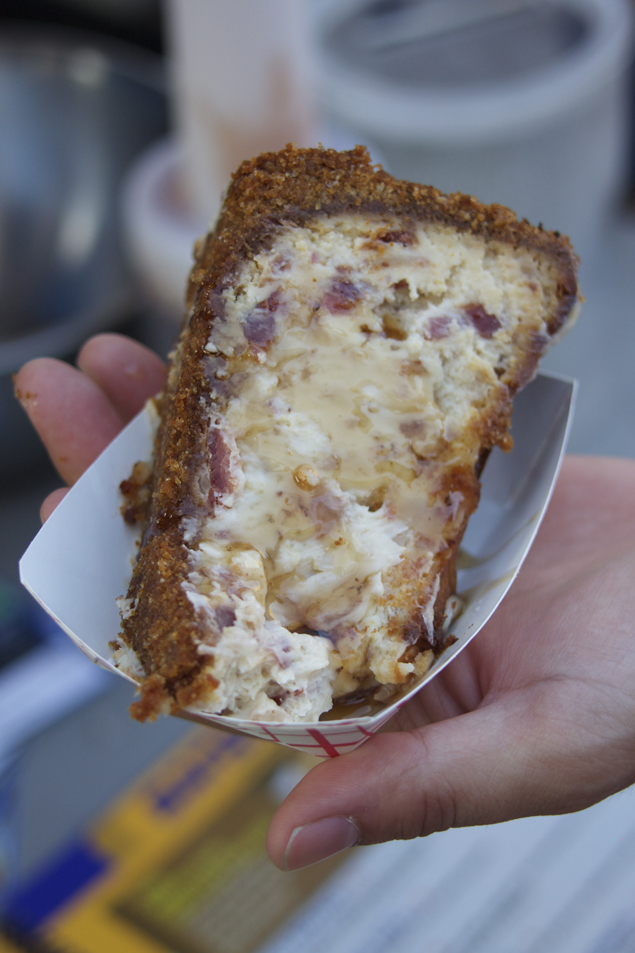 Seventh stop: The last outdoor food stand we visited (besides the food trucks) had some pretty original offerings. Blaze's Sports Grill had cheesecakes, but not the kind you're probably thinking about. He had bacon-maple cheesecake, breakfast in one slice of cake as the owner liked to call it. Other options were lobster mac 'n' cheese cakes, bacon mac 'n' cheese cakes, and buffalo chicken wings. We tried the lobster and bacon ones. The lobster was stellar.
The eighth and final stop: For dessert, I tried a cupcake push pop inside the indoor section. Pretty inventive, if you ask me. I mean, not everyone wants to stop and take off the wrapping of a cupcake and try to eat it while you're walking around, but the push pop concept made it much easier and maybe even tastier. Maybe. (I also recommend watermelon Italian ice from What's Da Scoop food truck.)
How was your experience at the Taste of Dallas this year? Tell us what you ate and grazed.