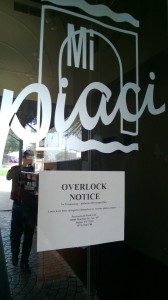 Early this morning, I received a note that read: "Mi Piaci locked out. Sued by landlord." I called the restaurant a little before noon and asked to speak to owner Brian Black. The nice man on the phone said Mr. Black was out of town. I asked to be forwarded to his voice mail. Instead, the nice man said he would take a message. I asked the nice man if the restaurant was closed. In a shaky voice he said the restaurant was closed because the air conditioning was out and they were waiting for a crane to lift a new unit on the roof. I was suspicious so I drove over and took a pic. Still waiting for Mr. Black to call me back.
According to the Dallas Business Journal, the week of 5/17/13, the landlord of Mi Piaci Addison, Prestonwood Pond LLC, filed suit against the following plaintiffs:
UPDATE: I had to drive to a meeting and, while I was chugging down the tollway, I called the nice man I spoke with earlier today. He wasn't so nice. I asked him why he lied to me about the fact that the company had been locked out of the business. "I don't work for you," he snapped. And then he hung up on me. Less than five minutes later, I received an email from owner Brian Black. "I will call you in the morning to discuss. I am also very busy with construction on the new restaurant now." This is some stinky business.
Get the SideDish Newsletter
Dallas' hottest dining news, recipes, and reviews served up fresh to your inbox each week.